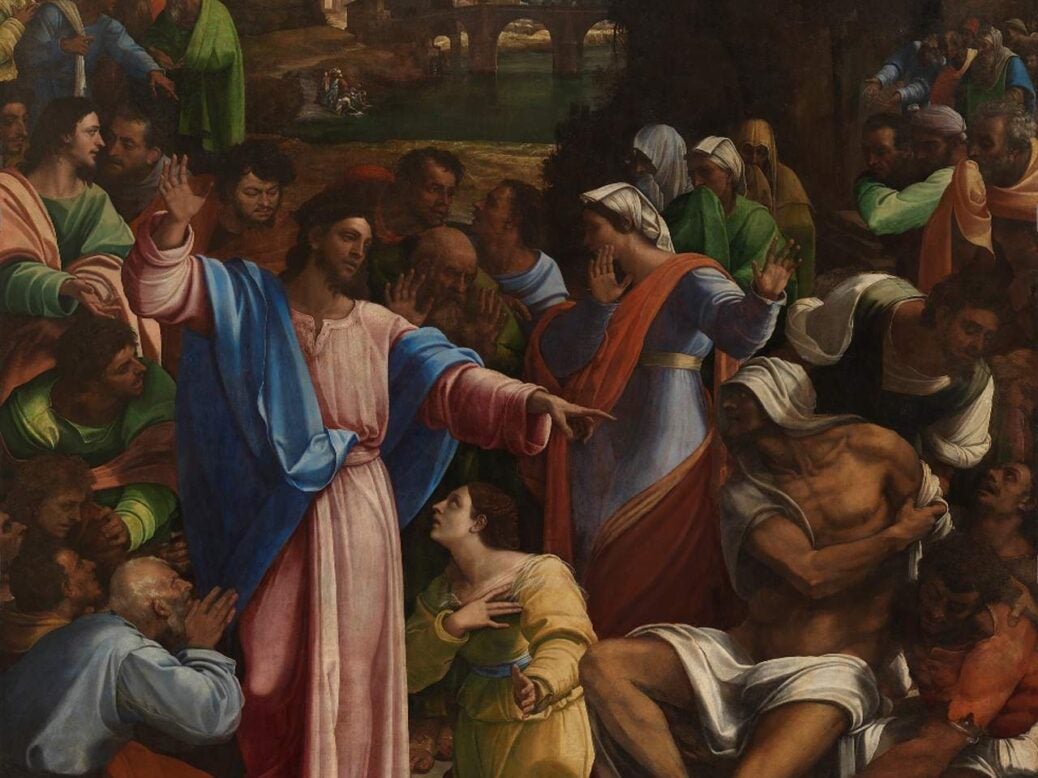 A National Gallery exhibition ruthlessly highlights the gulf between a good artist and a truly special one, writes Christopher Jackson
Does this picture look strange to you? It's certainly special to the National Gallery, and not just because it was the first picture to enter the collection in 1824. It shows Jesus commanding Lazarus up from the dead (John 11: 1-44). Most of it — note the yellow of Lazarus's sister Mary's tunic, and the red ribbon on the recoiling Martha — is an essay in colour, or to use the right Italian term colore. But consider Lazarus: he has entered the canvas from a different universe and belongs to another way of looking. Lazarus is an exercise in muscularity — in line, or disegno.
How are we to account for this? Well, this, of course, is the raison d'être of the National Gallery's landmark exhibition curated by Matthias Wivel. The picture is actually the work of two artists. Most is done by one of art history's also-rans, Sebastiano del Piombo, but Lazarus and the figures around him are the work of someone you definitely know: Michelangelo.
It's not always good for one's post-death reputation to have brushed with the great. Salieri may have been one of the first to understand the sublimity of Mozart, but posterity has been tough on him. Likewise, there may be moments when Art Garfunkel wishes he never met Paul Simon: to be the first to sing 'Bridge Over Troubled Water' is one thing, but who wouldn't rather have written it?
Michelangelo and Sebastiano met in Rome in 1511, when the former was working on the ceiling of the Sistine Chapel. Michelangelo, who had always been a sculptor by preference, wanted to know as much as possible about what was happening in that centre of painting excellence, Venice.
What transpired was good for Michelangelo, if less so for Sebastiano, as the National Gallery exhibition so enjoyably demonstrates. The first room, with examples of the artists' work before they met, depicts in the case of Michelangelo a stage in a development nothing can derail. Every early Sebastiano, however, speaks to his ultimate diminution in the eyes of history.
Take, for instance, Sebastiano's unfinished The Judgement of Solomon (c. 1506-11) where monumentality is achieved in the Venetian style. Michelangelo's early works — such as The Manchester Madonna (1497) — were always abandoned for good reason, usually to concentrate on sculpture. But Sebastiano was on to things he never quite pursued.
What unfolds in each sequential room is the omnivorousness of the great. Michelangelo gobbles up Sebastiano, and by the last room, their friendship having ended, he has spat him out again.
One would like to say that what remains is a touching record of a rare friendship. But really what remains is Michelangelo. In the first room, the Taddei Tondo (c. 1504-5), on loan from the Royal Academy, remains a lucid rendering of the infant Christ's human terror at an inviolable destiny. In a later room, The Risen Christ, which Michelangelo abandoned when he discovered a flaw in the marble, is a marvel of controlled certainty. It wasn't usual for Christ to be shown naked like this, but the work would have had no interest for Michelangelo otherwise.
Muss es sein. It must be. That was Beethoven's line but it could easily have been Michelangelo's — a testament to the rarefied company he keeps. The exhibition reminds us that the only question we have to face when looking at art is: 'Is it great?' Time sifts and sorts, and is essentially merciless: it will not look kindly on what isn't.
The Credit Suisse Exhibition: Michelangelo & Sebastiano runs at the National Gallery until 25 June
Christopher Jackson is head of the Spear's Research Unit