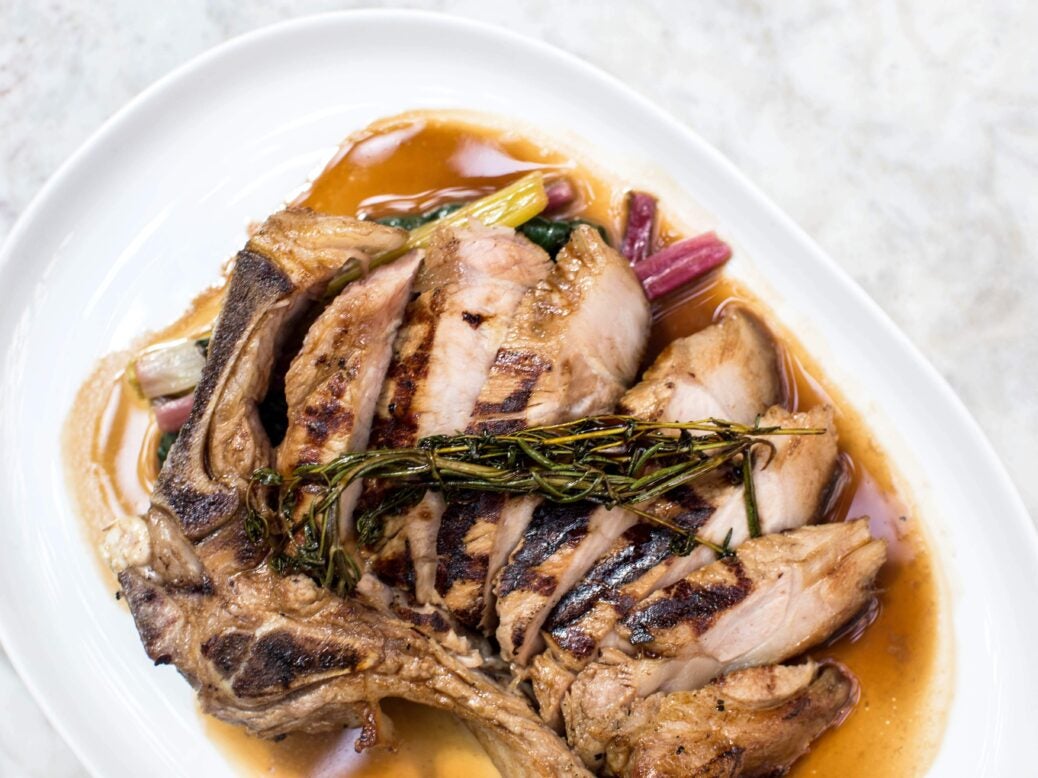 Zak Smith fights through the tourists for the best arancini in town.
Covent Garden has traditionally been an almost exclusively Londoner-free zone, awash with hordes of marauding European teenagers, gaggles of chino and fanny pack wearing American geriatrics, and a sweaty melting pot of just about every other tourist group under the sun. Unloved by locals, over the past few years the capital's tourist mecca has tried to change its image with an injection of seemingly reputable restaurants including Balthazar, Sticks'n'Sushi and the Ivy Market Grill.
Enter Angela Hartnett MBE, one of Gordon Ramsey's most successful protégés. After working in some of London's glitziest establishments, including Aubergine, Petrus and The Grill Room at The Connaught, she opened up Murano in Mayfair, subsequently winning a Michelin Star for its sophisticated yet approachable northern Italian cuisine. After the runaway success of Murano, she has opened two slightly more relaxed establishments, both named Cafe Murano, the latest arriving in the heart of Covent Garden in June last year. Predictably it takes the same unfussy and seasonal approach to Italian cooking that made the original a local hotspot. The menu has been developed by Executive Head Chef Sam Williams, and is inspired by travels around the northern regions of Italy.
Having just launched a new 'Pranzo Domenica' Sunday lunch menu as a nod to traditional Italian family Sunday meals, it was the perfect time to visit. With the new menu featuring the freshest seasonal produce available, Cafe Murano aims to bring people together over shared plates of antipasti, arancini, salamis and bowls of handmade pastas. After an afternoon indulging the menu I was happy to report a job well done by Ms Hartnett and the Murano team.
Famous across her venues, the arancini with mozzarella and basil were pure joy: gobstopper sized nuggets of fried risotto, so melt-in-your-mouth scrumptious I could have quite happily sat there all afternoon with a bucket full.
A mainstay of most decent Italian restaurants, the burrata was as it should be, slightly firmer on the outside with a soft, creamy centre perfect for pairing with ripe tomatoes and a tear of bread baked fresh that morning.
No meal in such a restaurant is complete without a mouthful or two of pasta. A real highlight was the Orecchiette with chilli, garlic, broccoli and pecorino, a rich and delectable pairing of fancy pasta shells with simple, delicious ingredients.
The veal chop was positively enormous, presented simply seasoned and grilled to perfection. Paired with zucchini fritti, the meal was beginning to feel like an assault on the gut rather than a light Sunday bite, but then again, with such delicious food, did it even matter?
If there were any faults in an otherwise perfect meal it was the selection of desserts, the muscovado tart slightly limp, but then again, with memories of arancini lingering long into the afternoon, I wasn't too bothered. A delightful spot for lunch, it's worth becoming a tourist for the afternoon and fighting through the crowds.