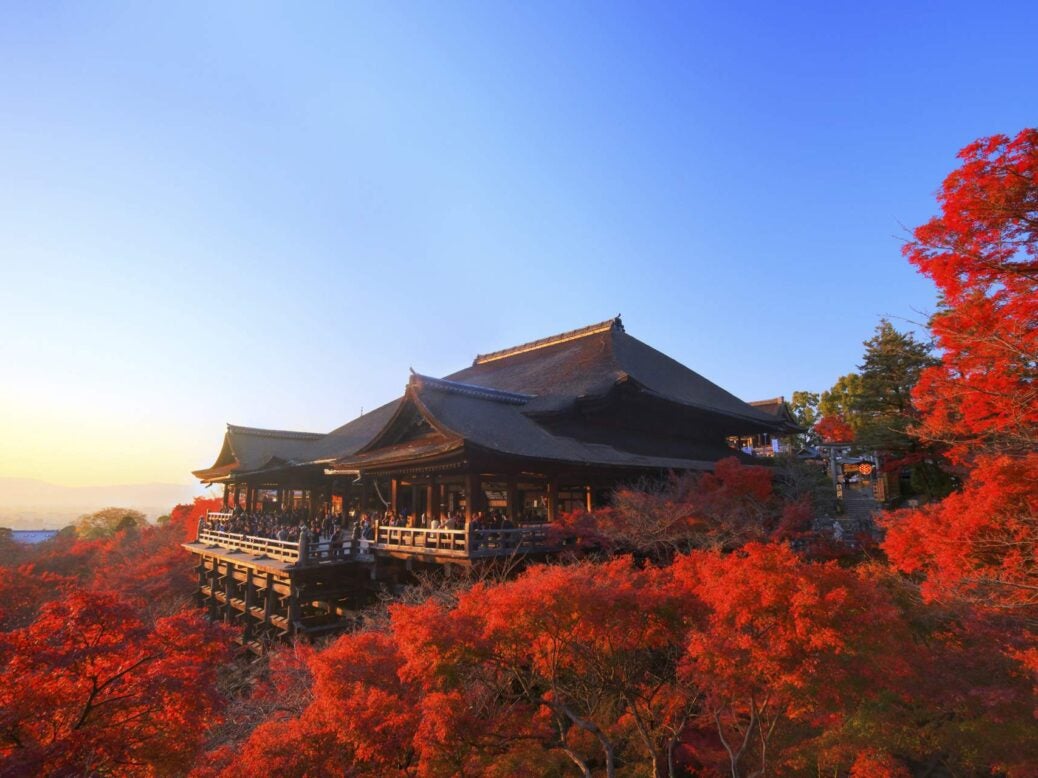 Amid the natural and cultural treats of historic Kyoto lies an abundance of top-quality restaurants, writes Zakari Smith
Japan's ancient imperial capital Kyoto is one of the most breathtaking destinations, a doll's-house city incorporating the best of the country in a cacophony of ancient sounds, visually spectacular historical sites and unique culinary experiences.
Kyoto stands out for a number of reasons: as the ancient seat of Shogun and imperial power, and because of the deal struck with the Americans during the Second World War to preserve the city because of its historical importance, sparing it the devastation inflicted upon the likes of Tokyo, Hiroshima and Nagasaki. As a result it's unique in Japan, virtually unchanged in hundreds of years.
For visitors, this means 17 Unesco World Heritage sites, 400 Shinto temples, 1,600 Buddhist temples, and dozens of palaces and gardens, most of which are walkable from the central sections of the city. Dusted with plum blossom from mid-March and then with world-famous cherry blossom from April onwards, the winding cobbled streets lined with market sellers, Maiko-girl houses and temples have absorbed the history of the country, reflecting a rich culture that makes for the most beguiling, charming and indulgent experiences.
Set in the heart of an 800-year-old garden at the foot of Higashiyama mountain in Kyoto's temple district, the newly opened Four Seasons is an oasis of stylish tranquillity and the perfect position from which to enjoy the city. Inspired by traditional design elements and motifs, the hotel had to get special permission to build in what has always been a sacred area, making the guest rooms overlooking the 12th-century pond that once belonged to the next-door temple gold-dust in a city brimming with ancient shrines.
The hotel's amenities and rooms are as you'd expect of a Four Seasons, with in-room interactive services, toiletries from Italy and local teas refreshed daily. However, what makes the place truly special is its unique Shakusui-Tei tea house, sitting romantically on the edge of the pond. For sunset cocktails or champagne it's utterly enchanting, watching the fish swim as the amber sky illuminates the peaks of the surrounding temples. The hotel can also arrange for a private ancient tea ceremony, an experience not to be missed and one of the most important things to do in the city to understand a significant and timeless facet of Japanese culture.
Kyoto is unquestionably a foodie city, an epicurean playground of local delicacies and cultural fusions creating one of the most tastebud-bending experiences you'll ever get when visiting Japan. As it is the spiritual home of kaiseki, your Japanese culinary adventure must begin here, offered up across the city, at significant cost, in one of the nearly 100 Michelin-starred restaurants (almost 30 more than London).
Kaiseki is haute Japanese cuisine, a multi-course extravaganza showcasing chefs' talents and techniques, using only the finest local ingredients, finding the perfect balance of taste, texture and appearance, presented in the distinct style of the artisan plating up the dish. Originally comprised of miso soup and three side dishes, the kaiseki process has developed and modernised into a meal that can include (but is not limited to) sashimi, as well as multiple dishes that simmer, steam and sizzle.
Historically conceived exclusively for the upper and royal classes, a kaiseki meal is served with the formality of a palatial banquet, with traditional Japanese civility, reverence and respect, both to you as a guest, and to the chef and his edible creation. The embodiment of omotenashi, wholehearted hospitality, it is the most significant culinary manifestation of Japanese culture, and, true to the Japanese work ethic, these meals are perfection incarnate, a dazzling of the senses both aesthetically and in terms of flavour and texture, and experiencing it is one of the absolute highlights of the trip. You will eat things that look alive and swallow textures you didn't know existed, washed down with the finest sake in the region, and even if the myriad of dishes isn't for more conservative palates, you can't help but admire the artistry involved.
Kyoto is home to dozens of kaiseki restaurants, many of which are Michelin-starred and most of which can easily exceed £200 a head. Nakamura, established in 1827, is the Queen of kaiseki in Kyoto. Since 2011 it has had three Michelin stars, and as a result it requires booking well in advance. However, don't be fooled into thinking the entire food scene in the city is limited to formality.
Omen is famous across Japan for its special noodles, a favourite lunch spot for locals and Japanese visitors. Delicate and flavourful, all its noodles are shaved with fresh yuzu (an aromatic citrus fruit), giving its dishes a fragrance and lightness, acting as a perfect accompaniment to the crisp and succulent tempura that comes with each noodle dish.
For the finest teppanyaki, visiting Mikaku is a must. While there are plenty of destinations for a culinary style promoted worldwide by the likes of Benihana, Mikaku is altogether different. Simplicity and quality permeate the experience, with seating for just 12 diners and meat brought in from nearly Matsusaka, home to the highest grade of wagyu beef in Japan.
The head chef is proud to show certification of the beef on offer, identifying the cow as a pure-bred animal with distinguishable lineage up to her grandparents, specifying that she was fed beer and massaged daily with sake. And if I didn't believe him, I got a copy of the certificate to take home. Tender and rich, it's a beef unlike any other, and worth experiencing irrespective of the price.
Kyoto is a traveller's dream, a city exhibiting a vibrancy showcasing the best of Japanese culture and cuisine, and is rightly taking its place as one of 2017's must-visit destinations.