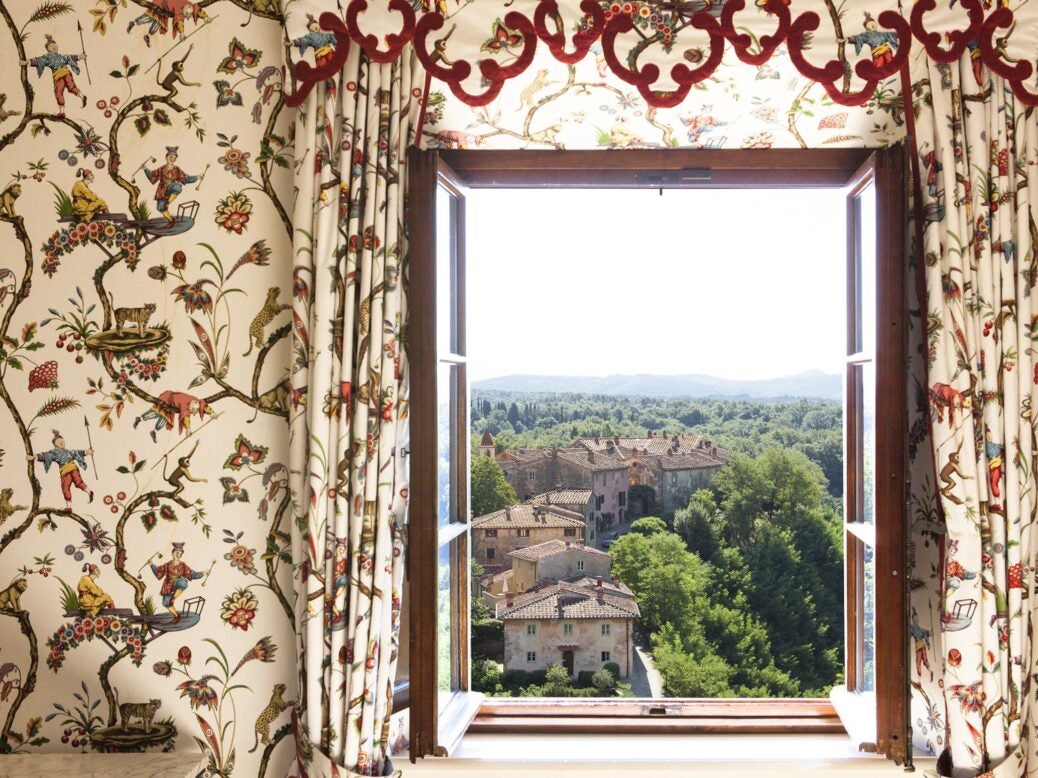 At the heart of Italy's famous family is a 550 hectare family seat boasting award-winning wine and luxury hospitality, an emblem of the Ferragamos' love affair with Tuscany, writes Zak Smith
The name Salvatore Ferragamo is synonymous with Italian style. Elegant and sophisticated, Ferragamo's quality showcases the very finest of Italian craft, and has helped to create a multi-generational family owned fashion and leather empire stretching across the globe, with annual turnover in excess of €1bn.
With power and prestige in the world of fashion, the family have diversified their interests, building on their heritage and success to create a truly impressive family business stretching from fashion to wine and hospitality. At the heart of the family is Il Borro, a 550 hectare family seat outside of Arezzo, in Southern Tuscany, famed for its award-winning wine and luxury boutique hotel, embodying an undeniable love affair between the family and Tuscany.
I was fortunate enough to meet up with Salvatore Ferragamo, grandson of the original Salvatore, to talk about heritage, love of Tuscany, and the family legacy.
To be part of the Ferragamo family is clearly a double edged sword, both a blessing in terms of of the opportunities it presents, but also a curse in terms of the weight of expectation. However for Salvatore, apart from being mixed up with his grandfather, it's an honour he cherishes.
'My name is an honour and great fortune. In my family, nothing is taken for granted and I can honestly affirm that for me, the family name is a source of energy and provides positive challenges. To be a Ferragamo is wonderful, apart from when somebody thinks that I'm the 'Shoemaker of Dreams' – that was my grandfather, not me!'
Ferragamo is synonymous with 'Made in Italy' all over the world. The family is known for fashion, but clearly is involved in so much more, and I was keen to understand how and why the family start to diversify its interests?
'My family is very large. My father has three brothers and two sisters, I have two brothers and three sisters, as well as a lot of cousins. The diversification has been a necessity and thanks to the family spirit and entrepreneurship – this is the most relevant gift we received from our grandfather – we have been able to develop successful businesses in several luxury realities'.
A cornerstone of that diversification has been Il Borro, the family estate and home to both a fantastic vineyard, luxury hotel, equestrian centre, art gallery and spa. With such a focus on the land, it was obvious early on just how much a romance exists between the Ferragamo family and Tuscany.
'Tuscany is my land. Although my grandfather was from Naples and my mother is English, here is where I was born and where a big part of the new Ferragamo generation live. Tuscany represents the Ferragamo's creative inspiration and we are very proud to be recognised around the world as one of the most important Tuscan/Italian brands.
'My father fell in love with this place in the 90s, when he used to rent a house for our family holidays, and after acquiring it, Il Borro became a special place for our still growing family. Not so much for the time, effort, and costs we poured on the estate, but for the joy it gives to us as a private paradise where we can keep the family together. We are incredibly fortunate because we have this place which can accommodate and entertain our family.'
That a famous Italian brand expands their interests into hotels is nothing new- think Armani, Bulgari, Versace to name a few. But to visit Il Borro, it is clear this is no ordinary hotel.
'Il Borro was abandoned and in a very bad condition with heavy land erosion, very limited infrastructure and every rooftop leaked. My father's inspiration was to bring back the property to its original beauty, but also to bring it back to life, developing a business that should offer job opportunities in the Valdarno area and a unique experience to guests. Il Borro is a real working estate, not simply a holiday destination or resort'.
To understand the scope of the challenge is to realise that the family have spent over twelve years and a small fortune renovating the estate and medieval village in which the hotel accommodation sits. Even now, years after opening, the property and land is still being meticulously restored.
'Il Borro is truly unique because at the heart of the Estate lies a medieval hamlet, which dates back to 1000AD, which we have transformed into luxurious suites and villas through careful and respectful restoration. Authenticity is the cornerstone of all past and present activities at Il Borro. This place is unique because of its authenticity- it is like no other Estate. Here, history, art, Tuscan traditions and nature provide a unique atmosphere and exclusive experiences that are impossible to find anywhere else'.
Two passions the Ferragamo family indulge is wine and art, both of which are central to the Il Borro estate. The property houses the family art collection, including works by Warhol and Picasso, and such is their largesse when it comes to art that the collection regularly changes, giving guests a glimpse into the passion and love the Ferragamo family has for wine and art.
'The Wine and Art Gallery is an artistic expression of the history of wine, through Ferruccio Ferragamo's collection of prints and artworks from the 15th century to the present, including works by Mantegna, Goya and Rembrandt, as well as modern artists like Warhol and Picasso. The gallery provides the perfect introduction to our cellars, which have been enlarged to enable a higher production of wine. My father started this collection when we re-planted the vineyards in 1996, and all the artwork is connected with the subject of wine. If I were to choose, my favourite piece in the collection is the Picasso Baccanale.'
On the wine tour, guests are given a glimpse into the creative process, as well as tasting the finest vintages at Il Borro. Given the relative youth of the vineyard, I asked Salvatore what he thought the secret was to it's success?
'Authenticity and excellence. We could produce three times as much wine, but instead we prefer to offer a product of the highest quality. We don't exploit our land, we take care of it. Our wines are the result of oenological research, aimed at making excellent wines through challenging combinations and treatments with our own grapes.'
With our time drawing to a close, all that was left was for Salvatore to share with me what the future has in store for Il Borro and the Ferragamo family.
'We are about to launch a 100 per cent organic wine, as well as opening Il Borro Tuscan Bistro in Dubai, the first restaurant in our franchising project, with the aim of taking Il Borro's Tuscan cuisine and wines around the world.'
With so much in store, it's clear that Il Borro will go from strength to strength, and with the rich heritage of the Ferragamo family behind it's every move, no doubt one of Italy's most famous families will continue to toast success.