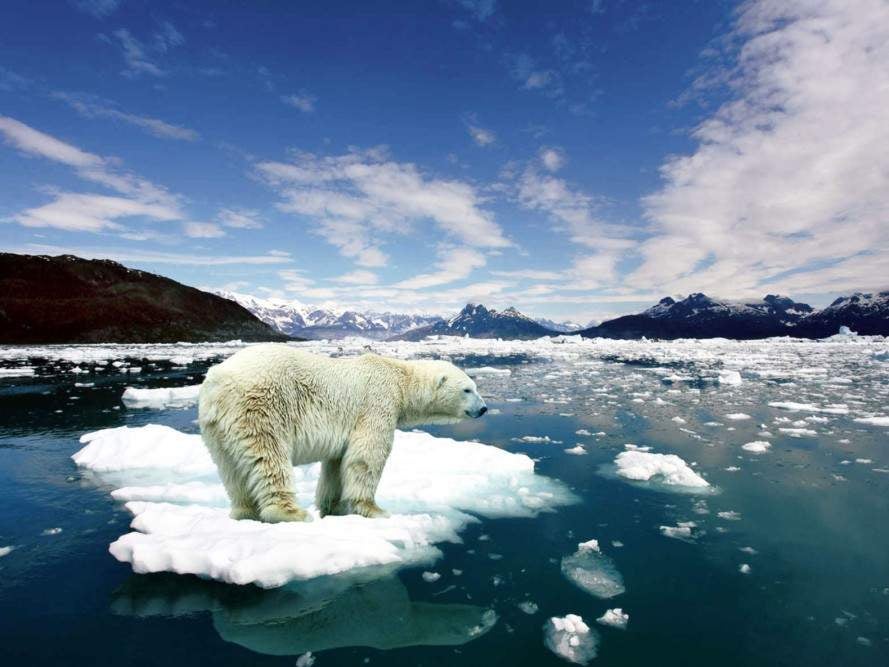 As President Donald Trump wreaks havoc with his anti-climate politics, can the richest one per cent save our dying planet, asks Rasika Sittamparam
The world is heating up rapidly, with apocalyptic announcements burning through news feeds that we are entering 'uncharted territories' of global warming. This was confirmed the other day by the World Meteorological Organisation which said that 2016 was the hottest year ever documented – after reaching record temperatures for three consecutive years.
Carbon dioxide, one of the main causes of freak temperatures, is at its highest level in four million years. With an average global temperature rise of 1.1C since the Industrial Revolution, we are already halfway to hitting the Paris Agreement cap of 2C. In two decades' time – when the earth will quite possibly be 4C hotter – we could be experiencing what Six Degrees author Mark Lynas calls 'the realms of dystopia'.
So the outlook is grim: yet in America, things are taking a turn for the worse. In a matter of days after the damning evidence corroborated by NASA and NOAA, President Donald Trump gleefully signed a sweeping executive order derailing Barack Obama's climate policies. Trump's predecessor's Clean Power Plan is his main enemy, as it aims to phase out America's coal dependence. Trump carries on to address a group of beaming coal miners: 'We'll have coal, really clean coal.'
But clean coal is a paradox. And the world's largest economy, thanks to Trump, is backing it once again. It is also shirking off its commitment to reducing carbon emissions as part of the Paris Agreement in 2015 which had 174 signatories, thus going back on Obama's climate leadership.
So, who will lead now? Although Chinese president Xi Jinping's devotion to the Paris deal is promising, can we really trust the world's largest coal producer to stay committed after seeing Uncle Sam reverse his stance on fossil fuel?
What if China also backslides on its Paris commitment? Will the other BRICS follow? That will leave the European Union to pick up the sooty pieces. But there's crisis in the EU of a far more threatening and immediately existential kind. The UK can't help either, as it is locked in Brexit negotiations. 'Many of the NGOs are worried that after the Article 50 process has ended it is going to be open season on environmental regulations,' climate science expert Professor Andy Jordan tells the House of Lords European Union Select Committee.
With governments lacking the leadership, the will and desire to combat climate change, the power lies with the wealthiest in society to do something about climate change. If you consider that the richest 1 per cent own over half of the world's wealth, that gives you some sense of the resources they command.
But why should the billionaires care? Quite simply because it's their stuff that will go up in smoke too. According to one report from the LSE, climate change will unleash a devastating cocktail of natural disasters upon us, costing $6.75 trillion in financial losses – excluding the human cost, too. Which is why UHNWs have little or no choice but to intervene.
Fortunately many HNWs are already laying the foundations for this in the form of green bonds, exchange traded funds and investments in green technology. Companies such as Elon Musk's Tesla are providing a real alternative to the dependence on black gold, while his SpaceX offers an even more escapist form of technology to save humanity –  Mars as an alternative home if we burn the Earth down. We can only hope we will never need to get there. In the meantime, Tesla has over-taken Ford as the second-largest US auto maker by stock market valuation, proving once again that there's money to be made in going green.
The other good news is that with more than 2,000 dollar billionaires in the world alone – the US has some 540 billionaires – there are broad shoulders to bear the load. So where the government looks likely to fail on climate policy, investors' long term plans – with a horizon measurably longer than the four or five years of election cycles – can make up the difference. Indeed, the world's largest asset manager, BlackRock – which manages over $5 trillion assets – says investors can no longer ignore climate change. And the wealthy are listening: in the US alone some $8.1 trillion is invested according to environmentally friendly criteria as of 2016.
This is a very good start – but more needs to be done to save the world from climate change before it's too late. As it stands, it's down to the wealthiest private citizens in the world to fill the void of leadership being left by our political leaders. For now doing nothing increasingly looks like the most expensive option and offers the worst outcome.
Rasika Sittamparam is a researcher and science & tech writer at Spear's
To subscribe, visit https://www.spearswms.com/subscribe/