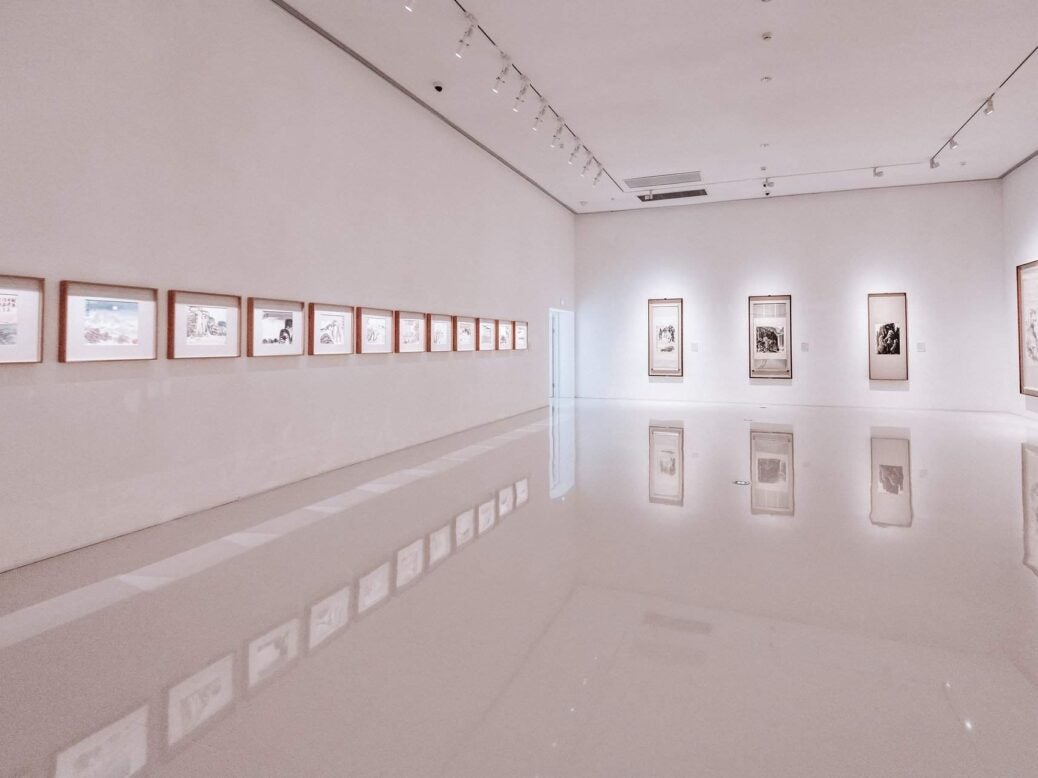 In the time of coronavirus, art too is being transformed. Arun Kakar reports on the ways galleries are changing their physical spaces to adapt
Online integration was already beginning to move into the mainstream art market, but it's an evolution that is set to accelerate, says gallery powerhouse David Zwirner. The gallery's online platform Viewing Room has just concluded its most valuable 'Room' to date –  On Painting: Art Basel Online, which sold artwork worth more than $6 million. 
'During this moment of restricted travel and uncertainty about the feasibility of art fairs and traditional exhibitions, online sales are proving vital for keeping the gallery ecosystem alive,' Elena Soboleva, its director of online sales tells Spear's. 'Galleries that are prepared to adapt to this moment and leverage digital channels will be a model for how to navigate this new reality.'
The gallery – which has outlets in New York, Hong Kong, Paris and London – launched the platform in 2017 as an online destination to explore and collect work by its artists and estates. Accessible 24/7  and all around the world, it is programmed in a similar way to a physical gallery space, with curated exhibitions ranging from historical shows to premiers of new work from its decorated slate of contemporary artists.
The gallery presented a new high of 18 viewing rooms last year – the equivalent of annual exhibition programming for two gallery spaces – and this is is a trajectory that is surely set to increase further as the pandemic forces physical spaces to remain shut. 
'At a moment when our physical locations are closed temporarily due to the health crisis, the online viewing room and digital space are more important than ever, as these are the primary channels through which a gallery can continue to present cultural programming and connect with a global audience of collectors and art enthusiasts,' says Soboleva. 
Of course, many collectors will always prefer the intimacy of a physical gallery space. One of the biggest challenges for the gallery, says Soboleva, was the need to provide an equal level of context to that of physical shows. To address this, it introduced a range of digital tools such as video, audio as well as scholarly and archival material, to position the exhibition and provide free cultural content that art enthusiasts of all stripes can enjoy. 
The response has been gratifying, she says. Collectors have embraced the accessibility of the online rooms, and it also helps to remove the much-vaunted 'intimidation tactic' for novice collectors. Experienced collectors, meanwhile, can engage with new work from their favourite artists. 
'Audiences have valued the transparency of the online viewing room – the prices and availability of all works is visible,' Soboleva tells Spear's. 'The online viewing room also helps collectors build an ongoing, personal relationship with the gallery: once a collector inquires about an art work, he or she is immediately connected with a gallery sales director or partner, who can help advise about any collecting needs, extending beyond the works in our viewing room.'
David Zwirner is not the only institution to speed up the transition to online. It was one of 231 galleries to participate in Art Basel Hong Kong last month for an estimated value of $270 million. As more fairs are forced to postpone and cancel, it's something we are likely to see more of. 
'The most important change caused by the current pandemic is that our online presence now is our presence full stop; it's no longer just an addition to or extension of artworks to be seen in the flesh at our London gallery,' says Aeneas Bastian, the director of BASTIAN gallery, which has branches in London and Berlin. Not only have sales moved to cyberspace, but the way he communicates with clients is conducted digitally too. He notes that clients are unsurprisingly more hesitant to buy at this moment. 
'As the market seems to have halted for a short period of time, and is very slow now, at this point collectors are worried about a global downturn – as many of them are often entrepreneurs,' he tells Spear's. But, he adds, collectors can also be assured that names like Picasso, Warhol or Twombly will remain sturdy – even in these uncertain times. 
For James Holland-Hibbert of London gallery Hazlitt Holland-Hibbert, now is not the time to be thinking commercially. 
'I'm taking the time to stay in touch with the art world community that surrounds the gallery, from co-workers to artist's estates, curators and collectors,' he tells Spear's. 'Real and enduring relationships have always been integral to Hazlitt Holland-Hibbert's work, and so now is a good  time to "check in" – to strengthen and nurture these relationships – not to talk sales.' 
However, despite the disruption caused to the market by the pandemic, Holland-Hibbert does not have any concerns about the market in the long term. 
'I have always been a believer that the best artists' work will remain robust and vital, and that is what we must remember at times like these,' he says. 'I am lucky to deal with work which has already demonstrated its enduring relevance and importance –  whilst we are all subject to the day to day fluctuations of fate, this remains, and will weather the storm.'
Read more coronavirus coverage
Spear's Covid-19 briefing – report and full audio
'The market could be on pause as opposed to finished' – property advisers react to Covid-19
How the Coronavirus outbreak exposes the 'central weakness' of China's regime
The very best London restaurants offering home delivery and takeaway during the coronavirus crisis