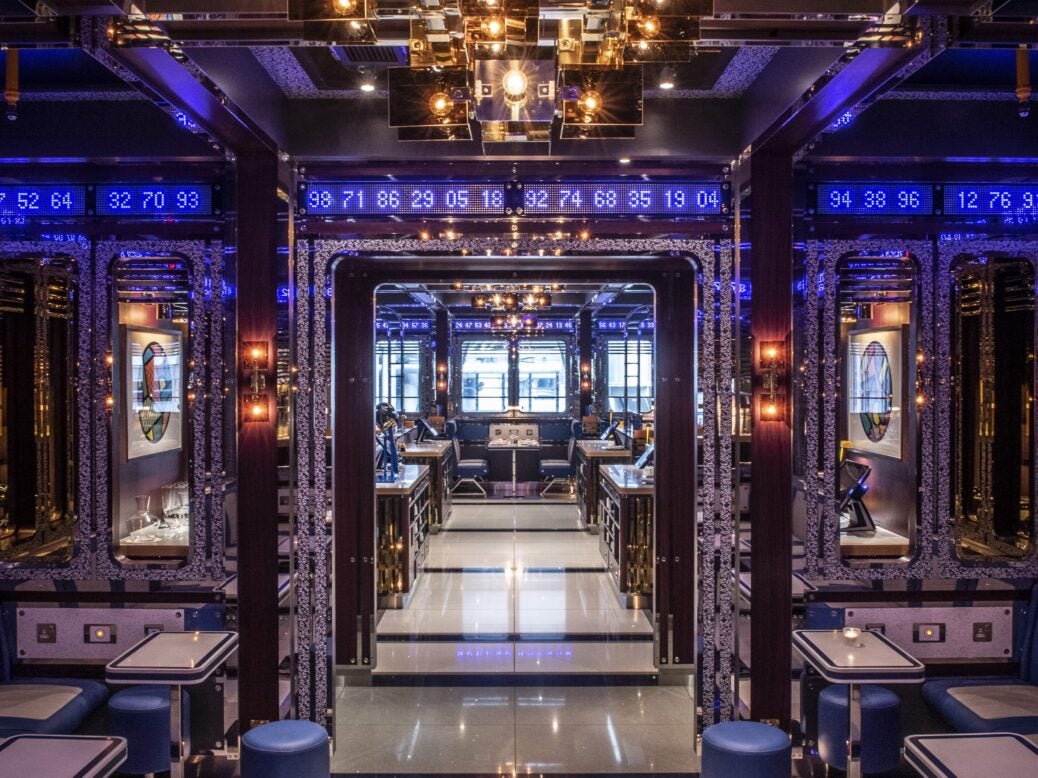 With its big-money fit-out and attention to detail, the Square Mile's newest, glitziest hotspot has made the City a little slicker, finds Edwin Smith
The sum of £25 million is not pocket change, even for Leonid Shutov.
The Russian restaurateur sold his Moscow advertising agency to Ogilvy in 2007 and burst onto the London restaurant scene the following year when he opened Bob Bob Ricard in Soho.
The place split opinion. The late, great AA Gill described it as 'Liberace's bathroom dropped into a Texan diner' and awarded it zero stars from a possible five. Marina O'Loughlin (who has taken over Gill's Sunday Times column since his death) 'loved' it for being 'deliciously daft'. Part of the attraction for fans was the 'press for Champagne' buttons, whose notoriety was assured by the growing influence of social media.
But what about that £25 million figure? I mention it because it's what Shutov spent to kit out Bob Bob Cité, his brand new – and extremely shiny – restaurant on the third floor of the Leadenhall Building. He reckons he spent as much on hand-polished bolts for the panelled walls (there are 48,000 of them) as some eateries spend on an entire refurbishment.
The 'press for Champagne' buttons are still there, but at Cité, those who press also enjoy a fleeting moment of celebrity as their table number is illuminated in LEDs that flash their way around the room along the stock-ticker-esque cornicing.
The whole place gleams with chrome and mirrors. Most of the seating comes in the form of plush leather benches that have been upholstered to look like Wes Anderson's idea of first-class air travel in the Sixties.
But we shouldn't forget about the food – even though, at a place that looks as extraordinary as this, it's hardly the point. Bob Bob Ricard's eminent French chef Eric Chavot has teamed up with Shutov once again to create a relatively succinct menu that combines French classics with Russian touches, such as Oscietra cavier (£59).
My guest, the inimitable Spear's co-founder Wendy Coumantaros, pronounced her pan-seared cod to be 'extremely high-grade', while my Dover sole (£42.50) was expertly deboned before being served with a piquant mix of gherkins, capers, lemons and parsley. The fish itself was light and rich in all the ways it should be. A side dish of truffle mashed potato had to be tasted to be believed. But, a word of advice: order your own. Under no circumstances should this be shared.
There are two rosewood-lined, temperature-controlled wine 'cellars' (17.5°C for red, 13.5°C for white, rosé and Champagne) that house everything up to £13,000 jeroboams of Perrier Jouet. Behind the bar, there is an extensive library of vintage Armagnacs stretching back to an 1888 Baron de Sigognac that fetches £830 for a glass.
Some patrons choose to finish their evening with one from the year of their birth or marriage, says Sebastian Musiolik, the charming assistant general manager. He wears a handsome white double-breasted jacket that could have come from the wardrobe of a particularly upscale production of HMS Pinafore.
That's appropriate, really, for a restaurant that is pure theatre from start to finish. But, as I board the elevator to be taken back to earth, a thought crosses my mind. Could Shutov – who began his life as London restaurateur at the beginning of what is, by some measures, the longest bull market in modern economic history – have timed this new opening poorly?
If the economy does take a dive, as some are predicting, then selling enough Dover sole to cover that £25m outlay may prove tricky. There would be a certain kind of bleak poetry in London's glitziest restaurant opening just before the next crash.
For many reasons, let's hope that doesn't happen. Not least because, in the here and now, Bob Bob Cite is an absolute blast.
Edwin Smith is deputy editor of Spear's
Read next:
Meet the designer behind Gordon Ramsay's Lucky Cat
Hide and Hedonism: When 6,000 wines and one of London's most talked about restaurant combine
Hannah restaurant review: 'All of the quality but none of the fuss'