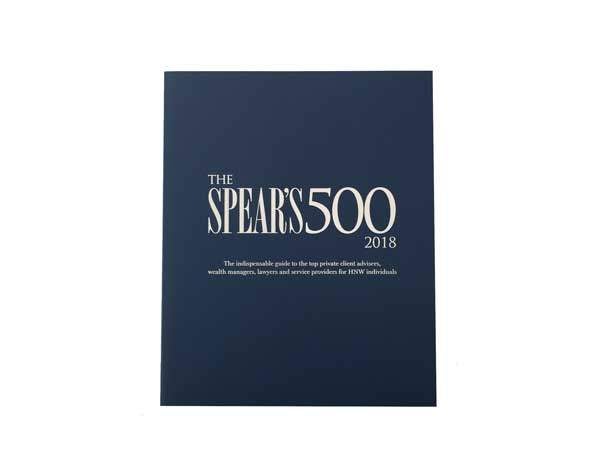 At 400 pages, with 1,059 entries, the 2018 edition of the Spear's 500 is the biggest and most comprehensive yet, says Olenka Hamilton
Spear's is pleased to announce the publication of the 2018 edition of its authoritative private wealth bible, the Spear's 500.
With 1,059 entries — from private bankers and investment managers to family lawyers, tax accountants, property experts, wine gurus, florists, and much, much more, this year's edition is the biggest and most comprehensive since the book was launched in 2014.
At 400 pages, the redesigned 2018 Spear's 500 — billed as the 'indispensable guide to the top private client advisers, wealth managers, lawyers and service providers for HNW individuals' — is drawn from the highly authoritative indices published in Spear's magazine during the course of each year and supplemented by a vast array of additional entrants, collated and written by the Spear's Research Unit, to create this true private wealth bible.
'The Spear's 500 is a ready, turnkey solution to the wealth of choice that HNWs face, on hand to help them fulfil their ambitions and needs,' says Spear's 500 editor Alec Marsh. 'It is a vast compendium of great talent and expertise in the many fields of private client work — an almanac of excellence. In the age of the iPhone this is quite simply the one book that every HNW should have.'
Organised into accessible chapters, in Band One we have exhaustive coverage of wealth managers, family lawyers, tax and trusts advisers, property advisers, reputation lawyers and managers and hommes d'affaires. In Band Two, the book covers art advisers and collectibles, classic cars experts, wine and whisky advisers, and homes and lifestyle, where you can find everything for the HNW home and wellbeing, from architects to country house rentals, interior designers, gardeners, education experts, health clubs and more.
'This latest Spear's 500 private client guide ranks and rates over 1000 private client professionals and makes it the most definitive edition yet. And it needs to be: London has more multi-millionaires than any other city in the world,' says Spear's founder and editor in chief William Cash. That's why, within each category, Spear's has ranked individuals as either top five, top ten, top recommended or recommended based on extensive research, data analysis and a thorough peer review process conducted by the Spear's Research Unit. In addition a selection of supporting features from experts covers the latest trends and the most topical issues affecting HNWs today.
To buy your copy of the 2018 edition of the Spear's 500, priced £150, visit www.spearswms.com/subscribe
Olenka Hamilton is staff writer at Spear's