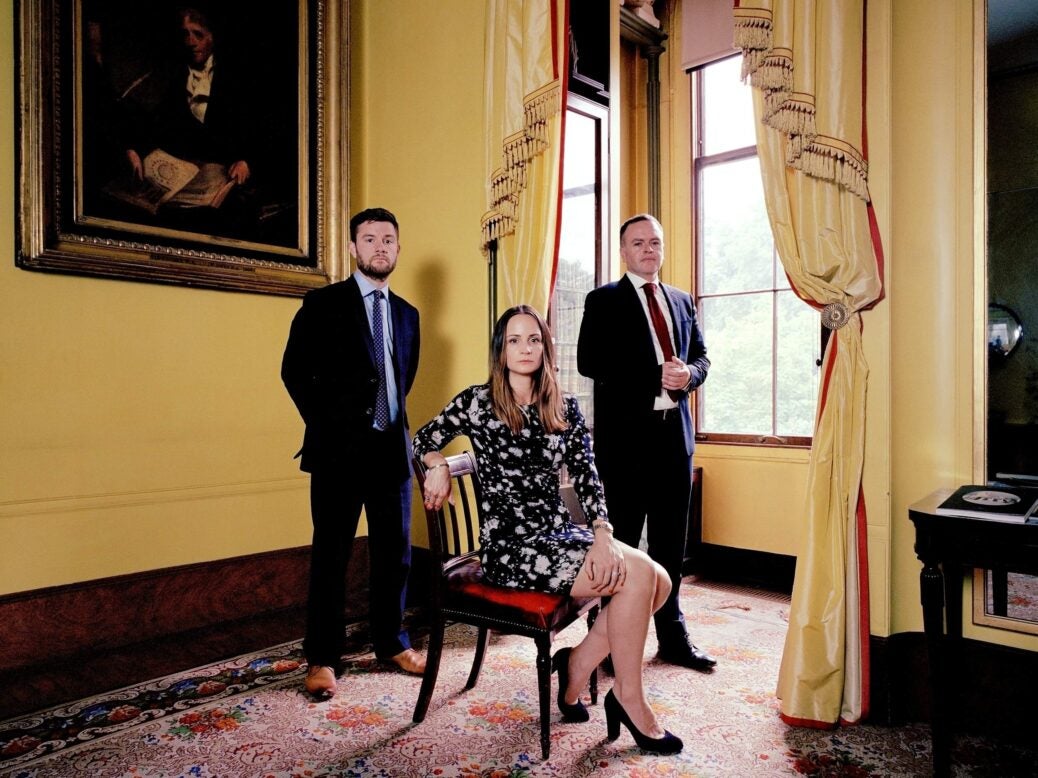 Three former Schillings advocates are combining forces for a new endeavour, writes Arun Kakar
A challenger firm in reputation law opens its doors in Mayfair today. Himsworth Scott is a boutique player focusing on reputation defence, privacy and sports, and is founded by the joined forces of three ex-Schillings lawyers: Matt Himsworth, Jessica Lovell and Chris Scott.
Scott – a former journalist and Spear's 500 alum – dealt with personal disputes and HNW private business crossfire during six years as a partner at Schillings. Previous experience has included litigation management, dirty-tricks campaigns, union disputes, data protection and regulatory investigations. He's also spoken at a House of Lords home affairs select committee hearing on the right to be forgotten.
'We've set up this new firm in order to serve our elite client base,' says Scott. 'The last decade has seen reputation management change more than, possibly, in the prior 50 years. Modern issues need modern solutions from a forward-looking firm. So, a blank sheet of paper combined with five decades of experience is a great way to build a firm that clients need when it matters most.'
Partner and co-founder Matt Himsworth spent ten years at Schillings before setting up his eponymous firm in 2010. A specialist in media law, his register of client includes footballing names Fernando Torres and Michael Owen and Manchester City Owner HRH Sheikh Mansour bin Zayed Al Nahyan.  'We have a great track record over the past six years as Himsworths Legal, working for great clients from banks to sports clubs on a broad range of their reputation and commercial matters,' says Himsworth. 'When the opportunity came to evolve the business, and to take it to the next level, everything immediately felt right. The three of us worked in a team previously, so it is a little like getting the gang back together, but this time, it's on our own terms.'
Jessica Lovell – who worked at Shillings for five years – is a specialist media lawyer who is also familiar with the intricacies of employment law issues within the landscape. She represented Selina Scott during her successful age discrimination claim against Channel Five and has also represented a hedge fund against a claim of unfair dismissal. 'The team we have put together at Himsworth Scott has decades of experience which means clients don't need to pay us to get up to speed,' says Lovell 'We're all equally comfortable in the boardrooms of European and US-headquartered multi-national businesses, Asian clients and families and the elite football clubs of the Premier League.'
With stated ambitions to become a 'new force' in reputation management, sport and issues resolution, the firm will have an initial team of six lawyers operating from North Audley Street. Its approach to working 'wherever and whenever' clients require services means that it is already looking to recruit new team members.
Whether Himsworth Scott will emerge as a new force remains to be seen, but in Chris Scott, the firm certainly sees a strong player. Combined with the talents of Himsworth and Lovell, it would be a mistake to underestimate the new competition in town. As one former client told Spear's: 'If you don't want to unexpectedly find yourself in the media spotlight, Chris is the person to turn to. He is the definite expert.'
Arun Kakar writes for Spear's
Related
Who really owns Lynn Chadwick's art?
Six ways to make your HNW life more secure online
Why the 'superinjunction' failed in the case of the secret Thai wife