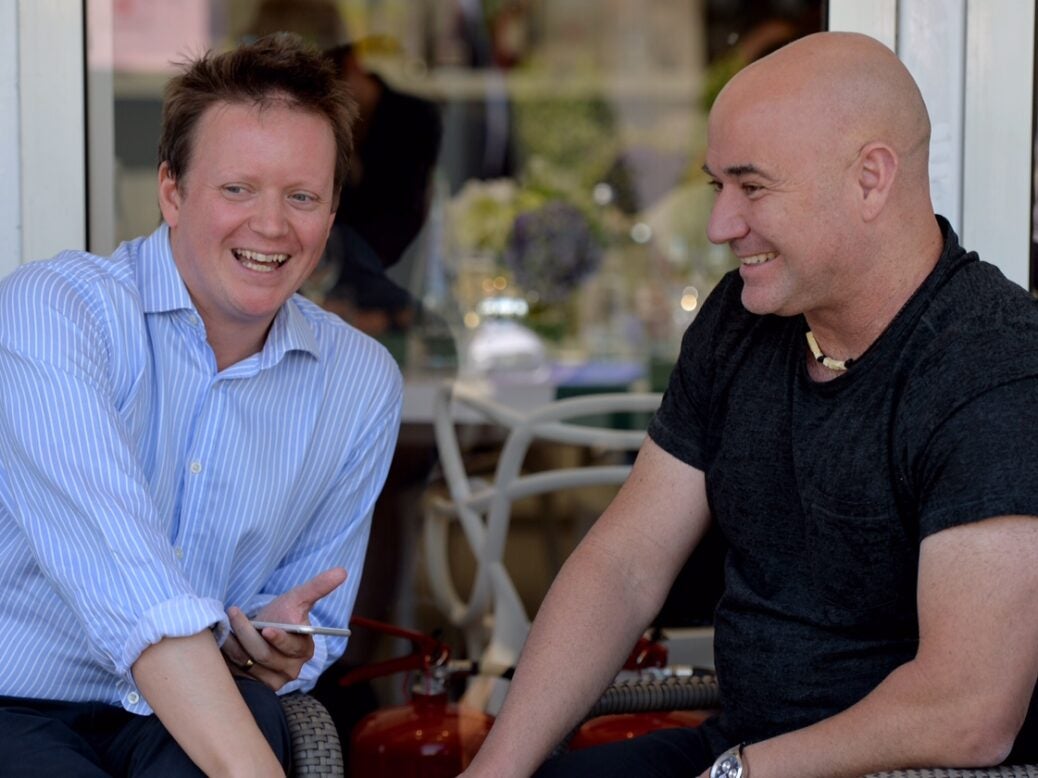 Christopher Jackson catches up with the great champion and finds his mind on many things
The first thing you notice is the gait, slightly pigeon-toed – a lifetime ago, you have seen that distinctive walk back to the baseline. In retrospect – as the world would come to know from his frank memoir Open – it wasn't so much deliberation as reluctance.
But another thing is also evident: where some celebrities seem to wield their reputation to create an aura, Andre Agassi has the look of someone who doesn't particularly mind his fame. Everyone knows who he is – especially at Wimbledon, where we meet – but there's a sense that he himself doesn't want to impose.
As Agassi sits down to lunch in the Lavazza tent, where we are both guests, I ask him how he is. 'I'm good, man,' he says. 'I got in last night and I was worried I wouldn't sleep – but I'm OK.' Aware that he has just spent the past few hours shaking fans' hands in the queue, I ask him what he thinks of the experience. He is plainly bemused: 'I don't really get it. Are they sleeping there? It seems very odd to me that anyone should want to do that.'
The great question with Agassi is how much to discuss tennis. Since the publication of Open we have known that Agassi was never happy when on court: he was pushed into the whole thing, he says, by a domineering father. When I ask him about the book, he says: 'Well, there's saying it and then there's thinking it. I was the one to say I wasn't happy, but there are many more who feel the same.'
But – and it's a considerable caveat – Agassi was one of the greatest players of the past 50 years, winning eight grand slam singles titles, including Wimbledon in 1992. All this, together with an elegant style of play and the sense that he was a baseliner in a server's world, created an enduring fame.
'The paparazzi deal has changed a lot due to the cellphone,' he says. 'No one is chasing us around any more and that's a good thing. We have no interest in creating unnecessary attention and we thrive in our own environment, which is our lives as a whole. Not just us and our own family, but our friends, the people we see in our local grocery store and enjoying our life.'
I ask if he would like a drink, and he says no. Throughout the day he clutches a bottle of water, as a sort of defence against the demands of the day. The 48-year-old has, in the way of ex-sportsmen, gained weight, although he is not so much fat as stocky: you can sense the pent-up physicality of retirement.
We meet shortly after Andy Murray has withdrawn from Wimbledon, and I ask if he thinks the beleaguered Scot should retire. 'Well, I am different to them,' he says. 'I wasn't happy playing even when I was healthy, so I definitely wasn't going to play when I was injured. But with those guys it's an obsession, I think. It wasn't that way for me.' With a Murray-style injury, Agassi would have drifted happily into retirement.
On the screen, the second round is proceeding on Centre Court: I don't see Agassi look at it once. 'I always have mixed emotions about this game,' he admits. 'I see what it meant to me, what it gives others, the opportunities it creates for young kids to make a great life for themselves – but I also realise what I put myself through on and off the court and I always say I can't believe what I put myself through.'
It doesn't feel out of place to ask Agassi about the issues of the day: this is a man of influence and fame, yes, but a rare thinker in the world of sport. Especially, he doesn't seem out of place in the world of philanthropy, which is his chief focus now – and indeed, his motivation for coming to the Lavazza tent during Wimbledon to endure all over again his association with the sport he isn't interested in.
The Andre Agassi Foundation for Education is dedicated to improving education opportunities for children from underprivileged backgrounds – seeking in particular to fill the gap left by limited state funding in his native state of Nevada. The first tuition-free school opened in 2001: in 2009 the graduating class had a 100 per cent graduation rate. The foundation also supports Clark County's only residential facility for abused and neglected children, Child Haven. Meanwhile, the number of schools has expanded exponentially.
These are mighty achievements, and Agassi is anxious to put them into perspective. 'I mean, who cares about a legacy on the court? None of us are going to be around to appreciate a tennis legacy, and when you have a chance to change a child's life for the better, you quickly get to a point where tennis means very little. The foundation was one school and now it is 81 schools. This is so much bigger than we would ever have imagined and we are very proud of it.'
His starter comes – a mozzarella and tomato soup – and he displays a moment's confusion. 'I thought this was – I thought this was going to be something else,' he says. It's the only trace of fatigue, but he doesn't want to upset anyone, and says: 'OK, I'll just put this here.' He doesn't touch it, and sticks to his water: it will be a genuinely liquid lunch.
Agassi's net worth – estimated at $200 million – has given him rare clout. When I ask if he takes an interest in the stock markets, he laughs: 'You know, it's funny, I don't know the answer to those sorts of questions but I can tell you exactly how many kids dropped out of high school last year. It's about a million, and now I'm in the position to try
and change that.'
I ask him about impact investing. 'I have a very diversified portfolio, but I have pockets in it where I can focus on the kind of things I really want to do. Steffi [Graf, Agassi's wife and a 22-time grand slam singles champion] and I are pretty aligned on that. On the next gen stuff, our kids aren't at the point where they're interested in those kinds of questions, but we definitely want them to think responsibly about the world.'
Agassi is a one-off glimpse of what a sportsman might become. Recalling how Tim Henman was once pilloried in the British press for saying that reading was boring, I ask him if he thinks young sportspeople often fail to become rounded. 'Well, the press is cruel and shouldn't do that – people are different. There's the horizontal and the vertical approach to life, and people shouldn't judge someone for taking one route or the other.'
How does Agassi, part of the great story of American diversity, and champion of children, feel about the images coming out of America of immigrant children separated from their parents as part of the US's new border policies? It's a Trump question, of course. I can see him calculating whether to risk being on the end of a Twitter rant once this article is published: 'Well, it's heartbreaking,' he says, and I can tell with mild disappointment that he has decided on diplomacy. But there is real compassion in his voice when he says: 'You don't want to see anything like that.'
I can see that he's moved – and perhaps a little surprised that our conversation has gone from hitting a ball over a net to world politics. But then his life has gone broadly that way too. Then one of the kindly Lavazza people is at our shoulder, and he's off to his next interview. 'So now I'm going to be very rude to this person, am I?' he says, smiling, nodding goodbye – and in fact not being rude at all.
Photography by Graham Flack
Christopher Jackson is deputy editor of Spear's
Related
Liquid Lunch: Gina Miller on Brexit, her story and being a 'dynamic' fatalist
Liquid lunch: Henry Blofeld gets back in the commentary box