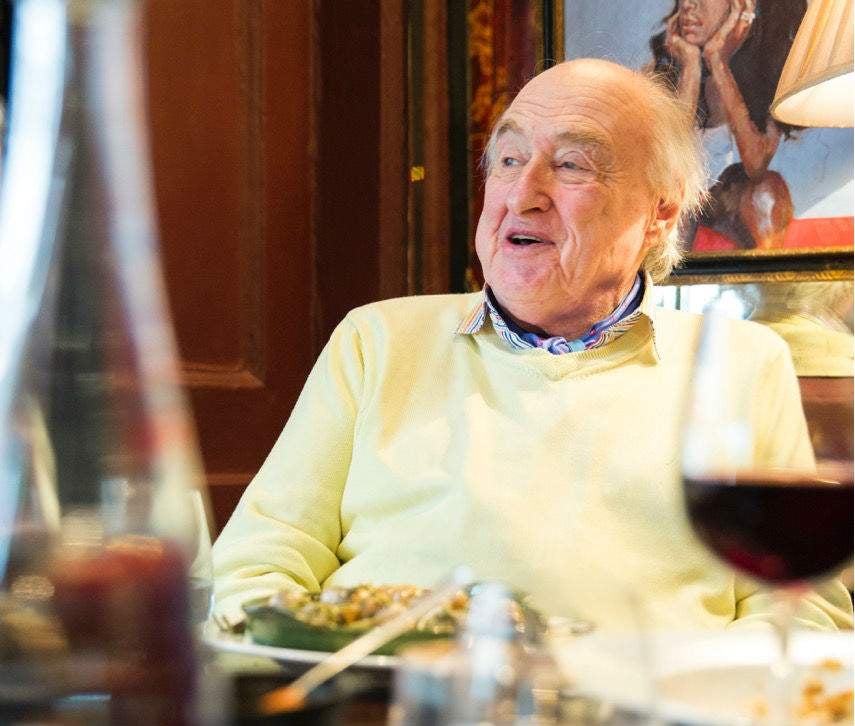 Christopher Jackson interrupts the beloved cricket commentator's busy retirement
The voice over the phone is familiar. 'You mustn't think that I'm not coming. The traffic is beyond belief.' It belongs, of course, to Henry Blofeld – 'Blowers' as he's known – and 20 minutes later he comes in, placing a cane on the sill beside our window table at L'Escargot. 'Don't let me leave it behind,' he says jovially.
Blofeld is a man exactly constructed for a decent lunch. He is polite and convivial, and has seen it all. About L'Escargot, he is anecdotal: 'I first came to this restaurant in about 1947, when it was called L'Escargot Bienvenue. I had my first bachelor party before my first wedding in the room upstairs.' To someone who has been famous and clubbable for 50 years, Soho can have few secrets.
This nostalgia for the postwar period is a leitmotif of our conversation: Blofeld is 78 now, and the cricket of the 1950s seems more vivid to him than the tribulations of Joe Root's men. Botham's Ashes was a benchmark for him, but most of his recollections concern cricketers I'd need to ask my grandfather about: Denis Compton, Bart King, and, of course, the Don ('I got to know Bradman quite well').
But first, Blofeld is peering at the menu with the furtive anxiety of the very hungry when they are meeting someone for the first time. He orders lobster salad, and 12 of the famous snails ('That will be frightfully good'). His latest book, Over and Out – a bestseller – is beside us on the table, and tells tales of Blofeld's 45 years at Radio 4's Test Match Special.
It's a life which comes as close to the Wodehousian ideal as is possible in this century of Instagram and Stormy Daniels. Blofeld had a Psmith-esque stab in the City, before taking a cunning day off to report on a day's cricket for the Times: a superb career ensued. While the world beyond has become progressively less innocent, Blofeld has remained in his own Blandings Castle of cricket.
Naturally, we talk about those he has commentated alongside: John Arlott ('great help to me when I started – put his arm around me'); Brian Johnston ('Brian brought the fun'); Jonathan Agnew ('an absolutely delightful man'), and the late in both senses Christopher Martin-Jenkins ('why he wore a watch we never really discovered'). He is amusing about Geoffrey Boycott: 'The trouble with Geoffrey is he talks about the game as if it was the Sixties or Seventies, and is always moaning that the young players don't go to him for advice. But perhaps they feel they'll get tremendously good instruction in a game that went out with the dodo.'
But it's his friendship with Graeme Swann ('a very great man') which provides Blofeld's chief line of communication into the story of the current team – one at the moment largely synonymous with misery. The pair recently completed a second UK tour of 'Graeme Swann's Great British Spin-Off with Henry Blofeld'.
Before we explore this inside track, a lobster salad arrives which Blofeld immediately declares delicious: this energetic bonhomie is his chief characteristic. Indeed, Blofeld's recent retirement feels superficial, and by most metrics he must be deemed a workaholic – there's the book, his one-man tour '78 Retired', and a new music show on Classic FM ('It's ridiculous, I'm an elderly disc jockey').
But he also has the septuagenarian's bafflement with the direction of things. 'Sport is run by greed,' he says. 'I like to think that Test cricket is sacrosanct, but I begin to fear it's not. Everything is Twenty20 now. I can't conceive that we'll ever do anything but play Australia for the Ashes, but you never know.' Of a world dominated by Twenty20, he also predicts: 'You'd never see a genuine fast bowler again – in Twenty20 they give runs away.'
In Blofeld's view, this has led to a drastic falling-off in on-field behaviour. Blofeld remembers 'all those lovely cricketers' of the Golden Age – WG Grace, Victor Trumper, Ranjitsinhji, and SF Barnes. He also fondly recalls the period after the Second World War: 'People who played then had been in the war and they knew that sport was actually a game. Today they don't.'
This seems especially pertinent given the recent ill-tempered series between South Africa and Australia. When I tell him about the Warner-De Kock confrontation during the first Test (still three weeks before David Warner was caught up in the ball-tampering scandal), Blofeld is forthright: 'Warner is dreadful. I've heard that in Perth in the New Year when Bairstow made that hundred… Warner sledged Bairstow about his father's death. I've heard rumours about it. If true, awful.'
Blofeld's snails arrive, and he prongs them expertly. I ask about the current England team. 'The Ashes was entirely to be expected,' he says of England's loss. 'I never thought for a moment that we'd win, and I'm rather surprised that people are surprised we did lose.'
I test a theory that the current team still toils in the shadow of the Kevin Pietersen saga. Blofeld is unequivocal: 'Pietersen was awful in the England dressing room. You go and talk to Matt Prior or Graeme Swann or any of the others about what Pietersen got up to. That last tour [2013-14] of Australia when England lost 5-0, and Swann came home early – Pietersen absolutely destroyed that tour… Pietersen sometimes went out and just didn't try, and you could see that all the others were playing 10 per cent worse than they usually did. He was an enormous net loss.'
It's the England cricket fan's dark habit: reminiscence about defeat. Blofeld turns to the grim moment after Perth when Swann left the tour and promptly announced his retirement. 'By the third match,' Blofeld explains, '[Alastair] Cook had such trouble with KP that he said, "I want all my mates around me," and that's why he [Swann] played in that one. We were told Swanny wanted to go home. [Coach] Andy Flower said that once [James] Tredwell came out, Swanny couldn't hang around and had to go home because there were too many people in the touring party. This was then publicised as Swanny going home of his own volition, which he says is wrong.'
Blofeld continues: 'Piers Morgan, KP's greatest spokesman, seized on this and was very rude about Swann, and Swann decided not to go on television and take Piers Morgan on – that's the story I've always heard from Swann.'
We move away from the gossip of the day back to the great moments he has witnessed: Shane Warne's 'ball of the century' bowling Mike Gatting; Garry Sobers' six sixes ('last seen disappearing in the direction of Swansea town hall'), and Kapil Dev's four sixes off Eddie Hemmings to avoid the follow-on at Lord's in 1990.
The memories swirl, and Blofeld – quite naturally – is back in the commentary box. 'I've always been a strong critic of myself,' he says. 'I get home and I think, "My God, I made
a balls-up of that." I hate myself for doing things untidily. When you ad-lib you're going to say things that don't work.'
But Blofeld was loved for bringing joy to a game which even the enthusiast can find boring in long stretches. How will he feel when the bell goes at Lord's this summer? 'I shall be interested to see whether I shall enjoy cricket when I've got nothing to do with it,' he says, a little surprisingly. But it underscores the extent to which Blofeld is an entertainer. This in turn explains why he is loved beyond the commentary box – and why he is prospering now.
'We're very greedy, aren't we?' says Blofeld, ordering ice cream. 'Vanilla, or is that too boring?' And indeed a minute later he switches one of his scoops to coffee. 'I'm being a frightful nuisance.'
Soon an Addison Lee is sitting outside, dreary as the clearing of a dance floor. Just before he leaves, Blofeld asks if he's been talking too much. I answer, truthfully, that he can never talk enough for me.
Christopher Jackson is deputy editor of Spear's
Related
Liquid Lunch: Economist Ruth Lea on who's right on the money
Liquid Lunch: Yana Peel on the Serpentine's next phase
Liquid Lunch: Rhydian Lewis on 'dinosaur' banks and making RateSetter the 'crowdsourced Libor'