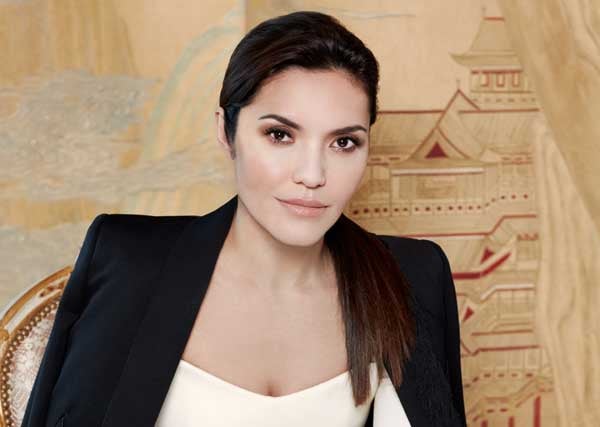 A novel service is helping the rich and famous make the most of their wardrobes by storing and transporting their favourite clothes, writes Alba Arikha
Mounissa Chodieva has always loved fashion, even when she was a child: 'Textures, touching, looking, seeing. For me it's art. I have a real attachment to it.' Little did she know that years later, this sensorial attachment would transmogrify into the first couture repository of its kind.
Chodieva, the daughter of an Uzbek mining oligarch, was born in Moscow, where she lived until she was sixteen. She moved to Belgium, attended an international school, and followed this with a law degree at the University of Southampton. After various jobs, she went to work for her father's mining company, where she became part of its legal team. 'I travelled nonstop, covering the US and Europe, major conferences, always travelling with men — and they don't like waiting for you!' she says with a laugh.
What swiftly becomes apparent talking to Chodieva is that this svelte, attractive woman sitting in front of me is no idler. For one who could easily have rested on her family laurels, she held a high-level job for fifteen years, spending most of her time on the road, flitting between various continents and climates, stuffing everything (and not always the right clothes) into one suitcase.
It was during one of those trips, in 2012, that the idea of Vault Couture came to her. 'I used to send my clothes ahead of trips,' she says. 'I'd call my sister or housekeeper and ask them to go through my closet. But I soon tired of that. I started thinking: I wish there was a service that could make this easier. I began to look into it — but there was no such service.'
She decided to make it happen. She found an IT man and explained what she was looking for. 'The first step was to photograph my wardrobe. I needed a cataloguing system, colour-coded, something visual and simple.'
Around the same time, Chodieva stepped down from her position at the mining company: 'I got married; I wanted to change my life. It was no longer sustainable.' This gave her more time to explore her vision. And it didn't take long for her to realise that she had hit on something special.
The concept behind Vault Couture is surprisingly simple: a luxury service geared towards professionals, celebrities and international travellers, people with an overflowing wardrobe and not enough space to house it — as Chodieva puts it succinctly, 'Those who lead busy lives and for whom looks matter.'
It consists of a digitised, bespoke service enabling delivery and collection of one's personal wardrobe, at a moment's notice, to and from any destination worldwide, a state-of-the-art storage facility where clothes, when not in use, are carefully stored, painstakingly cleaned and pressed, in temperature-controlled vaults, garment bags and boxes. Big Yellow self-storage this is not.
At first, a few people struggled with the concept. 'We weren't sure whether it would work,' she says. But work it has. Vault now has 200-plus clients and the list is growing steadily.
'Vault Couture actually enables you to make much better use of what you already own,' she says. 'It allows you to "shop" through your own wardrobe. You kind of rediscover things you didn't know you had; in general people don't change taste. They tend to keep clothes and not give them away, so there's a big volume of stuff.'
The 'stuff' in question is photographed and catalogued (this includes the cut, the fabric, the colour, and the designer) before it is taken to the central London headquarters and uploaded on to the Virtual Vault 24-hour access digital platform. At any given moment, a client can browse through their belongings on their computer or tablet and request that their chosen pieces be shipped anywhere in the world. Longing to wear that Valentino sequin gown for tonight's party in Paris? No problem; it's only a few clicks away. For further afield, allow 24 to 48 hours door to door. The clothes arrive in platinum-service style, sealed and impeccably presented. And there's more: 'We clean, we style, we mend your dress, we have stylists who can help you put an outfit together as well as provide updates on the latest trends.'
As for the HQ itself, the multi-level space is run by 'a team of men and women in white lab coats, who have exclusive access to what may be the world's premier walk-in closet'. If their attire sounds clinical, it's for a reason: some of the clothes — from vintage collectors' items (some with fragile material) to contemporary couture — are enormously valuable. The facility includes the aptly named 'Archive', which enables clients (often A-list celebrities) to store clothes they will never wear, or would like to keep for future generations. The clothes in question can also be valued for insurance purposes — and sentimental reasons. 'We are diversifying,' Chodieva says. 'We have a baby vault, a shoe vault — some women have more shoes than clothing. We have a vault for ski-wear and one for wedding dresses you're never going to wear again but would like to hang on to.' There is also fur, belonging primarily to the growing Middle Eastern clientele, and items for auction, which can be valued or sold on the premises.
Who are the typical Vault Couture clients? The list of Europeans and Americans is growing, but the majority seem to be jet-setters from Russia and the former Soviet republics. There is also a service designed for businessmen, 'those who come to London often, but never stay for a long time. They store a few suits with us, tuxedos. Actually, men are the ones who picked up on it first, as it's advertised in private clubs.'
If men's wardrobes are smaller than women's, that isn't an issue. Membership with Vault Couture starts with a minimum of three months, and there's no limit to how much one can store. The price is £7 per item per month, a surprisingly affordable price for a concept which sounds slightly out of reach for the average shopper. 'It's about knowing what you own, making effective use of it,' says Chodieva. 'I believe that each one of us, maybe seven or ten years down the line, will have this app on our phones. You're still going to shop, you're still going to buy clothes, but this is about the way you shop and how you actually begin to use what you already own.'
So is it a money saver? 'Yes, it is,' Chodieva answers firmly. 'Because quite frankly, we don't really know what we have most of the time. When I'm shopping, I always pull out my iPad and check first. Buying all the time is disrespectful. If you bought it, use it.'
Whether all her clients are as circumspect as she is remains to be seen. The fact is the concept is a winner and plans are in place to expand into Asia, even though its fashion market is showing signs of decline. 'There is clear oversupply, even in China,' Chodieva concedes. 'I've seen it in Hong Kong, which is the hub of all Asia. But Vault is like the safety zone.'
And long may it continue.