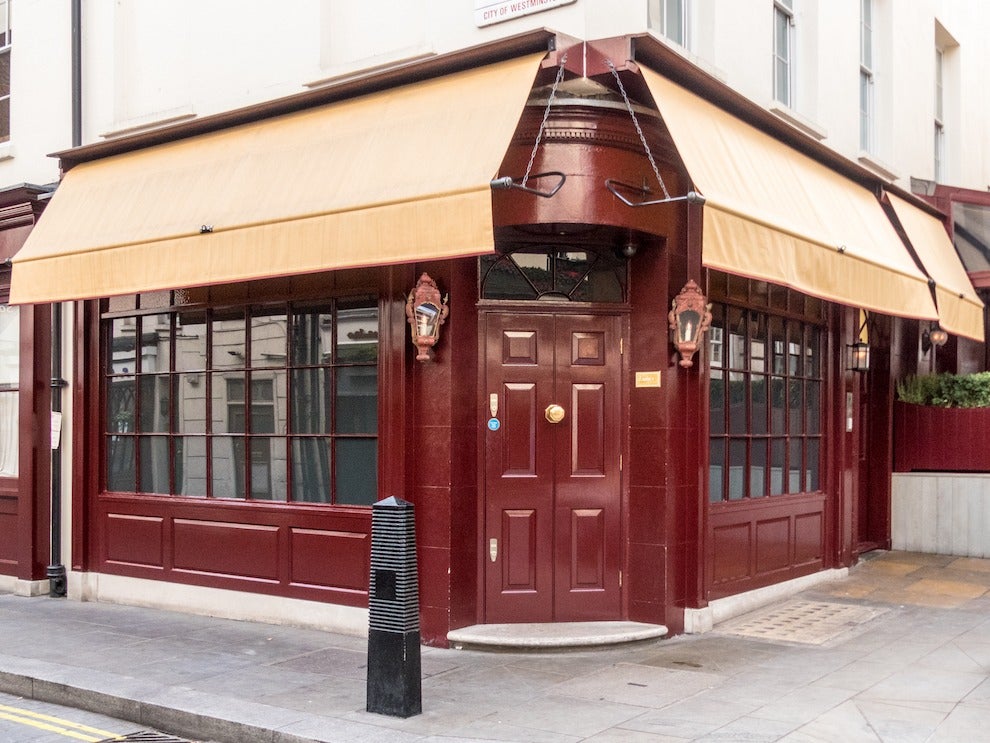 Even amongst London's most tailored revellers, 5 Hertford Street has a fearsome reputation for exclusivity. So how do you get through the unmarked maroon door?
The club's founder and anointed 'king of clubland' Robin Birley learned the value of exclusivity at the court of his father who controlled the 1960's and 70's high-end party scene with a cast-iron door policy. His son is a no less discerning gatekeeper.
5 Hertford Street (or '5H', as it is known to a privileged few) was reportedly the scene of Harry and Meghan's first date, Aaron Banks and Nigel Farage's pre-Brexit plotting and, more recently, lunch enjoyed by Liz Truss and high-ranking US diplomats. But Birley knows that a club's reputation is built less on who gets in so much as who is kept out. A string of A-listers have been left kicking their heels on the street outside 5H over the past decade, including GQ's 'most stylish man of the decade', Harry Styles. The headlines wrote themselves.
So how do you get inside 5 Hertford Street? Unless invited, entry requires membership. The process itself is relatively straightforward: two letters of recommendation from existing members and a short interview with a club secretary.
But securing recommendation is tricky. Imbued with Birley's reverence for exclusivity, members are highly selective. The genealogy of 5H membership can be traced back to the club's 500 original members, assembled by Birley with the help of Hugh Warrender, an old Etonian. 'Many of them were sort of English public-school types,' explains one of those founding members, a financier and fellow OE.
One former member, who runs a hedge fund, notes the prevalence of Old Marlburians, too. In a recent Spear's article, the financier said that the modern incarnation of Annabel's, under Richard Caring's management, has 'gone after a membership that has the new wealth in London — which generally isn't the English'. According to the writer Taki Theodoracopulos, some other Mayfair clubs have become 'a microcosm of what's happened to the world: anyone with money can go in'.
Indeed, fees are not the club's distinguishing factor. Members pay a modest £1,800 a year, compared to the £3,250 members cough up at Annabel's or £2,000 at the Arts club. Once inside however, things start to get a bit pricier – as our foreign secretary recently found out.
Yet for all its pomp and brashness, 5 Hertford Street is different on the inside. 'It's not some corny Downton Abbey type of thing,' explains Nicholas Foulkes, a Spear's columnist and club member. 'Indeed, stepping behind the building's burgundy-painted façade, one feels like Alice, tumbling into a rabbit warren of rooms, bars and restaurants; an English country house as if brought to life by Lewis Carroll.' (In fact, the interiors are the work of multitalented Turkish designer Rifat Ozbek, whose clothes were worn by Princess Diana.) Countless original paintings adorn the walls, including many works by Birley's grandfather Oswald. On a table in one of the drawing rooms is a charmingly candid framed photograph of Robin's half-brother Zac Goldsmith, who is pictured smiling as he's licked on the face by what one assumes is the Goldsmith family dog.
What's more, according to Foulkes, the service is almost 'clairvoyant'. 'There is an ineffable quality about it,' he says, 'probably that unquantifiable thing known as "genius".
To gain access to the inner sanctum, one must cultivate their contacts. The party season is almost upon us, and there is no hotter venue that 5 Hertford Street.