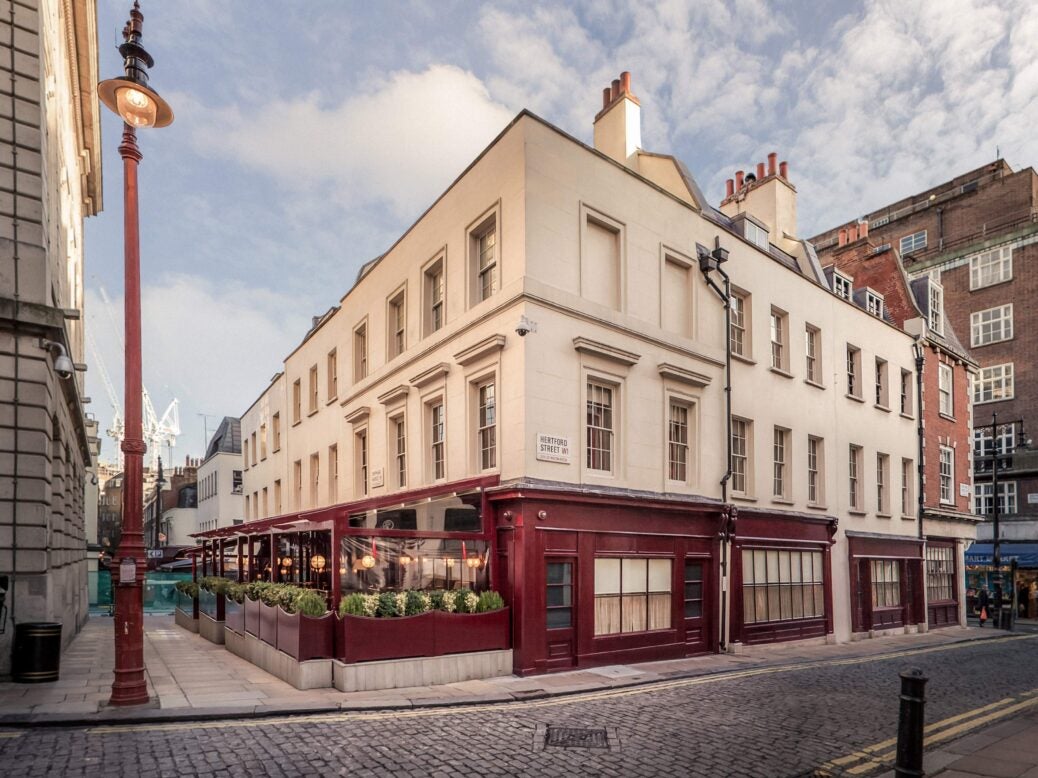 With 5 Hertford Street, Robin Birley has created a private members' club like no other. As the impresario prepares to expand his empire at home and abroad, Edwin Smith goes behind the velvet rope
Spear's readers will already be familiar with the folklore of Mayfair's private clubs. Almost as soon as Mark Birley opened Annabel's in 1963 it became the place to be – and to be seen. Boldface names from Frank Sinatra to Charles and Diana, Aristotle Onassis and Richard Nixon flocked to 44 Berkeley Square over the years and it remains, to this day, the only nightclub to have been visited by the Queen.
Then, in June 2007, Birley sold the club, along with his other properties (Mark's Club, the Bath & Racquets, Harry's Bar and George), to textiles entrepreneur (and owner of the Ivy) Richard Caring. Birley died just two months later, after a stroke. There was more difficulty to come for his son, Robin. Having been denied the opportunity to succeed his father as the king of clubland, he would also be prevented from using the Birley family name in any other business venture. To make sure of that, Caring sued, successfully arguing that the £95 million deal had included an exclusive right to use the name, along with the bricks and mortar.
Undeterred, Robin Birley returned to the fray in 2012, when he opened 5 Hertford Street. Echoing his father's success five decades earlier, the new club was a sensation. Mick Jagger, Kate Moss and Daphne Guinness all turned up during the first week; an Indian billionaire reportedly left a £5,000 cash tip; and the editor of Tatler at the time, Kate Reardon, opined that anyone who hadn't yet been was 'a bit of a loser'. In 2013, Harry Styles and other members of One Direction were refused entry. (According to The Daily Telegraph, doorman and resident wit Claude Achaume quipped: 'They're going in one direction, and that's away from here.') In 2016, it was the location for one of Prince Harry and Meghan Markle's early dates.
But 5 Hertford Street has now emerged as more than just a hangout for celebrities, socialites and royals. It has become a place where meetings of real consequence are facilitated and conducted; a crucible, where momentous decisions are mulled and then made. Its influence spreads far, far beyond its doors.
The club's exclusive clientele has been built on a foundation of 500 founding members, assembled by Birley with the help of Hugh Warrender, an Old Etonian. 'Many of them were sort of English public-school types,' says one of those founding members, a financier and fellow OE. One former member who runs a hedge fund notes the prevalence of Old Marlburians, too. By contrast, the financier says the modern incarnation of Annabel's has, under Caring's ownership, 'gone after a membership that has the new wealth in London — which generally isn't the English'. According to the writer Taki Theodoracopulos, some other Mayfair clubs have become 'a microcosm of what's happened to the world: anyone with money can go in'.
Much of 5 Hertford Street's success, of course, is down to the man at the helm. 'His father was a king of Mayfair,' says 5 Hertford Street member and Spear's contributor Nick Foulkes. 'People were exposed to Mark's Olympic attention to detail, so they had expectations of Robin. These have been met.' In Mark's day, Foulkes remembers, the melba toast at Annabel's would be arranged in a little rack, the butter would be shaped like a miniature golf ball, the brass columns in the club would be polished every day until the menu could be read in their reflection. 'That was the test.'
Fantasy land
Today, at 5 Hertford Street, Robin has managed to retain touches like these without becoming an outmoded cliché. 'It's not some corny Downton Abbey type of thing,' says Foulkes. Indeed, stepping behind the building's burgundy-painted façade, one feels like Alice, tumbling into a rabbit warren of rooms, bars and restaurants; an English country house as if brought to life by Lewis Carroll. (In fact, the interiors are the work of multitalented Turkish designer Rifat Ozbek, whose clothes were worn by Princess Diana.) Countless original paintings adorn the walls, including many works by Robin Birley's grandfather Oswald. On a table in one of the drawing rooms is a charmingly candid framed photograph of Robin's half-brother Zac Goldsmith, who is pictured smiling as he's licked on the face by what one assumes is the Goldsmith family dog.
What's more, according to Foulkes, the service is almost 'clairvoyant'. 'There is an ineffable quality about it,' he says, 'probably that unquantifiable thing known as "genius".'
This, perhaps, is among the reasons that the British-born, US-based businessman Charles Finch has chosen 5 Hertford Street as the venue for his fabled pre-BAFTA dinners. Guests at his most recent bash included Margot Robbie, Bradley Cooper, Ralph Fiennes, Rachel Weisz and Timothée Chalamet.
'5HS', as it is sometimes called, has also been the scene of the annual summer party hosted by Lady Annabel Goldsmith, Robin Birley's mother, who was married to Jimmy Goldsmith. Her soirées skew more towards the cream of London society rather than Hollywood, although Joan Collins and Rupert Everett were in attendance this year, along with Prince and Princess Michael of Kent. It was a family affair too, with Lady Annabel's children Zac Goldsmith and Jemima Khan as well as Otis Ferry (Robin Birley's stepson via his marriage to the ex-wife of Bryan Ferry, Lucy Birley).
But the club attracts leading lights from other worlds, too. In his book The Bad Boys of Brexit, the co-founder of Leave.EU Arron Banks thanked Birley for his hospitality during the campaign and explained that the club was 'perfect for a hush-hush lunch and a bit of discreet arm-twisting' in the lead-up to the EU referendum. (Although one member told Spear's that meetings at the club can often be overheard.) Banks also noted that the 'all-important smoking terrace', where Leonardo DiCaprio has been spotted more than once, meant that Nigel Farage had 'no excuse to refuse invitations' to plot strategy. 5HS was 'one of my favourite places', wrote Banks, 'though it seems to attract a lot of expensive-looking middle-aged women with leathery tans'.
In June of this year, the club was the setting for a meeting between Banks, Farage, Conservative MP Priti Patel and the DUP's Ian Paisley Jr, which was described by The Mail on Sunday as a 'secret summit' to discuss 'an electoral pact to keep Jeremy Corbyn out of Downing Street'. This autumn, reports also emerged of a chance encounter between Boris Johnson and Farage at the club, although Downing Street sources insisted the 'accidental' meeting happened before Johnson became prime minister.
Birley's own brand of politics is certainly Eurosceptic. He has donated more than £250,000 to UKIP and has also recently given to pro-Brexit Conservatives, including Johnson and 5 Hertford Street member Michael Gove (via Gove's constituency office). Following a Brexit-induced feud between Gove and David Cameron, it was the cigar room at 5 Hertford Street that the pair chose as the venue for a rapprochement, patching things up over whisky soda and red wine earlier this year.
Party time
In the late 1700s, White's and Brooks's became rivals, with the former becoming an unambiguously Tory establishment and the latter the unofficial home of the Whig party. However, many 5 Hertford Street members who spoke to Spear's for this piece were quick to point out that there is no present-day echo of this partisanship at 5HS. Neither the club itself, nor the membership at large has any particular political allegiance. And, anyway, says the financier, '95 per cent of the people are just there to have a drink and a good time.'
'It's certainly true to say that there are aspects of a political salon about the place,' says another current member, who asserts that, 'overall' the membership is mostly Remain. 'There's lots of Euros, although it's about the only club I know where you won't be abused if you're a Brexiteer. Robin's politics are hardly a state secret – Jimmy Goldsmith was his stepfather, after all – but I'm certain he wouldn't want it to be regarded as a Brexiteers' watering hole.' Even so, when you add up all the power-brokers who have broken bread or shared a drink here, you can't help but feel as though the place has helped to steer the course of the nation.
Retaining the right balance among the membership of a private club, though, is an ongoing project. The financier founding member who speaks to Spear's says that both Annabel's and 5 Hertford Street have written to people in the past year or so 'telling them that they don't think they're suitable for membership – basically kicking them out'.
'It's quite extraordinary,' he adds of the missives informing members that they no longer 'fit the criteria'. 'It's often been girls who are quite decorative and Eastern European, who look as if they could have a different sort of occupation. In some cases, it's nice Eastern European girls from families that are quite well known in those parts of the world – who certainly aren't what the club fears they might be, even if they do dress slightly provocatively.'
The hospitality at 5 Hertford Street, on the other hand, has never been in question. 'I like Robin a lot,' says the hedgie who let his membership lapse. 'He has an incredible knack for names. The staff too; I was a member for three years and never had to show my card.' However, he adds, the club is excruciatingly expensive. 'I'd take clients there but come out wondering how I spent £300 on lunch for two, with just one bottle of wine. A bottle of water for £8? A £10 cover charge for lunch? The food is good, but it's the wrong price.' He's not the only one who feels this way. Another member tells Spear's: 'It's like going to Switzerland!'
There are, Foulkes notes, many for whom such prices are mere trifles. 'The club understands that there are people who are prepared to pay without ceiling for the best – and for what cannot be found anywhere else.'
The question, the hedgie suggests, may be whether these people are the ones that 5 Hertford Street wants to attract. Before he let his membership lapse, he reports noticing more and more of the kind of people 'who would arrange with their hotel concierge to come for just one night. I know I sound like a snob,' he adds, 'but that's not why you join a private members' club.' Robin's father Mark might have agreed. One obituary noted that, under his management, Annabel's became 'synonymous' with 'unapologetic snobbery'.
Empire building
Clearly, though, the Birley brand of Mayfair magic remains in high demand. Last year Robin opened Oswald's, a club dedicated 'to the glorification of wine'. Work is also under way on a third Mayfair location, which will open on Mount Street, quite literally opposite George, one of the establishments sold by his father to Caring. And, soon, Robin Birley will go international. There are plans for a club and hotel in New York, where a 37,000 sq ft property at 14-16 East 16th Street, near Union Square, was acquired in 2018 for $39.5 million by David and Simon Reuben, the London landlords of 5HS.
People used to say that Mark Birley was going to open an Annabel's in New York, notes Taki, who now lives in the city. 'But he never did it.' Perhaps his son can pull it off? 'If he does the same thing as he does in England, I think it'll work here.'
If, as Taki said earlier, the wider private club scene really is becoming a microcosm of the world, then perhaps it is fitting that 5 Hertford Street should become a standard-bearer for post-Brexit Britain. As the country hopes to draw Americans of influence closer, there could be no one better, surely, to make the necessary introductions than Mayfair's hospitality genius, Robin Birley.
More from Spear's
Inside the latest issue of Spear's: 5 Hertford Street, the inaugural luxury index and more
Nicholas Coleridge on festivals, social media, ponds and wool – the Spear's diary
Reach for the skies: BA and Virgin Atlantic face up for a new battle