Dean Forbes has been named the UK's second most influential Black person in the Powerlist 2024. The annual award recognises people of African, African American and African Caribbean heritage in the UK. The list was topped by British Vogue's outgoing editor-in-chief, Edward Enninful.
On Forbes' influence, the judges said: 'Dean has had a stellar year following his landmark €1bn transaction between Forterro and Partners Group in 2022, which is still the largest European deal led by a CEO of African Caribbean heritage. Forterro is now the UK's sixth largest privately held software company.
The citation continues: 'As CEO, Dean has continued to scale Forterro by increasing profits by 30 per cent through top and bottom-line growth, in addition to accelerating growth through active mergers and acquisitions. Whilst running Forterro, Dean has also increased his work as the sole African Caribbean partner at Corten Capital – the €1.2bn+ private equity fund – where he is responsible for growth and value creation.'
Dean Forbes is also recognised for his work on the board of Cornerstone, and his foundation, the Forbes Family Group.
In honour of Dean Forbes being recognised, revisit his interview with Spear's when he spoke of how his rise from telesales operative to €1 billion Forterro chief is grounded in pride, ego and self-analysis…
Dean Forbes: the incredible rise and rise
Dean Forbes' backstory reads like a Netflix elevator pitch: Battling homelessness, a teenage carer for his disabled mother comes tantalisingly close to a professional football career, before channelling his dashed dreams into tech, soaring through the ranks to spearhead a $550 million deal and reach CEO status by 30.
While TV trends are favouring pessimistic finales, 13 years on, Forbes' story remains a happy one. In early 2022 he led his software firm Forterro into a €1 billion buy-out by Partners Group, after just a year at the helm.
In October Forbes, 44, was recognised as the UK's most influential Black man by the JP Morgan-backed 2023 Powerlist, the annual rundown of the UK's most powerful people of African, African Caribbean and African American heritage.
'I was arguing that all that [would do] is you know, make my days longer and create risk. And nobody's interested.
While he recognises the significance of the list, Forbes was initially reticent about sharing his personal history.
'But the moment we started to tell the story, so many people emerged to say that they were dealing with something similar.
'They were totally unsure that a journey like this was possible but having heard or seen what I'd been through, it created something positive in them.'
Grappling with a sketchy 6pm Zoom connection, Forbes has been in meetings all day. Nonetheless he appears fresh in a crisp tailored shirt, patiently holds his laptop in the air to stay in shot and calls back when the video cuts out.
This is not a man who is prepared to fail at anything – even if he'd rather be at work.
'I love my work so much, I would love to spend seven days a week doing my job'. He says this with a smile – but you get the feeling he isn't joking.
It's not a claim many of us could make, and as a young Crystal Palace signee, Forbes certainly wouldn't have wanted to swap the pitch for the boardroom.
But when his glittering football career stalled, the crushed youngster's agent suggested a telesales role.
'I'd been a professional sportsperson up until that moment and it really jarred,' he said of his entry-level position in Motorola's call centre.
'I hated it – it was difficult. The manager at the time was the stereotype of a manager I don't think any of us want to work for – he was high-volume, very aggressive, very insulting.'
How, then, does a reluctant call centre employee jump up to software VP for international business a few years later?
'A bit of pride and ego,' Forbes says with refreshing honesty. 'I figured out how to be successful.'
'I only stayed there long enough to prove that he couldn't break me, so the moment I was good and had delivered targets and met my objectives and kind of proved I could do it, I was out of there.'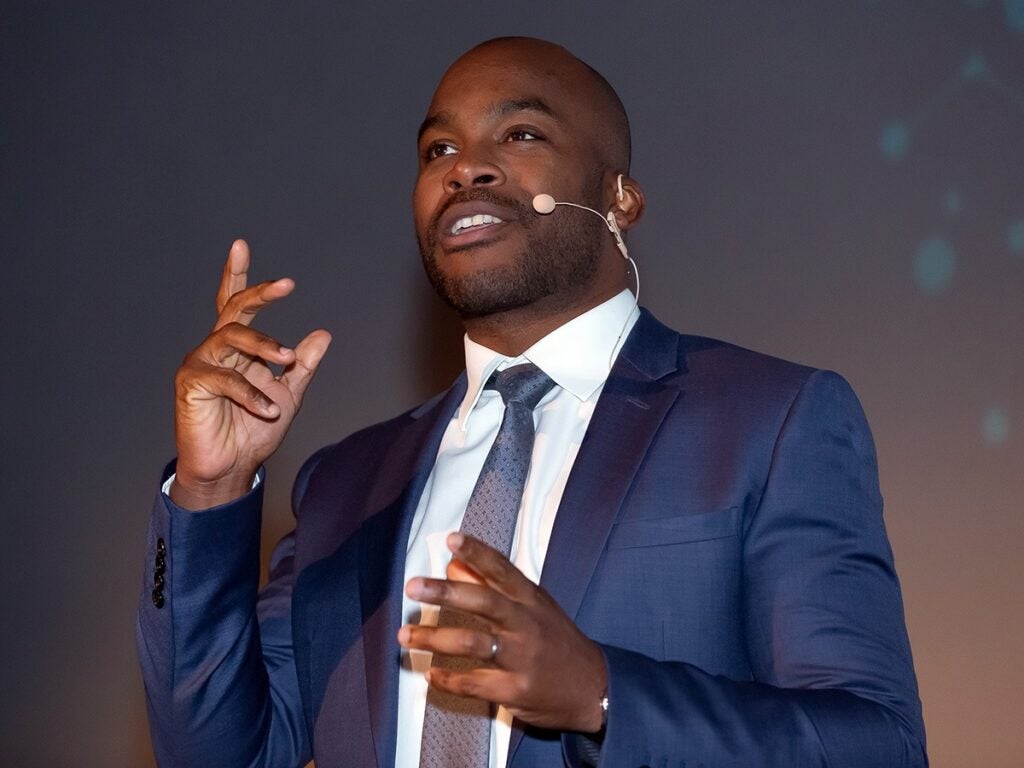 'Out of there' meant scaling the Motorola corporate ladder before jumping over to US tech company Primavera, where he excelled at sales. Taking over territories and hiring a team, Forbes oversaw the firm's sale to Oracle for $550 million in 2008, when he was 30.
The ramifications of being such a young leader are one of the biggest challenges he's ever had to face.
'At 26 and 27, I was hiring people who were not just older than me but had maybe 10 or 15 years more experience than me.'
Forbes says he cracked how best to manage them only when he understood how to manage himself.
Part of that self-analysis uncovered Forbes taking 'everything very personally.'
Self-discipline and deep analysis
While this may make him the opposite of a corporate blame-shifter, it means that resignations, redundancies and business losses weigh heavily on the father-of-three.
'If we had to make a tough decision and let people go, that would sit with me for days before and then days afterwards.
'If we were competing for a deal and we lost that deal – or even now if people choose to leave Forterro and go and work somewhere else, I always feel like if we had done more, if we had been a better company, if I had been a better leader, they wouldn't have made that choice.'
He concedes it's illogical to expect 100 per cent staff retention – 'to some degree you want people to go on to bigger and better things' – but continues to internalise such setbacks.
'I just think now I'm a bit more disciplined to try to understand that, maybe analyse it a little bit,' he explains.
'I'm better now at churning through that thought process, hitting a conclusion and then being able to move past it.'
'I try to understand if it was the natural conclusion of that person or that group's time with us and is it the right thing for them to move on, or that we've done something wrong and there's a lesson in this that we need to apply to do better.'
It's clear that as a leader, Forbes strives to be the opposite of that telesales boss.
His early experiences of rejection and poverty also mean he's hypersensitive to any of his employees heading in that direction.
This personal investment in his human capital has guided his plans for tackling a downturn.
On the day we speak, the Bank of England pumped interest rates to 3 per cent – its highest rate hike in three decades – and warned that the country is facing the longest recession in a century.
Forbes says the tough part for him is getting through it 'in a way that keeps the company and employees safe'.
 

View this post on Instagram

 
'If we have a good, thriving, talented, motivated employee community, we'll do great things for customers and if we do great things for customers, the shareholder situation will take care of itself. That's why I put the priority on trying to take good care of my employees.
'But that's hard because with the inflation situation the cost of living for employees goes up, customer spending doesn't grow as fast as it does when you're not in a recession, so that cash and the capital with which you have to help employees through that cost of living gets contracted. It's quite a difficult conundrum.
His solution has been to put the brakes on new hires in order to preserve his existing staff.
'If we continue to hire at an accelerated rate we bring more people into the business, the cost space increases, if the economy turns against us and we need to take action, then some number of original employees are going to be impacted by that.'
Q&A: Dean Forbes on what it means to be wealthy
When did you first feel wealthy?
Feeling wealthy would be an enemy of progress.
What does wealth mean to you?
The complete freedom of reasonable and equal choices.
What luxuries do you enjoy?
Home and travel – my wife Danielle rented a private island that was only big enough for us and our kids when we renewed our wedding vows.
Are you a collector of anything?
Watches!
What's the best piece of advice you've ever received?
You should never wait until you are ready for the next level to move there.
What advice would you give those who want to follow your footsteps in business?
Make sure you surround yourself with enough people who are ahead of you.
Dean Forbes on valuing workplace diversity
His employees form part of a workforce that Forbes has worked hard to diversify and he believes firms that are constructing and valuing workplace diversity should be valued more highly by the government.
'Most of us want a broader, more diverse, more inclusive workforce. What's the difference for me to really pursue that versus the next person to not address that at all?
'Maybe there should be some incentive for me if I do a good job of opening doors and creating opportunities.'
Forbes didn't only open his own doors, he bulldozed through the walls to make space for himself. But his calm, personable manner and considered insight make it easy to forget he could ever have been a candidate for imposter syndrome.
'It's been quite a journey of self-realisation, lots of years of being in rooms hyper-aware that you're the lowest educated in the room or you're the shortest-serving CEO, or topics being discussed are going over your head,' he says.
Well over a decade's experience leading boardroom meetings means the 'tech transformer' is now more than comfortable as an authentic visionary in a corporate world packed with Oxbridge MBAs.
'I'm definitely a proud south-east Londoner,' says the Lewisham native. 'It's responsible for a lot of the things I still rely on to get me through the days today.'
More from Spear's
Spear's Awards 2022: Billionaire Strive Masiyiwa and Wagatha Christie lawyer among winners
These are the most most expensive private schools in Europe
The former private client lawyer helping billionaires shed their wealth