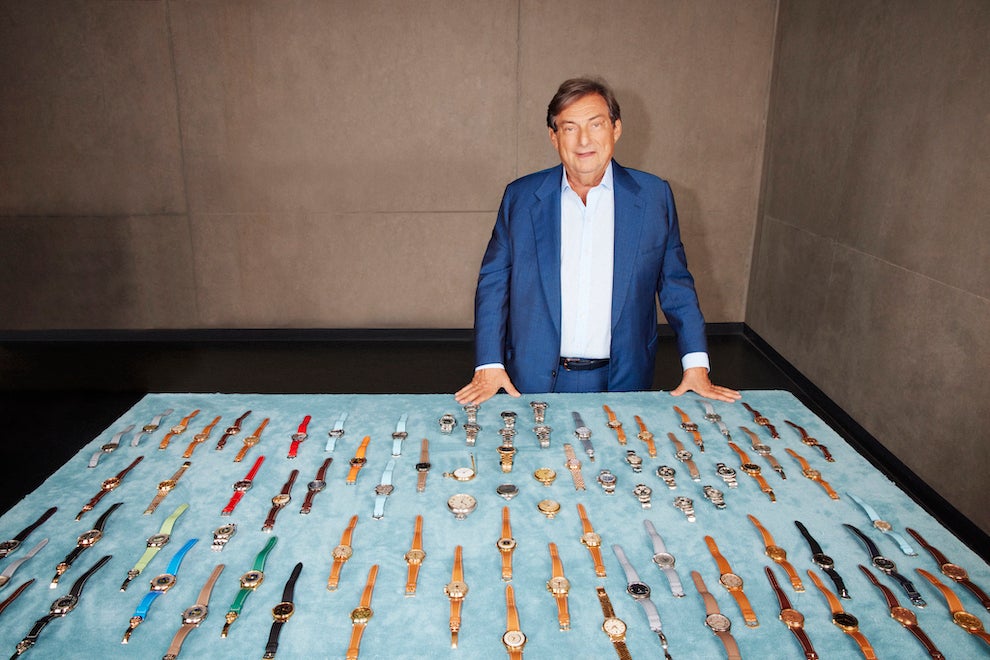 The market for rare and luxury watches has gone stratospheric. Who are the collectors powering this surge in valuations, and what makes them tick? By Timothy Barber
In a private room deep within the warren of Mayfair private members' club 5 Hertford Street, Patrick Getreide brandishes a platinum-cased Patek Philippe wristwatch. A 30-year-old Reference 3970 integrating complex perpetual calendar and chronograph functions in classical style, it's worth around £100,000. Its strap, however, is incongruous, made from a hardy, casual fabric rather than the deluxe leather you'd expect.
Getreide, a 67-year-old Frenchman, shrugs. 'It's the watch I swim with,' he says, laying it on a table alongside ten or so other timepieces, several of which make the platinum pool watch seem lowly by comparison. Among them are vintage Pateks of unimpeachable rarity and condition, bespoke modern examples of a kind the brand doesn't officially admit to making, and unique pieces from a handful of other makers. 'One of a kind!' Getreide intones happily, seemingly for each watch, as he picks through them.
For many watch enthusiasts, these would be 'grail' watches – pinnacle pieces you might dream of one day owning. For Getreide, they're just the selection he has in rotation when we meet. The assortment changes every few weeks, picked from a 600-strong collection he's been amassing for 35 years. An entrepreneur with interests in mining and real estate, his homes are in London and Miami, but he stores his watches in Geneva in a 'little museum' he created for the purpose. 'When I see a watch I like, it's like I'm 20 years old again, I get goosebumps. If I like it, I buy it,' he says. 'I don't think about value at all. It's a passion, not business.'
Getreide built his collection in secrecy: he sends emissaries to auctions, employs experts to research potential acquisitions, and says the only guest ever to set foot in his museum is Patek Philippe's president, Thierry Stern. But he's now going public, and in some style. In May he'll reveal an unprecedented display of horological wonders at the Design Museum in South Kensington in an exhibition curated with the help of Spear's contributor Nick Foulkes.
'I thought of all my friends who own paintings that are in museums, and I said, "Why not watches?"' Getreide explains. 'I believe a watch is a piece of art. I thought, "Someone needs to take this step to show them in a museum, and to share them with people who cannot experience them otherwise."'
Watch collecting as a serious pursuit has only really existed for as long as Getreide has been in the game. It was in the late Eighties that Swiss watchmaking, in recovery mode after the shattering effects of Seventies currency crises and the onslaught of cheap quartz watches, began a rebirth that would eventually place it at the apex of the mid-Noughties luxury boom. Around the same time, enlightened obsessives in Italy and Japan were finding beauty and intrigue in older wristwatches, kicking off a vintage market that would itself flourish years later. Both avenues, fuelled by nascent online networks of forums and blogs, provided rich seams to mine for those with the means and the dedication to go deep.
'Watches are this strange combination of art and science, whereas with other hobbies you're generally going towards one or the other,' says Michael Hickcox, a 48-year-old from Ohio now based in London, where he founded a tech industry executive search firm. Hickcox was introduced to the watch world by an enthusiastic godfather in the Nineties, and by his mid-twenties he was visiting watch fairs in Switzerland and touring factories, while participating in the online forums around which a small, global collector community took shape.
'We formed very close friendships in the early days with people we'd never met,' he says. 'That's normal now, but back then it was a very new idea.'
Today, Hickcox owns more than 200 watches, ranging from classic Patek Philippe and Rolex pieces to the German powerhouse A Lange & Söhne, while he holds a special penchant for innovative independents such as Kari Voutilainen and FP Journe. Exquisite design is one thing, he says, but it's a complex movement (the mechanism within) with its parts luxuriously chamfered and polished by hand that really stirs the senses, and separates out great artisanal watchmaking from the merely good (and possibly true obsessives from the merely impressed).
'It's where that concept of science and art come together. Even just winding a watch by A Lange & Söhne, you can actually feel the finishing because it's so tactile – there's no friction,' he says. 'And of course, you wear it one side, and to see the magic you flip it over and the beauty just soaks you in. Collectors tend to have this great sense of curiosity and a need to know more, and that feeds it. In watches there's endless variety, and that means constant discovery.'
And increasingly, there's also the potential for phenomenal returns. This came first in the vintage world, where the 2017 sale of a near-mythical Rolex owned by the late actor Paul Newman, for $17.8 million, stands as something of a high watermark in a marketplace where accidental variations in purportedly identical models can mean six-figure swings in value.
But in the past two years, it's the market for new and pre-owned modern watches that has been going through a vertiginous transformation. Speaking to industry insiders, the same word crops up over and over: it's 'crazy', they say, absolutely crazy. They tell of soaring demand, choked supply for a growing number of models, waiting lists extending far into the future, and secondary-market prices jetting off into the stratosphere.
'Watches have gone from being a slightly nerdy passion project for those in the know to becoming a mainstream core collectible,' says James Marks, head of watches at Phillips auction house in London, identifying a generational shift in the market spurred by wider trends such as hype culture, social media proliferation and the rise of crypto wealth, which the pandemic has turbocharged. 'It compressed five to ten years of digital change into two, but it was going to happen anyway,' Marks says.
Inevitably, investors and speculators have come barrelling into the space, with 'unicorn' watches from the likes of Rolex, Patek Philippe, Audemars Piguet and Richard Mille delivering soaring returns, while creating a tide on which nearly all boats are suddenly rising – even those far from the traditional mainstream.
Among Hickcox's most treasured wristwatches is a seminal 'Simplicity' model made in 2002 by Philippe Dufour, a wizardly horologist now regarded as the industry's greatest living master craftsman, but for a long time an almost iconoclastic figure working in total isolation. For years Dufour barely figured on the aftermarket, but his watches have begun surfacing, and setting records. Hickcox paid around CHF50,000 for his Simplicity in 2002, and it's likely to be worth ten times as much now – but whatever the gains, he argues that thinking of it just in terms of monetary value is missing the point.
'I love it because it's about the artisanal roots of watchmaking: a person sitting at a bench making it, and collecting skills that would otherwise disappear,' he says. 'It's farcical to see the ever-increasing valuations on these things, because there's so much more that's embedded in a watch like that.'
While Patrick Getreide may sit alone in his museum, for many watch collectors their hobby is a profoundly social one, from the online groups and forums that first spawned a global watch community to watch fairs, factory visits and meet-up groups around the world. Sid Vasili, a former entrepreneur in the fintech sector now running a family office, has dropped in on collector meet-ups around the world, and in London gathers regularly with a group of around 25 others to compare watches and chat horology. The clue to such an event, it turns out, is a plethora of 10p shopping bags being carried into a restaurant.
'If you're carrying watches around in London or on the tube, you hardly want the nice Louis Vuitton bag drawing attention,' says Vasili. 'An Aldi carrier bag is much safer.'
The gatherings take place in the private rooms of restaurants. Once the waiters are ushered out and the doors closed, out come the contents of the bags. Vasili estimates there may be £2 million on the table at any one time.
'Wherever I've gone, be it London, Singapore, the Middle East or wherever, it's similar people – there's a commonality in culture and attitude,' he says. 'It's mostly fellas, they tend to be entrepreneurs, and they get to sit around being nerdy for a few hours. And there might be a bit of buying and selling.'
Vasili took a canonical route into collecting, acquiring his first Rolex on reaching a level of business success, before being beguiled by a Patek Philippe and falling down the rabbit hole. 'I just got a habit for it, almost at any cost, and particularly if it was something where they were only making a few. It would make me giddy,' he says. Like many collectors, he has enjoyed the favours and privileges of VIP-dom from both brands and retailers – whisked off to the Venice Film Festival by one brand, or to Geneva in a private jet by another, and entertained with presentation ceremonies on making a big purchase.
However, Vasili reckons that world is changing, with digital conversations and data analytics outpacing the need for showrooms, sales personnel and luxury flimflam. He's put a team together to investigate ways to bring technology such as artificial intelligence, blockchain and social listening to bear, with the intention of building a new digital platform to service the specific needs of serious, high-level collectors.
He's by no means alone in this. According to the consulting firm McKinsey, on current trends the pre-owned watch market, which in 2018 was worth £13.5 billion, will be worth £22 billion by 2025. A host of innovative platforms have emerged amid the surging marketplace of the past 24 months – though in terms of shaping tastes, guiding conversations and connecting enthusiasts and brands, it is Instagram that holds the biggest sway in the watch world.
'I've met a lot of collectors through it that I wouldn't have done otherwise,' says Paul Blandford, a CFA working for a financial boutique, who posts beguiling images of his otherworldly watches from an apartment overlooking Battersea Power Station. 'You can end up with connections that will get you something, or offers on watches you're selling, and you can tell when they're a genuine collector that you have a wavelength with.'
Blandford's wavelength is firmly tuned to a genre of super-watches that seems custom-made for the era of Instagram's visual proliferation. Since the early 2000s, small, independent brands such as MB&F, De Bethune and Urwerk have been creating watches that more resemble sculptural sci-fi fantasies than traditional timepieces, though they are as adventurous and uncompromising in their horological craft as they are in their aesthetic. 'If I'm going to get something new, it has to add something to the collection as a whole,' Blandford says. 'It has to be different, unique and interesting. It's people thinking about something completely different that hasn't been thought of before, and just having the balls to create these crazy things.'
Such brands make very few highly artisanal watches, but the appetite for once niche delicacies that were previously only for the most specialised clientele means that now, like everyone else, they are overrun with demand. Order books have been closed, waiting lists extended and prices raised. When we speak, Blandford is awaiting a watch from De Bethune, whose dreamlike creations have won multiple awards for their horological innovation. Having ordered it in August 2021, he's expecting to take delivery in early 2023.
'This will be the longest I've waited for a watch from ordering, but I'm not too worried,' he says. 'If you step away for a while, you realise why you like these things in the first place. The fact someone has made something that small, that crazy, that ingenious, is astonishing to me. You can have a watch box with 20 watches rather than a garage for 20 cars, and it's probably worth more. For me, they're pieces of art that happen to tell the time.'
In that, he and Patrick Getreide are in complete agreement.
The inaugural display of The OAK Collection, featuring a rare collection of vintage and contemporary watches from makers such as Patek Phillipe is on display at The Design Museum in Kensington between 19 May and 25 May.
Lead image credit: Torvioll Jashari