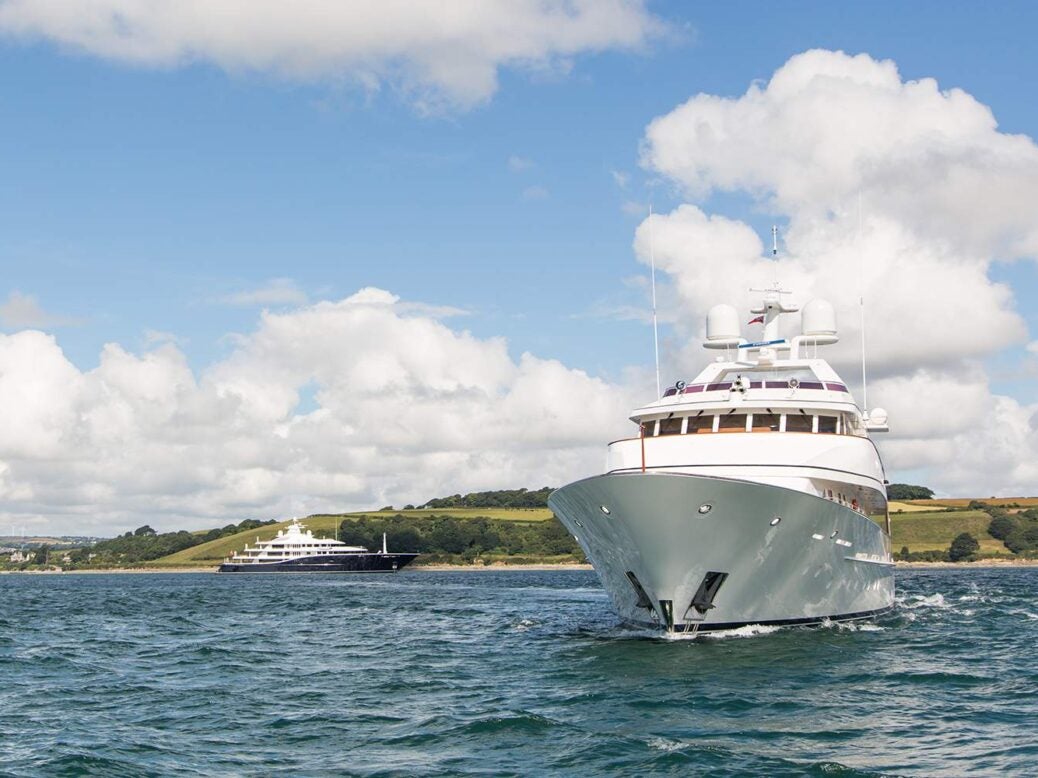 Rasika Sittamparam discovers the dedicated and ambitious young team behind Britain's largest superyacht refit project
A proud array of boats and yachts bobbed gently at Falmouth Harbour as I watched the sun rays bounce off each visible ripple in the azure water. This was the view from my suite at the Greenbank, the historic Cornish hotel where Kenneth Grahame stayed in the autumn of 1907 when he wrote letters to his son, latterly forming the The Wind in the Willows. Realising that I was in the heart of the British superyacht world, with neighbouring Pendennis Shipyard in the horizon, I imagined I was Grahame for a second, when a thought tickled me. If the author had written Mr Toad in modern days, he would be a Sir Philip Green-like character with a similar obsession for superyachts instead of automobiles, I thought.
It came as no surprise to hear that the hotel receives many HNW guests, many of whom superyacht owners and enthusiasts who travel  down to Falmouth to witness the construction process at Pendennis. I pressed my nose against the bay windows for a closer look, and discerned a ghostly installation in the horizon, just about seeing the tiniest flash of navy blue. But the superyacht it belonged to was anything but diminutive. Parked at Pendennis' wet basin, Aquila  was an 85.6 metre motor yacht, one of Pendennis' most ambitious projects to date as well as being the largest yacht refit project in the UK.
I had the opportunity to visit the impressive blue-white vessel up close, as its works were nearly complete. Led by Toby Allies, the sales and marketing director at Pendennis, we carefully  trod across all five-levels of the deck. I admired the ultra-modern finish; its minimalist and elegant décor exuded an energetic feel. It was a replacement far more youthful and stylish than the quaint but dull, velvety look it inherited from the former owner. A cascading chandelier caught my eye, the brilliance of its 850 individual hand-blown glass pieces that was built through four deck levels enchanting. Glass is the It-material now, Allies says, as he sees increasing demand for its usage internally and externally for a striking effect. 'It can require extensive engineering expertise to perfect,' he says. Other features like a beach club, disco bar and a spacious sun deck also mirrored clients' trend towards maximising outdoor spaces, for water sports and socialising, he added.
Aquila's works requires over 1,000 hands around the globe (not specifically working on site in Falmouth), Allies says. Although no small feat, he is proud of the skilled in-house trades available at Pendennis to complete such projects with relative calm and ease. I felt like I was on the set of Extreme Engineering within the yard where several other refit projects were in action. It was fascinating to watch Pendennis staff beavering away with unwavering concentration, unperturbed by my invasion. The atmosphere was somewhat hipsterish, a surprising number of them in their youth, some lightly nodding to rock tunes in the background. One of the largest employers in Cornwall, Allies said the company's apprenticeship program has groomed many talented youngsters who stay on as full-time staff, with a 90 per cent retention rate. The skill force is youthful, the average age being in the mid 30s.
The availability of myriad skills, from engineers, designers, to electricians in-house, is one of the reasons why Pendennis is able to execute projects like Aquila, and many others, Allies says. Besides repairs and refits (which make up the bulk of the current orders), the firm specialises in building bespoke yachts from scratch, having built over 30 superyachts (sailing and motor) larger than 30 metres since its inception 29 years ago; no two yachts having ever been the same.
Exhausted from inspecting the full-scale of the shipyard's premises, I tucked in for dinner with Allies back at Greenbank. The oenophile recommended a glass of particularly delicious Chablis to unwind with, before resuming his narrative of the superyacht industry, mentioning how private clients' expectations have changed in recent years. They are increasingly demanding customisation of their vessels, be it from scratch or remodelled from an existing model, or even stripping back a newly purchased yacht to rebuild according to personal preferences. 'Whichever route they choose, the client can be sure of a truly custom experience – our 380-strong permanent skilled workforce cover all build and fit-out trades and are passionate about providing an enjoyable build experience for each and every client,' he says. Having always built such bespoke vessels, the company has survived the 2008 financial crisis, a period when many yacht businesses went bust due to dwindling demand. Its position is still strong in the industry, he says, adding that other firms in the global landscape are currently struggling to stay afloat. 'Many of our custom yachts have been recognised by international awards (most recently Aquila won a World Superyacht Award for Best Refit), taking into the account the complexity of build, beauty of design and quality of finish.'
Pendennis' stronghold in a volatile market is also due to the way it operates, working closely with clients to achieve perfection. But manufacturers don't have the same luck, Allies says, as many operators mass produce vessels, at a high cost, which are then not sold off as planned. As a high end luxury product, excess volume always means trouble. Storage and maintenance of these superyachts add to the overhead cost, a reason why many manufacturers face a high risk of running on losses, he says.
But all may not be doom and gloom in the new build world. One of the UK's largest manufacturers, Sunseeker, may have had a £41 million loss in 2014, but the EU referendum has driven the demand for its yachts, and turned a profit as a result for 'the first time in quite a long time', boss Phil Popham told a local publication. Another success story in the manufacturing business is that of Princess, which has recently survived a rocky start in January 2016, announcing up to 170 job cuts due to a difficult period. With the former McLaren boss, Antony Sheriff, made chairman during that time, calls the Brexit-induced pound drop a 'windfall', offering British yachts more value for money, and like in Sunseeker's case, driving up demand. The company also attempts to cater to clients who want to customise their yacht. 'If a customer has a unique design in mind, the Princess Design Studio will work very closely with them to realise that, and that is great because it also challenges us to look at what we do through a different lens,' says Kiran Jay Haslam, marketing director at Princess Yachts.
With the demand for UK superyachts looking to increase in the near future, Allies said the size of the vessels, in terms of length, order and capacity, is expanding too. This is the biggest trend in the global superyacht world in 2016, with the likes of megayachts like the 180 metre Azzam, the 156 metre Russian-owned Dilbar, and the 90 metre Lionheart belonging to Sir Philip.
A 50 metre yacht, which at Pendennis' inception was considered to be large, is now the average size of yachts it works with. Attentive to the rapid increase in the size and volume of vessels, the shipyard is ahead of the curve, having recently completed its £22 million EU funded expansion project. This will allow the company to not only work on bigger yachts, but also on more yachts at any one time.
With its 30th anniversary around the corner in 2018, Allies is excited about the future of the superyacht world, and Pendennis' role within it: 'The industry is ever-changing and no doubt innovations from outside the superyacht world will continue to pass to our sector, we look forward to the challenge and hope to continue our growth and success globally.'