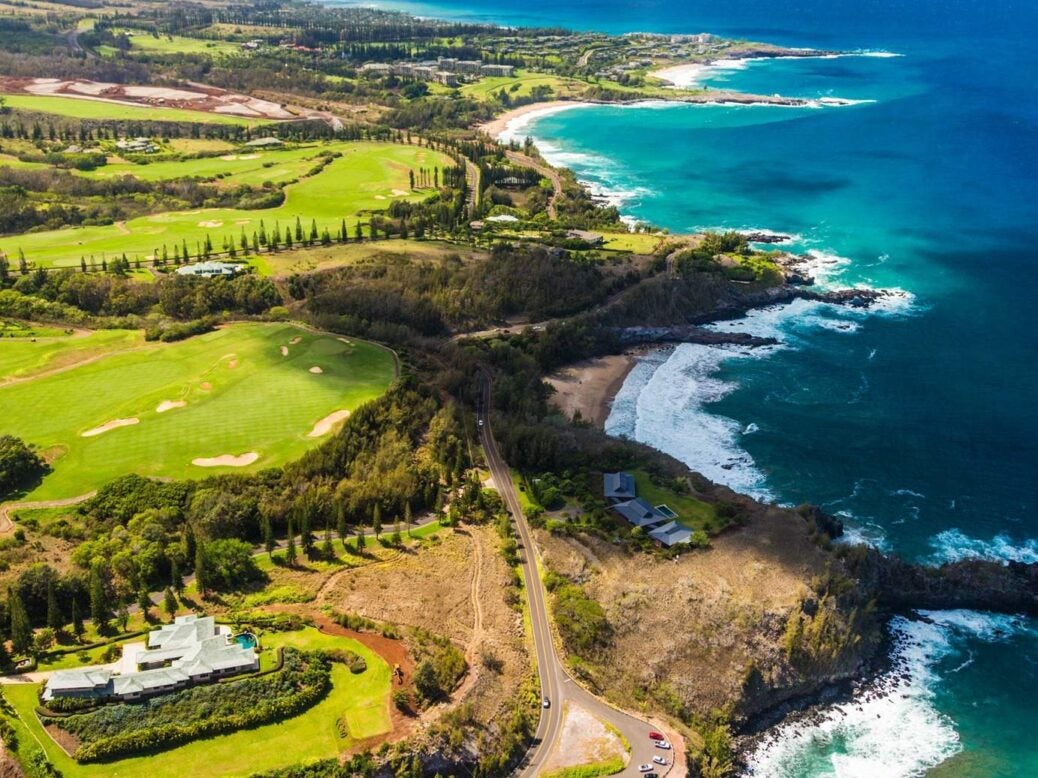 Travel by sky, road and sea – beyond the tourist traps, big waves and romantic views – to discover Hawaii's true soul and culture, writes Max Johnson
For years, Hawaii has been a picture of beauty: romantically isolated on its own in the Pacific Ocean, drawing big wave surfers and honeymooners alike.
This volcanic archipelago has found fame on screen and in song – the mere sound of ukulele conjures images of Hula dancers to mind. But there is much more to Hawaii. For one, Hawaii is a name given to not one, but six islands. O'ahu and Hawaii Island are the most well-known, so we decided to visit the little-known Molokai, and then Maui.
Molokai is a short flight from Los Angeles to Kahului airport, and then another one across the Lahaina Roads (which is a stretch of water) in a six-seater plane, over rich, green clifftops covered in hinahina flowers.
There are no traffic lights on Molokai, and almost no people: just a small town and a few houses dotted around. Molokai is one of Hawaii's least inhabited islands, but one of our main reasons for visiting was a chance to meet with one of Hawaii's most famous Kupunas (elders), a protector of Hawaiian culture across generations, at Halawa Valley.
We took a beautiful drive along the south coast of Molokai, the road narrowing, the concrete gradually giving way to dirt. Once we reached Halawa Valley, we hiked through and saw one of its great waterfalls – the 250-feet high Mo'oula Falls – crashing out of the thick vegetation and disappearing out of sight to the forest floor below.
We passed no more than 20 houses, winding around rocky bends in the coastline, in and out of charming little bays, heading further away from civilization. Half an hour later, Anakala Pilipo Solatorio stood before me and pressed his forehead against mine. Our noses touched each other.
He then paused for a few seconds, breathing in and out. I did the same. This is the Honi – a way of experiencing and exchanging 'the breath of life'. My handshake as a greeting has a word too, meaning 'without the breath'. 'Now you are welcome. You have been accepted into my home.' It turns out we should have announced our arrival by sounding a conch. 'In the old days,' Pilipo smiles, 'we would have thrown our spears at you.' Hawaiians are extremely proud of their culture, and Molokai presents a fantastic opportunity to experience it
.
After years of suppression, when the language was not even taught in schools, now new generations of Hawaiians are in search of their roots, and language and culture are central to that quest. Pilipo and his son Greg host schoolchildren for weekends, teaching them about music and language, sustainable farming techniques, and what it means to be Hawaiian. Surprisingly few people know.
Of course, no trip to Hawaii would be complete without a visit to a beautiful beach, possibly with a cocktail in hand, and this should by no means be left out of your itinerary. To avoid the droves of tourists streaming along the beachfronts in loud floral shirts, we chose the Fairmont Kea Lani on Maui. A wise decision.
We first saw Maui properly from a 6-person helicopter, touring the north side of the island and the Hana Rainforest. We could see the infamous 'Jaws' break, which reaches heights of 80ft, and Jurassic Rock, where the opening scene from Jurassic Park was filmed. Then we unexpectedly landed in a glade, and walked through the forest picking fresh guavas from trees.
Hawaii is known for its beaches, surfers, golf and the odd rogue intelligence agent, but few realize how luscious its vegetation is, with dry savannahs turning to rainforests and jungle. Of course, it wasn't long before we were sipping cocktails by the large, family-friendly pool, and going snorkeling along the pristine coastline.
This certainly is a fine way to pass the time, and the Fairmont has an exceptional set of bars, restaurants and watersports. We stayed in an ocean-fronting suite, which was spacious and extremely comfortable. The Fairmont is set on Maui's Wailea coast, and was recently named the group's Hotel of the Year.
The spa has some phenomenal signature experiences, with a state-of-the-art wave massage table and Vichy Shower treatments with infrared technology, full sensory experience showers inspired by Maui rain, steam and sauna, and a soothing palolo (mud) bath. Maui is best seen by land, especially via a great road trip called The Road To Hana.
Heading in either a clockwise or anticlockwise direction, we took in Maui's rugged eastern coastline along this 64.4 mile long route, which snakes and jags its way around 620 curves and 59 bridges, through rainforests and waterfalls. At the midpoint on the other side of Maui lies Hana, a quaint little town with a pretty church called St. Sophia's. It is a long but memorable day's drive, with some stunning scenery as well, but we were certainly pleased to reach the comfort of the Fairmont's spa at the end of it.
There are many ways to travel in Hawaii, and it is most rewarding to take in the sights by land, sea, and air. Standing at the top of the Haleakala Volcano, 3,000 metres above sea level, we looked north over the ocean to Molokai.
We were sure Pilipo would be standing on his beach, looking out to sea, harking back to another era, forever proud of the culture he protects. Certainly, there is more to Hawaii than you think.
Fairmont Kea Lani, Maui (£439 per night) fairmont.com Hotel Molokai (from $194per night) hotelmolokai.com For more info, visit gohawaii.com/uk