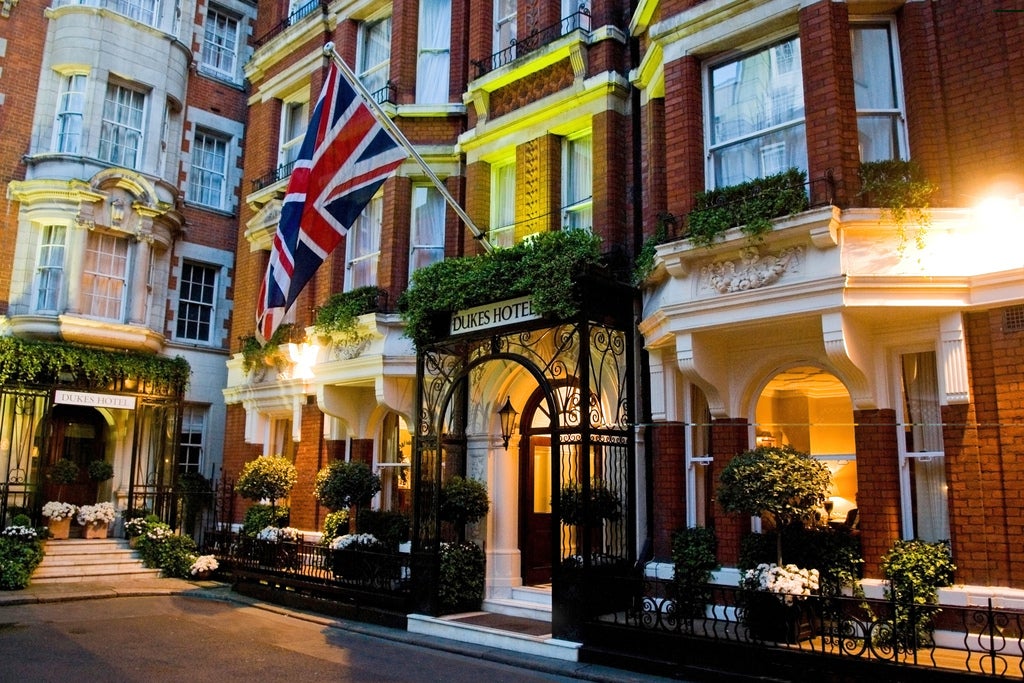 With its legendary cocktails and a makeover in progress, Zak Smith discovers that it's a dog's life at Dukes Hotel in Mayfair
Tucked away in the corner of St James's, a stone's throw from the corporate crowd and thronging melee of tourists, is Dukes Hotel, a stalwart of the luxury London scene. Having skilfully served James Bond-style martinis for the best part of 50 years, the hotel is branching out, and with amazing partnerships and services launching at the hotel, 2017 looks set to make it just as relevant today as when Ian Fleming sipped on his first martini.
The hotel is absolutely what one would expect from a boutique hotel in the heart of St James's: classical, British, and cosy. Having recently been named the 'World's Leading Classic Hotel' for the fifth year in a row at the 2016 World Travel Awards, this is an establishment that takes 'classic' seriously, with heavy woods, dark colours and very formal staff. Having tuxedo-wearing martini-trolley pushing barman isn't exactly unique anymore in a city high on old school bar concepts, but it's certainly an art form that the hotel bar has been perfecting for decades. At around £20 for a martini, it should be, and so potent are their special concoctions that it's well known after your second or third, the bar will refuse to serve you anymore. Not that the sort of customers that find their way to Dukes's doors ever ask. Either that or the bar seems to know better than its punters what their limits are, which helps maintain the atmosphere of sophisticated, genteel inebriation, not so very unlike a late evening sitting in the House of Lords in the good old days.
The hotel is currently undergoing an extensive refurbishment programme under the guidance of Liberty Fabrics, which is furnishing a number of the bedrooms and public spaces with its instantly recognisable patterns. Of this exciting makeover, Dukes managing director Debrah Dhugga has said: 'This multi-million-pound renovation will be the biggest investment the hotel has seen in decades. Our aim of the refurbishment is to enhance and enrich what our guests know and love about the Dukes experience. We are extremely excited at the prospect of revealing the new look hotel to our guests next spring.'
If fun fabrics weren't enough, the hotel is also setting itself up as the number one destination for dog lovers with the launch of its new VIP pet service. The pack includes a special, canine-designed 'doggy menu' with all the trimmings; a 24-hour dog-sitting and dog-walking service; the ultimate dog grooming package; and a personal shopper to pick out only the best pet toys for your canine friend. Rooms will include special dog toys, a luxury doggy bed and soft pillows to either sleep on or disembowel, depending on your type of pooch. With dog walkers at hand and groomers a call away, Dukes wants to ensure that man's best friend is looked after in the style to which his owner is accustomed.
With a new interior design to enjoy and martinis by the trolley-full, Dukes is a fabulous place to unwind in wintery London. Just don't drink too many and forget your dog.