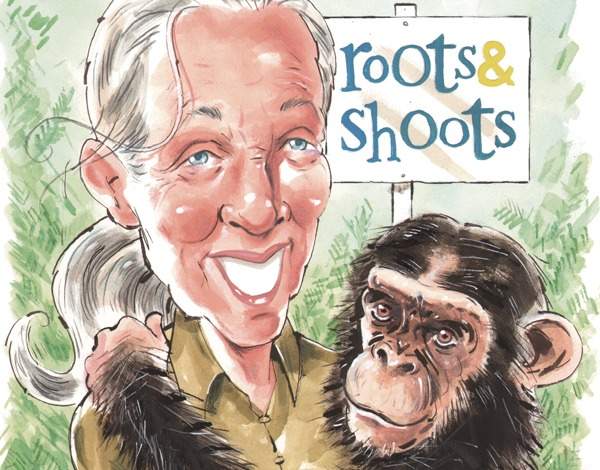 The revered primatologist on Africa and the environmental crisis – and why she's furious with her namesake…
How much is an ounce of gold?
Well, I don't think I can answer that. I just don't know!
Where are you at the moment?
I've just returned from a trip to Asia – Malaysia, Singapore and China – and am back at home in Bournemouth. I'm only here for four days, though – I travel 300 days a year.
What are you working on?
I spend most of my time growing a conservation programme called Roots & Shoots, for young people who want to make the world better for people, animals and the environment. It began in 1991 in Tanzania, with 12 high school students. Now we are in about 60 countries, and we even have members in kindergarten and pre-school, university and everything in between. I've seen environmental awareness increasing around the world, and young people are now educating their parents.
What inspired you to become a primatologist?
I read Doctor Dolittle and Tarzan growing up, and when I was ten I determined I would go to Africa, live with wild animals and write books about them. Everybody laughed at me – Africa was far away, we had virtually no money, World War II was raging, and I was just a girl. But I had a wonderful mother who said: 'If you really want something like this, you have to work awfully hard, take advantage of every opportunity, but don't give up.'
What were your first five years in Tanzania's Gombe Reserve like?
Half of the first year was spent in almost despair, because the chimps took one look at me and ran away. They'd never seen anything like a white ape before. Fortunately, one of them eventually began to lose his fear – I called him David Greybeard – and he showed me and the world that chimps can make and use tools to fish for termites… I gradually got to know the other chimps and their vivid personalities, and learnt about their high intelligence and that they had emotions just like us.
Did you think of yourself as Jane in Tarzan?
No, I was absolutely infuriated by her! I was in love with Tarzan, he married the wrong Jane. I thought she was a real wimp.
Do you think humans are more baffling than chimps? 
Much more – chimps are pretty transparent. Well, we in a way are, we become greedy. It doesn't make sense to have unlimited economic development on a planet with finite natural resources. We are without question the most intellectual species that ever walked the planet, and how bizarre then that we're destroying the only home we have… If we carry on as we are now and eat more and more meat, with our population expected to rise to 9.7 billion in 2050, the planet certainly will collapse
How have you changed your diet?
I changed back in the late Sixties – I learnt for the first time about factory farms. The next time I looked at a piece of meat on my plate, I thought, this symbolises fear, pain, and death. And boom, I stopped, just like that.
Can tourism help conservation?
Too many tourists are destroying the very places people have come to see. But eco-tourism does a lot of good… there's no question that without tourism in Rwanda, there would be no mountain gorillas. The problem is governments get greedy
Where do you see hope?
The young people in my Roots & Shoots programme, and others like them. They are changing the world and are very determined, dedicated and passionate. You can't be unhopeful when you've seen this around the world.
Illustration by Russ Tudor
More Midas: