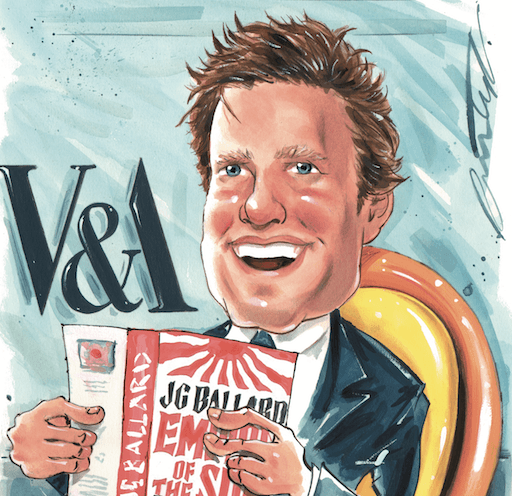 The historian and former Labour MP, now director of the V&A, talks design, populism and sharks with Emelia Hamilton-Russell
How much is an ounce of gold?
I wouldn't know.
Live to work or work to live?
Having a job that combines your life passions is an extraordinary privilege. The great joy of my job is that this [he gestures to the walls of the Holburne Museum in Bath, where he is about to give a talk] is work.
What does success look like for you?
To have helped stem the collapse of creativity in our education system. It means an institution like the V&A making a tangible difference to the teaching and understanding of design.
How did you earn your first pay slip?
I sold ice cream at Hamleys toy store for a summer as a teenager. If you weren't at the V&A, what would you be doing? I might still be in Parliament, or I'd be writing history books.
Is there anything that would make you want to become an MP again?
There's only so much door-knocking you have in you.
What would you most like to acquire for the V&A?
Brilliant daguerreotypes of Venice by John Ruskin. They're on sale, but we can't afford them.
What do you want your legacy to be at the V&A?
To have returned to our roots in the design school movement.
What painting would you steal?
I'm definitely not the stealing type, but if I was it would be a painting called Work by Ford Madox Brown, which is in Manchester Art Gallery. It's a wonderful, big Victorian celebration of industriousness.
What's your biggest fear?
One always fears being eaten by a shark – I'm trying to prevent my children from watching Jaws.
Where do you summer?
The north Devon coast – Woolacombe and Ilfracombe, or Exmoor. Favourite London restaurant? Daphne's, around the corner from the V&A. They do a lovely crab linguine.
What car do you drive?
A Volkswagen Passat.
What books are on your bedside table?
Empire of the Sun by JG Ballard. I'm also reading Elizabeth Longford's autobiography, The Pebbled Shore.
Where do you buy your suits?
A very good place called Alexandra Wood, and also Richard James.
Would you ever vote Conservative?
I'm a public servant, so I have to say I could certainly see myself voting for any of the parties.
How would you feel on the first day of a Jeremy Corbyn premiership?
There's a new energy at the start of any new government. One is always interested to see what direction they're going to take.
Which moment of history is most prescient for our times?
At the moment it feels very inter-war. Rising chauvinism and populism and nationalism… that's why the role of the museum in public life is more important than ever.
Who has been your greatest influence?
As a historian, the works of Asa Briggs were a very strong influence on thinking about urban society and the Victorians. Also the work of the late Raphael Samuel.
Which is the best museum in the world, apart from the V&A?
The Hermitage in St Petersburg and the Potteries Museum and Art Gallery in Stoke-on-Trent.
Read more