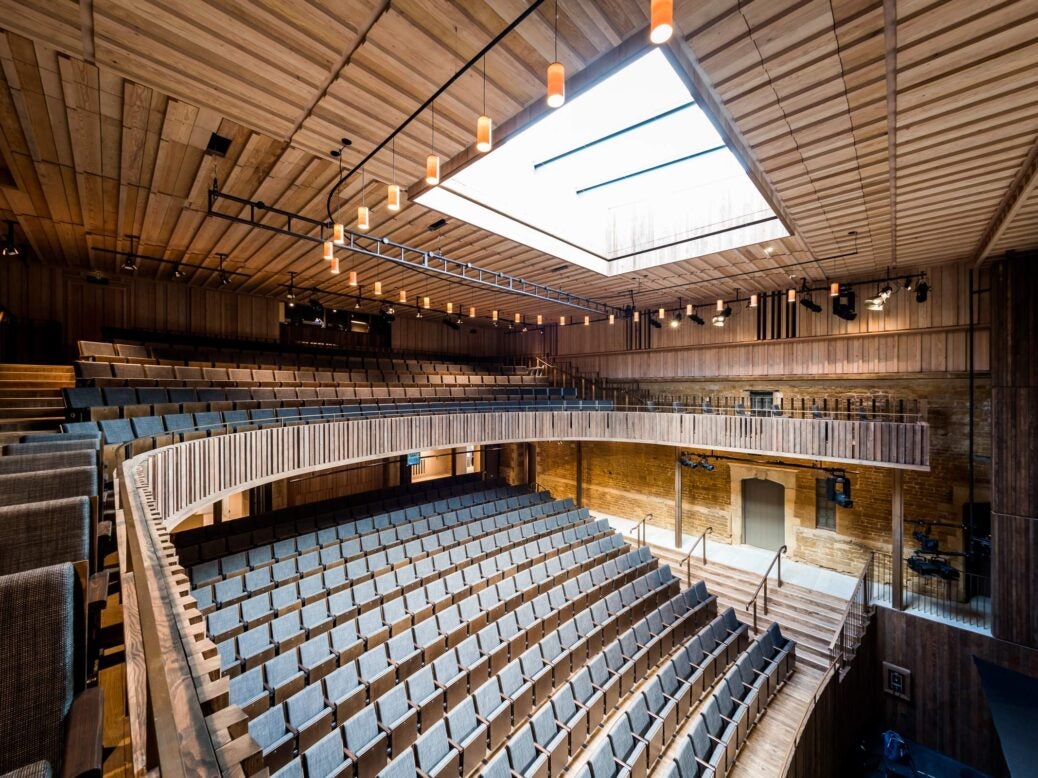 Education and music are the twin hearts of David Ross's philanthropic mission – so building his own opera house for the public was a logical next step. He tells William Cash how a new venue for Nevill Holt Opera was born
The country house opera season is a strangely English cult. The genre enjoyed an unusual boost this summer thanks to the construction of the new Nevill Holt Opera theatre, which  marked this season's opening.
Located in the former stables of the Grade I Leicestershire Elizabethan home of Carphone Warehouse co-founder, philanthropist and National Portrait Gallery chairman David Ross. But while the black-tie picnic opera brigade who flocked to his country house and sculpture garden for the opening night performance of Mozart's Marriage of Figaro led the media to dub Nevill Holt the 'Glyndebourne of the Midlands', Ross himself is a little uneasy about such a comparison. He doesn't like thinking of Nevill Holt as being part of any elitist opera club. On the opening night, indeed, he wore no bow tie – just a dinner jacket with an open shirt.
But that's typical of a modern British Renaissance man of many (generous and complex) parts whom I have got to know over a number of years, and who rarely gives personal interviews for the good reason that he gives little away and has been often misunderstood. The whole point of creating his remarkable opera house – the most important new opera house in Britain for a generation – is not to imitate the formula of other country house operas but rather to do something bold, unique and, most important, make a real difference to young lives, with education (in the regions) and reinventing country house opera as something that is the very opposite of 'elitist' being his core objectives.
Ross is one of the modern Medicis of Britain's cultural landscape. Business, arts and finance (he was finance director of Carphone Warehouse) run in his veins. The extraordinary new opera house was built without assistance from the public purse and is a testament to what is possible with clear vision and determined belief in launching the best young talent on the world's stage.
'What really sets us apart from the other opera houses is the learning that we've had around our school programmes, and our education programmes, and how the projects in the schools are impacting academic outcomes,' he says.
The first thing to be said about Ross is that nobody can accuse him of being a dilettante when it comes to following through with the causes he believes in. The David Ross Education Trust comprises no fewer than 34 academies, incorporating primary, secondary and grammar and special schools. Its vision – like his cultural philanthropy – is regional, with academies working to share skills and knowledge, allowing them to benefit and learn from each other.
Considering that Ross's education trust is recognised as one of the most 'diverse' and high-performing' academy networks in the country, it's surprising he hasn't had more public recognition. But we'll get to that later.
His schools range from out-of-the-way primary schools for around 50 children to challenging secondary schools in urban areas. In September 2017, the Bobby Moore Academy opened in the heart of the Queen Elizabeth Olympic Park in Stratford, London. The school has the aim of educating 1,500 primary and secondary school children across two sites that will sit alongside the former Olympic Stadium.
On the day I meet with Ross for a rare personal interview in his St James's office, he has just come back from Newcastle, where Nevill Holt Opera recently performed. This is critical to understanding the Ross view of the world: it is not metropolitan and London-centric. Rather he is a champion not just of northern business but also all things culturally northern, of which is hugely proud.
At his 50th birthday, at his farm estate in Yorkshire, there were some distinctly traditional northern elements: a Yorkshire pub rather than a glitzy champagne bar; a Tina Turner lookalike performing in a traditional Scarborough-style 'tearoom', and a memorable flyover of British World War II fighters and bombers. There was nothing 'urban' about it. All the village was invited too, giving an indication of Ross's sense of civic generosity and love of his Yorkshire home (when the village hall needed revamping, his foundation discreetly covered most of the bill).
'If we want to be really serious in this opera world, we have to be very good at education,' he says. 'We have to come up with something that is genuinely different, innovative and makes a huge difference, but we also have to be able to prove that what we can do is relevant to an urban-based community, outside of London, as well as our own. Because otherwise we're in danger of being marginalised as this country house opera club. I think we can aim to be better than that, and in doing so we aim to encourage corporate support in order to widen NHO's prospects.'
Ross's roots are in Grimsby, where his grandfather Carl founded one of the UK's largest commercial fishing businesses. He graduated with a law degree from the University of Nottingham after being educated at Uppingham School (not far from Nevill Holt), where he met his future business partner Charles Dunstone. Aged 24, they co-founded Carphone Warehouse. The firm floated in 2000 and then merged with Dixons in 2014. The latest Sunday Times Rich List estimates Ross's worth at around £700 million, including agricultural and property interests and probably Britain's most important private British Pop Art and post-1965 art and sculpture collection (including important works by Hockney and Bacon), which he regularly loans out to exhibitions.
Before the opera starts, guests can stroll around the immaculate gardens and enjoy iconic sculptures by artists ranging from Antony Gormley to Eduardo Paolozzi and Marc Quinn. At dinner, during the extended opera interval, I look out towards an Illyrian English landscape, melting into the evening summer's sky beyond, with a spectacular bronze horse head (Horse at Water) by Nicholas Fiddian-Green almost grazing on the manicured lawn. The head was inspired by the friezes of the Parthenon. Nature, art, landscape and the sky are merged in a dramatic fusion of art and beauty.
But don't think Ross's life has always been one of privilege. When he was 16, his father sent him to work on a building site in Algeria, which he later described: 'It was a defining moment because it was so bad I had to get away from it and be able to control my destiny.'
With his appointment as chairman of the National Portrait Gallery, he certainly becomes one of the most important cultural-philanthropist figures in the arts and museum world. But again, he wants his use his influence to expand the arts to the regions, especially the North. In his speech on becoming chairman, he made it clear that he was passionate about making the arts more accessible outside London.
In London, Ross says it's easy. 'You can say to children, "Do you want to go to the National Portrait Gallery or the V&A?" It's easy to facilitate those sort of opportunities. But by the time you get to Grimsby and Hull, it's significantly harder to give them that exposure to high-quality cultural experiences. And if they don't have those high-quality cultural experiences from an early age, then maybe the key to that door remains locked for all of their life, and that is a terrible tragedy for a young person.' While many of the children at Ross's networks of schools love sport and maths, he believes the key to unlocking their ambition and aspiration is 'to do something that's slightly more creative. And if we can't provide them with that creative opportunity at a young age, they never see it. That's terribly sad.'
His own revelation about the power of arts came when he was at prep school in Derbyshire. It was a very 'straightforward opportunity', he recalls, that was given to pupils on Saturday evenings. You could either go in the school bus to Sheffield and watch the Halle Orchestra, or, go to the Crucible Theatre and watch whatever was on there, or you could stay at school and do homework.
'It didn't strike me as such a bad deal. Going to see the Halle Orchestra or the Crucible was a much better deal than staying at school doing nothing, so I would regularly sign up to those trips, which meant from the age of eight or nine it didn't really matter for me whether it was The Magic Flute or Joseph and the Amazing Technicolor Dreamcoat: I was, for whatever reason, being exposed to high-quality music on a regular basis.'
Thus his love of music was born. In addition to that, his father was 'quite a keen singer' and he was in a choir, so he'd take young David to hear the Messiah and other concerts. 'So I think from quite an early age, I was being exposed to things of high quality, and when you get exposed to them from an early age, you begin to appreciate them and enjoy them. And then, at Uppingham, that had a rich diet of high-quality music.'
So you were not always out on the football or rugby field, I ask, as that is the impression one gets of the Ross teenage years: a boy obsessed not with culture but sport.
'I enjoyed music, but I was not a great musician,' he says. 'I was a more meaningful member of the rugby team than I was of the choir, so I focused on that. My subsequent thing became about kids playing competitive sport, or kids being in a choir, or kids being in a play, or indeed kids doing art: I don't really mind. I'm totally agnostic. I just think that from an early stage in life, children need to be able to understand the value of being part of a team, whether that be a choir, a play or a sports team, and they need to understand that, as part of a team, they have responsibilities to their peers, because this is really what the workplace is about.
'Your relationship with your maths textbook is an entirely binary relationship – it's not part of any team experience – but being part of a choir or part of a football team, or any other, teaches you about a number of life skills that stay with you for life, about being in the right time at the right place, with the right kit.'
So who should pay for society's art? 'That's a good question. Of course, really, it should be a rich recipe of a mixed economy, with the Arts Council, DCMS and corporate support and personal philanthropic support. Its that mix which creates real dynamism and creates difference. I don't think one-size-fits-all state solutions necessarily lead to the best outcomes. I think there's got to be an element of the audience should pay a little bit, local business should pay a bit, private philanthropy should, and then I think that's what creates a dynamic environment in which the best solutions come forward.'
So it is a part of his character that he likes to do things on his own terms?
'I think one of my issues was that I had a bit of a moral question mark over whether it was appropriate for any money other than my own to be invested in something that had such close proximity to my house,' he says. 'I didn't want people to think that this was ever some sort of ruse for me to get some money in grants. The second part of it is, I think that my responsibility and my contribution to all of this was to make it possible: to facilitate it, to make it happen.'
Does he see himself as an ambassador for promoting the cultural powerhouse of the North? Is he a cultural tsar?
'All I would say is in most of the work that the foundation does, we are committed to those parts of the country that might not have other philanthropists and access to capital in the way that… my own opinion is, there are a lot of philanthropists in London who can afford to do this: outside London it's not always the same opportunity, and our philanthropic pound goes a long way in Lincoln and in Grimsby and in Leicester and these places.'
What would he like to see the government doing specifically to help the philanthropy sector?
'I think they could do something very interesting around first-time giving. I think if they could do something that specifically encouraged first-time giving – match-funding or something like that, or just a bigger tax break on first-time giving – I think that would be a very positive signal.'
Finally, I had to ask Ross if his rise to become a part of the cultural Establishment – as chair of the NPG and 'showrunner' of Nevill Holt – had affected the David Ross his old friends know? As he has embraced his new public role, has that meant certain sacrifices and new responsibilities?
'Are you talking about hosting flamboyant parties?' he says, laughing. 'No, I think you just… that sort of particular thing, I've been under a degree of public scrutiny for quite a long time in regards to my personal lifestyle, so you just have to be careful, don't you.'
Is it easier now because he has a prominent public role? 'Well, I wouldn't say it's easier or harder. I'm delighted to have the opportunity to do some of these things, in relation to my friends – not all of them are quite as generous as they should be. I'm not critical of them, but what they need to understand is what they're missing out on. Particularly around education, this has the potential to really change people's lives in a meaningful and significant way. It's very powerful.'
In his Rich List entry, Ross is in a rare minority as an arts world figure who is identified as a Brexiteer. This can't be easy in the arts and museum world, where there is a hardly hidden cultural monopoly of the left. He says his politics are not how he is judged – rather it's by results.
'If you want to deal with teachers, everything is based around the welfare of the child. Similarly, if you're working in opera, everything should be based around how do you put the very best performance or production on stage that week. If you're in the world of art, it's how do we make sure that the collection in the National Portrait Gallery is the most current, the most relevant, the most stimulating and the most interesting collection of art available in the country. I may have different political views from somebody, but as long as you're focused on what is the main challenge, the main task, the main opportunity, in whichever scenario in which you find yourself, I find a lot of that can just sort of disappear.'
Ross also sticks up for people who have been dragged through the media mud. He used to employ Toby Young as head of the New Schools Network and stands by him, even if he doesn't agree with his behaviour. 'I got to know him very well, and he was also not only a very good friend, but he was a fantastic director of the New Schools Network.'
What does Young's story tell us about cultural toxicity today? Does Ross feel he has to step away from that? 'I think most of what I'm trying to achieve as a philanthropist is not driven by political views. It's unrelated. It may be driven by a view of how one should live one's life, and whether one wants to be independent and self-reliant or dependent and not self-reliant – I personally strive and try and encourage as many other people as possible to be independent and self-reliant, and that's what we try to do.
'It's about a lifestyle rather than about a political thing. That's what I believe creates genuine happiness in life – if you have the capacity to plough your own furrow and be independent. It's that sense of independence that I want to foster in the children we educate.'
Nevill Holt Opera's 2019 season will open with A Midsummer Night's Dream by Britten on 12-16 June, followed by Mozart's Cosi Fan Tutte (26 June-2 July)