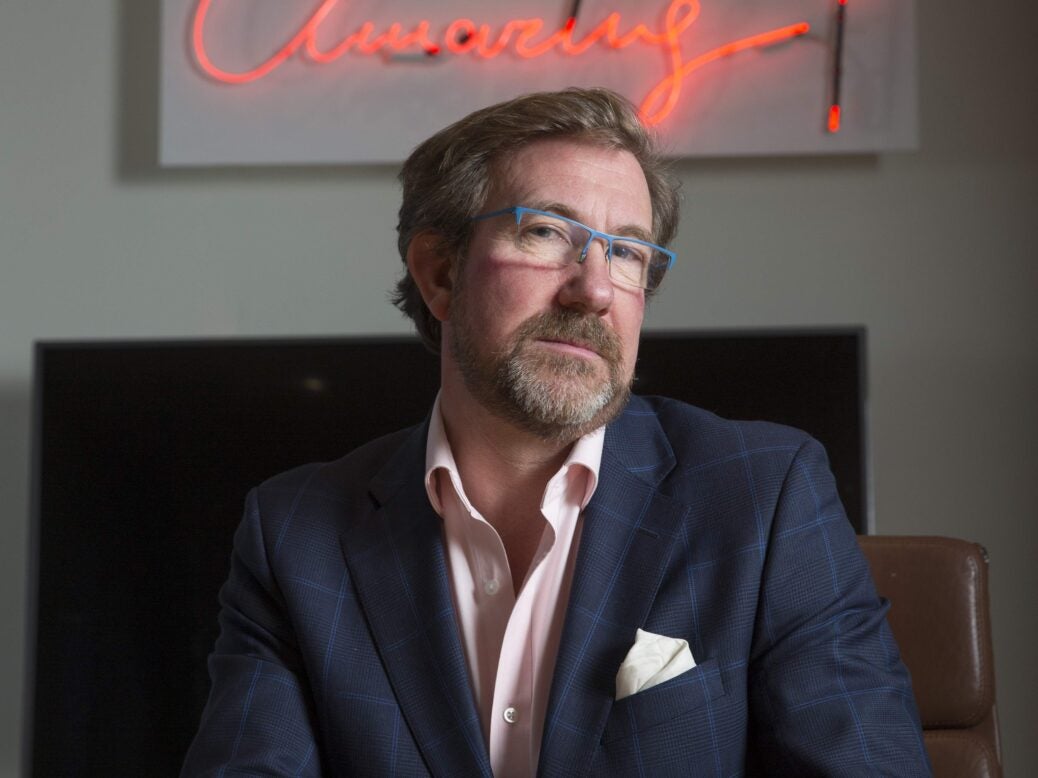 With Caxton FX, Rupert Lee-Browne reshaped the foreign exchange industry – so when he says disruption isn't always necessarily a good thing, we should listen, writes David Dawkins
From horseshoes to fax machines: when a surge of technology sparks the rise of one new kind of business, the flame inevitably fades on everything it has bettered and replaced.
We've seen it time and time again: the dot.com boom took holiday shoppers out from high street agents and on to the web. A decade later, when the second generation of online firms arrived, flat-footed and over-confident industries were all but crushed by Airbnb, Spotify, Netflix and Uber – a mobile app now worth more than General Motors, Ford and Fiat Chrysler combined (according to some Wall Street estimates, at least).
A brave new world, often labelled as an era of 'disruption' (a term originating from Clayton Christensen's 1997 book The Innovator's Dilemma), introduced the idea of 'disruptive innovation' to explain how simple and cheap ideas could enter a market and displace an entire established industry. However, as the meaning of the term has shifted (Uber is not disruptive, according to Christensen's definition), what defines this period of rapid innovation is the idea that 'disruption' is sold back to users and investors as an unquestionably 'good thing'.
For one business leader in the burgeoning fintech space, it's a consensus worth testing.
Spear's meets Caxton FX's Rupert Lee-Browne at his office near Victoria station. A large neon sign hums – 'Amazing!' – in pink italics on top of a huge flat screen. There's a loud ping, an email – the last person to use the room hasn't disconnected from the room's speakers. There's a techy Ted Talk gloss to Caxton, a payment and foreign exchange firm that started in 2002 with just £25,000, a man and a telephone. Caxton is now known globally for its multi-currency card and its international payments division, which HNWs use for sending large sums overseas.
The firm, in many ways, 'disrupted' a very traditional space. The business today honours its founding fundamentals. Caxton was founded on a simple idea: to take a process – namely FX and payments, traditionally two different departments with distinct teams, in different locations, competing to hit their own profit targets – and simplify it. The simplification made it cheaper for the end user. Caxton's turnover is now €1 billion, and with hard work (and sharp elbows) it has created space for itself in an industry dating back to biblical times.
Spear's is keen to meet a man who has survived and thrived through the shift from analogue to digital, and the dot.com boom to Web 2.0. Lee-Browne's career moved from the Evening Standard (where he taught his sales team to code HTML) to set up EggsBenefit.com back in 1998, selling out before the dot.com boom 'got too hot', and then setting up Caxton. Although Caxton, without doubt, is a part of the groundswell of firms that rose alongside the FAANG giants (Facebook, Apple, Amazon, Netflix and Google) that dominate both our lives and the equities market, Lee-Browne himself is no fan of the label payments and FX 'disruptor'. He has an uneasy relationship with the term – proof that not all start-ups follow the Ayn Rand 'virtue of selfishness' path that knits Web 2.0 entrepreneurship into the social Darwinian world view popular with Facebook's first investor Peter Thiel, former Uber CEO Travis Kalanick and Apple's Steve Jobs (not to mention a certain President D Trump).
Lee-Browne is different: 'Disruption has become the thing to be. It's suddenly a great thing to be a "disruptor".' He adds, giving an example: 'They talk about the disruption of business models – I've got a backer for a new start-up, and I'm going to disrupt the glass manufacturing process. But what happens to the people in the current glass manufacturing process? Why is it now socially acceptable to be a disruptor in society? Is it because the status quo is so abhorrent?'
For Caxton's founder, it's from here that the culture of 'disruption' transcends technology. 'For the people involved, the status quo is putting food on the table for their children to eat. If we're not careful, disruption is going to become acceptable – over the years everyone will have their own political party, because everyone is able to disrupt the whole democratic process. If you look at what's happened politically in the UK over the last two years, we've got more factions than you know what to do with. When did that suddenly become a good idea?'
On the disruption to the UK's political status quo he adds: 'We're in a position of great danger because maybe we can't buy any lettuces. Is that a good thing or a bad thing? A lot of people seem to think it's a good thing that we're about to go through a period of intense disruption. I don't understand why. I don't understand why we have to break the system to change the system.'
To what extent are the very characteristics that continue to drive tech disruption really just good business ideas and practices now rebranded for the online age? 'I just really wanted to make things simple,' Lee-Browne tells Spear's about his own offering, which takes everything that was once frustrating and expensive around foreign currency and payments, and simplifies it.
'I wanted to do FX, and I wanted to do payments. But the FX department was totally separate from the payments department; and they both had their own targets to hit and profit to make; and the departments wouldn't actually talk to each other.' Lee-Browne speaks of an FX status quo back in the early days still deeply entrenched in 'the way things were'. He called 42 banks in search of the right relationship. The whole project looked like it might unravel. Rejection after rejection. However, 'Caxton was formed when a small private bank – the 43rd bank that I came across – housed payments and FX together,' he enthuses. 'I could then offer my clients one price and not charge them anything else.'
Simple pleasures
Customers appreciate the new simplicity as HNWs tend to live an international life that can have its complications, Lee-Browne says – in particular, banking on a multi-currency basis.
'There are few banks in the world that offer a simple multi-currency account that comes with a multi-currency card.' He adds: 'Clients can pay any currency into their account, exchange it for another, make multiple international payments – or access one of 14 currencies with their associated card. All without fees or charges.'
Disruption of cack-handed banks, or just good business? And the business fundamentals point to a gazelle-like rise. The firm now boasts 750,000 private and business customers, and last year Caxton successfully processed 7.3 million transactions. Lee-Browne says the firm is 'growing at a phenomenal rate' and, having topped up on a new multimillion-pound platform, is 'reaping the rewards on that in terms of growth and profitability'.
He predicts that technology will be the driver of almost everything in the years to come. That doesn't have to mean the worst of what's to come. However, over and above technology and innovation, it's a far more human drive that concerns him most. 'As a society, we've lost trust in the organisations that serve us, we've lost trust in our government, and we've lost trust in the motivations of people around us.'
For Lee-Browne, 'Great business in the future will be all about helping people trust one another again.' As such, Caxton is playing its own part in this tectonic technology change, working on a service that allows for face-to-face instant payment. It's a cash replacement that involves no data swap and is sufficiently secure.
His advice to young start-ups and fintech developers: steer clear of status-quo-smashing 'disruption' and 'bring trust back', because, he warns, 'as a society we've started to lose faith'
By David Dawkins 
Photography copyright David Harrison 
This article first appeared in issue 68 of Spear's magazine, available on newsstands now. Click here to buy and subscribe