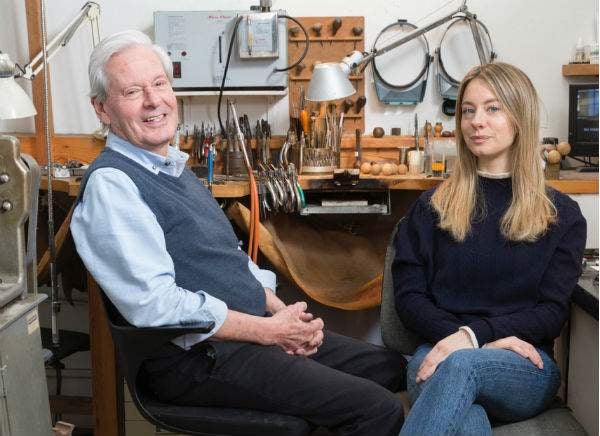 Determined to pick up her father's rare jewellery skills, Jessie Thomas is carving out her own sparkling career, writes Olenka Hamilton
Underground in a basement on Pimlico Road, a young jewellery designer, Jessie Thomas, has launched her first collection under the watchful eye of her master jeweller father. Above is his shop, which has 'David Thomas' painted in gold on the clean white shop façade. Look inside and David's delicate and original creations – gold, platinum, pearls – fill the window display. Peer a little further and you'll spot some of his proudest technical drawings framed and pinned to the walls.
'It's quite a weird life,' says Jessie, who is small, slight and blonde with big, blue expressive eyes, which might pop as she strains over a tiny prototype of a ring. Dressed in blue jeans, a navy blue polo neck, black trainers and minimal jewellery – all gold, all hers – she shows me her tools: a hammer, a blow torch, a saw, a drill. I notice how lithe and athletic her hands are. 'I sit down here on my own and talk to myself and listen to the radio all day. I don't know what the weather's like, whether it's night or day.' She shows me her lathe and her mill, which is 'ancient' and 'doesn't really work'.
Her father, whom he calls 'David', comes down from his workshop one floor up, looking for milk. 'She's done very well,' he says, beaming.
After leaving Edinburgh University in 2010, Jessie asked her father to train her and he refused because he thought she didn't have the patience. 'It's very easy to make mistakes,' explains David. 'You're working with expensive materials, the work is time-consuming, and you can't afford to say "that's wrong" and chuck it, like you might with fashion or woodwork. Gradually you get things right, but it takes time.' Jessie has persevered and is, it seems, winning his hard-earned approval.
I ask which pieces he likes. He points to a big pearl in an unevenly textured yellow gold setting – my personal favourite – and then to a classic diamond ring next to it.
'That's one of yours!' says Jessie. I like the dyed pink Mabe pearl earrings, I say, but David isn't sure. 'Too pink,' he says. 'You don't know what millennials like,' says Jessie. 'Well that's certainly true,' says David, bouncing jovially back up the stairs.
The pearl ring is the stand-out piece in Jessie's first collection, just launched. It is refreshingly unusual, classic yet brash, wearable and very striking. As with the whole collection, it is made by hand from start to finish. Using 18-carat gold, it retails at around £2,000 – a price point not too dissimilar to a lot of mass-made jewellery on the market.
Jessie already has a clearly defined aesthetic which favours unfussy, simple, organic and textured jewellery, with a dash of colour – at the moment, for example, she likes combining pink with either green or yellow. Her collection is a mixture of everyday pieces, including some satisfyingly simple gold hoop earrings, along with bigger, brasher pieces.
Much of her inspiration comes from David's early work – beautifully made, avant-garde and opulent pieces which brought him international recognition when he started out in the Sixties. He and a few others defined a dramatic new style of gold jewellery, distinguished by asymmetrical contours, splintered surfaces, textured gold and unusual gemstones often left rough or in crystal form. Like Jessie's work today, everything was hand-made, one-off and extremely labour-intensive as every piece of gold would be hand-cut, soldered and textured individually.
Jessie could barely have found a better teacher. David is one of London's true craftsmen jewellers. He trained at the Royal College of Art, opened his first shop in Chelsea in the Sixties and, along with classmate David Hockney, was part of the art scene which centred around the King's Road. Presented with a choice of media, he found ceramics too 'gooey and soft' and furniture and timber to be 'always cracking in the wrong places'.
'I like the scale of jewellery, I like the fineness,' he says, carefully turning a fine yellow gold bracelet over in his hand. His work has been shown at the V&A and form part of the collection at the Worshipful Company of Goldsmiths.
Jessie's first collection focuses on large baroque pearls, diamonds and 18-carat yellow gold, with the odd tourmaline or unusual gemstone. She wanted to make a few big and chunky pieces, especially earrings, for which she chose large, cultured pearls. The gold is made using a version of an old technique of David's, 'which he sort of told me how to do and then refused to show me!' Why? I ask. 'Because he's a mean man,' Jessie jokes.
While helping David with commissions and doing all his repairs over the past few years – 'my punishment, because that is what he had to do starting out' – Jessie has been absorbing his techniques. 'Teaching these kinds of skills is very time-consuming, and in any kind of craft-based subject you can't teach large numbers of people at once,' she says. 'It's a one-to-one situation, which art schools don't offer any more. The best system is apprenticeships.'
While every piece of David's would have been drawn up using a technical drawing which would give the exact dimensions to work from, nowadays most people use software called CAD. 'No CAD here,' Jessie assures me.
Other than David, Jessie's inspirations include a contemporary of his, Gerda Flöckinger, whose work derives from an interest in Greek, Roman and Etruscan jewellery as well as cell structures and microphotography. She created incredibly intricate and original textures in gold, which Jessie strives to emulate. 'Every goldsmith cultivates his or her own secrets. I've been trying to cultivate my own but most of my jewellery is a collection of happy accidents,' she says, looking baffled at an earring of Flöckinger's, which lives in the safe, among a collection of her pieces which David has invested in over the years.
The French goldsmith René Boivin is another hero. 'He made a sheep which was half gold and the wool was all pearls,' she says. 'I like anyone who is an amazing craftsman and then uses it in interesting ways. A lot of goldsmiths are quite constrained – not David – and end up making things that are samey and specific. Craft and design are two different things. The best people are brilliant at both – that's rare and that's what I want to be.' And the most important lesson David has taught her? 'Patience,' she says, blue eyes wide open.
All pieces are handmade in the London workshop in limited editions. Prices are available on demand
Olenka Hamilton is staff writer at Spear's