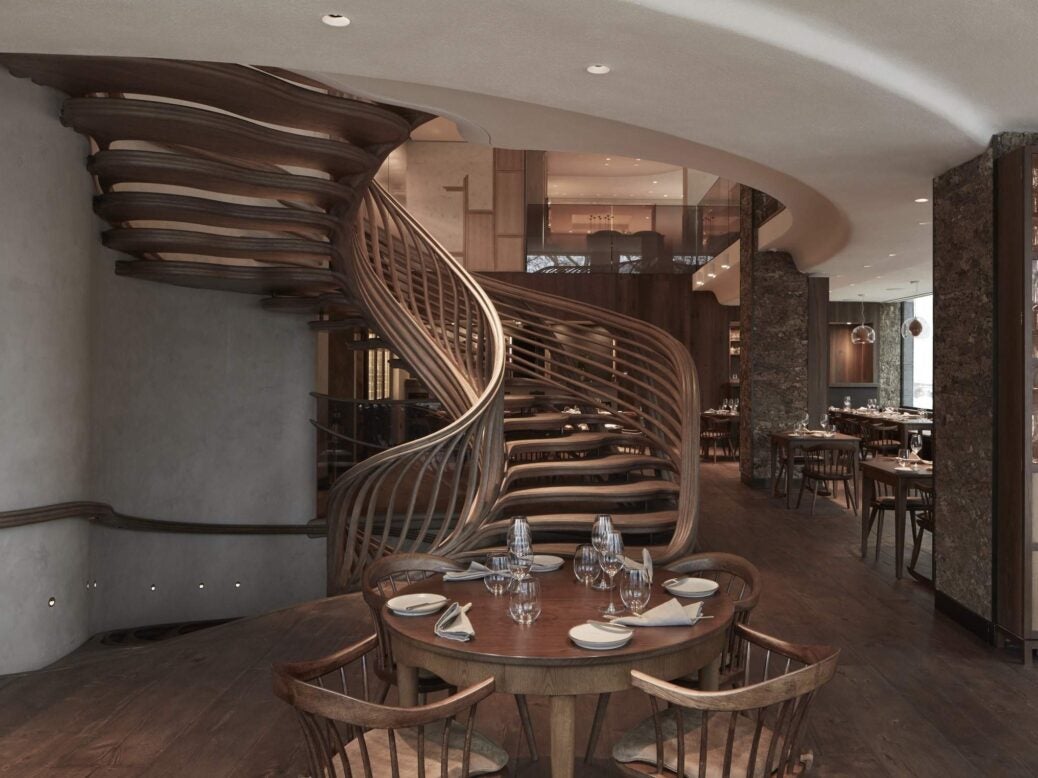 The trees of Green Park inspired the design of Hide, a restaurant and bar by Hedonism Wines and chef Ollie Dabbous that is a blooming success story, writes Rasika Sittamparam
'You walk in and you see this panorama of trees,' says Tatiana Fokina, CEO of the extensively stocked Hedonism Wines on Davies Street, who talks to Spear's about the company's ambitious new restaurant in collaboration with chef Ollie Dabbous and bar manager Oskar Kinberg. Fokina is describing the top floor of Hide, one of London's most talked-about restaurants, which has a mezzanine overlooking Green Park.
'As seasons go by, it changes,' she says. 'Now it's really lovely – spring is here.' In fact, the entire theme of the three-storey restaurant was inspired by the trees of Green Park, she adds: the topmost floor is the crown, the ground floor is the trunk, and the cellar is the root that holds strong the establishment – with a striking spiral staircase connecting all parts. It's a grand collaboration between Dabbous, Kinberg, These White Walls studio and lustedgreen architects.
What Fokina finds most surreal about the design is how one can see the perpetual traffic of London from the topmost floor, dubbed 'Above', without hearing a single sound – thanks to a formidable glazing feat by the project partners. 'Hiding from the city,' quips Fokina. For those seeking even more privacy, there's a discreet entrance that take you to 'Hide and Seek', the largest private dining room, which covers 24 in a space that can be personalised according to each client's occasion. There are several smaller rooms, each with its own theme and similarly open to redecoration, should a client request arrive. The team at Hide have had reason to celebrate themselves recently.
Within six months of opening in April 2018, the restaurant was awarded a Michelin star. Fokina carefully describes Dabbous's cuisine as 'light and feminine'. 'There is incredible lightness of touch and freshness, with interesting flavours – a lot of things remind you of your childhood sometimes,' she says.
Spoilt for choice
Of course, great food will naturally taste better if you're given a choice of 6,000 wines – the 'world's largest selection' so far. This list includes interesting bottles from places such as Morocco, Georgia and Tasmania, as well as some of the rarest fine wines on the market – the most prized being a single 1847 bottle of Château d'Yquem worth £96,400. Despite the quality of the selection and the thoughtfully designed ambience of the restaurant, wines do not have a restaurant mark-up, Fokina points out.
They instead follow the retail price at Hedonism, plus corkage fee. Guests can use an iPad to order any bottle from the Hedonism Wines shop, and it's delivered within ten minutes. 'The whole experience is designed to please the senses,' she adds. 'It's a creation for those who enjoy good food, good wine and good company.'
The decision to create the restaurant was a wise one for Hedonism. 'It felt like a natural progression, given our love for food and wine – it was great to be teaming up with another independent company to create something heartfelt to us and unique to the neighbourhood,' Fokina stresses.
It's also a decision with a decent return on investment: 'After a whole year of running, we're now in a very good place for growth.' Still, the thirst for more hasn't been quenched for Hedonism's entrepreneurial connoisseurs – they're aiming for the stars.
'In our humble opinion, Ollie's food is definitely worth two stars,' Fokina says. 'Achieving that would be amazing, and that's very much what we're working towards now.'
Hide, 85 Piccadilly, London W1J 7NB
email reservations@hide.co.uk Web hide.co.uk