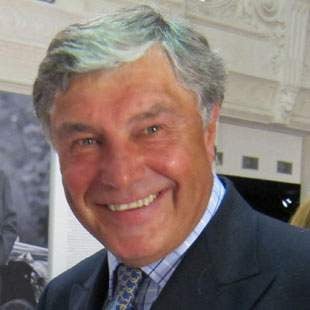 Racing driver Duncan Hamilton, who was most famous for winning the 1953 24-hour Le Mans in a Jaguar C-Type, founded the firm in 1948 and it's now run by his son Adrian, who took the reins in 1975. It remains one the world's most prestigious and best-connected competition and classic car dealerships, and recently expanded with a new 20,000 sq ft facility in Winchester.
'We're a bit like an art dealer with wheels on each corner of the picture frame,' says the eminently cheerful Hamilton, who's seven years into building a collection of Gulf Oil-sponsored cars, which is now 38 strong and has recently doubled in value. His notable sales in the past year include a Porsche and a Ferrari, both of which fetched north of $20 million.
'I have a large number of clients I quietly look after and gently make dreams come true for,' says Hamilton, who has competed in touring cars and the GT40. 'A lot of people who invest remember these cars from when they were in short trousers, and now they're big boys and they're in long trousers, they want to relive their youth.'
For Hamilton, the car of his dreams will always be his father's Le Mans-winning C–Type. Although he sold it 26 years ago, he'd buy it back in a flash if the opportunity arose.