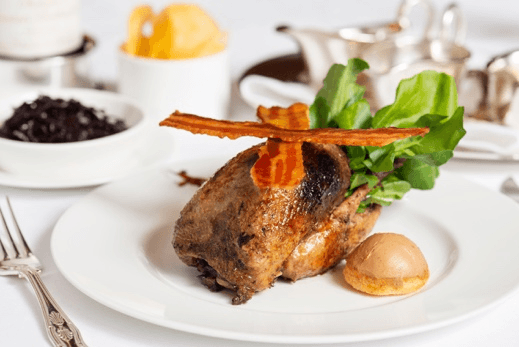 Game, glorious game! Synonymous with tradition and dating back to 1742, Wiltons on London's Jermyn Street is a bastion of great British food and the 12th August, known as The Glorious Twelfth, marks the start of the game season and Wiltons is renowned for serving the first grouse of the season. The prized birds are shot in North Yorkshire in the morning, plucked in the back of a Land Rover on the way to London before being expertly prepared by Wiltons' head chef, Daniel Kent and his team. The birds are then served to its revered diners by 8.00pm the same evening.
Grouse shooting and the beginning of the Glorious of Twelfth can be traced back 160 years to 1853 in the reign of Queen Victoria.  Her Majesty and Prince Albert bought Balmoral in Scotland as a shooting estate and the popularity of driven grouse shooting was assured. The season starts with grouse and is then followed by pheasant, grey partridge, red-legged partridge, woodcock, snipe and mallard. Rabbit and hare, as well as venison, are also considered members of the game family. The game season runs from the Glorious Twelfth to the end of February, during which time Wiltons serves a wide variety of game dishes on both its lunch and dinner menus, all of which are a combination of both traditional and contemporary.
"Seasonality is key, and the start of the game season creates great excitement in the kitchen at Wiltons." Comments Head Chef, Daniel Kent. "Creating new ways to serve the birds and developing new dishes, using the finest birds and game from the British Isles, sparks creativity and enjoyment within the team. On the Glorious Twelfth Wiltons serves grouse the traditional way; simply roasted and stuffed with fresh watercress. We make a paté with the grouse livers and serve on a crouton next to the roasted bird. Crisp bacon, bread sauce, fried bread-crumbs, home-made redcurrant jelly, a rich grouse jus and traditional game chips are the long-established accompaniments. It is a triumph to be the first restaurant in London to have grouse on the menu on the 12th of August!"
Wiltons is very much looking forward to the start of the 2019 game season and invites media to experience its range of expertly prepared games dishes throughout the season in exchange for guaranteed coverage.
www.wiltons.co.uk