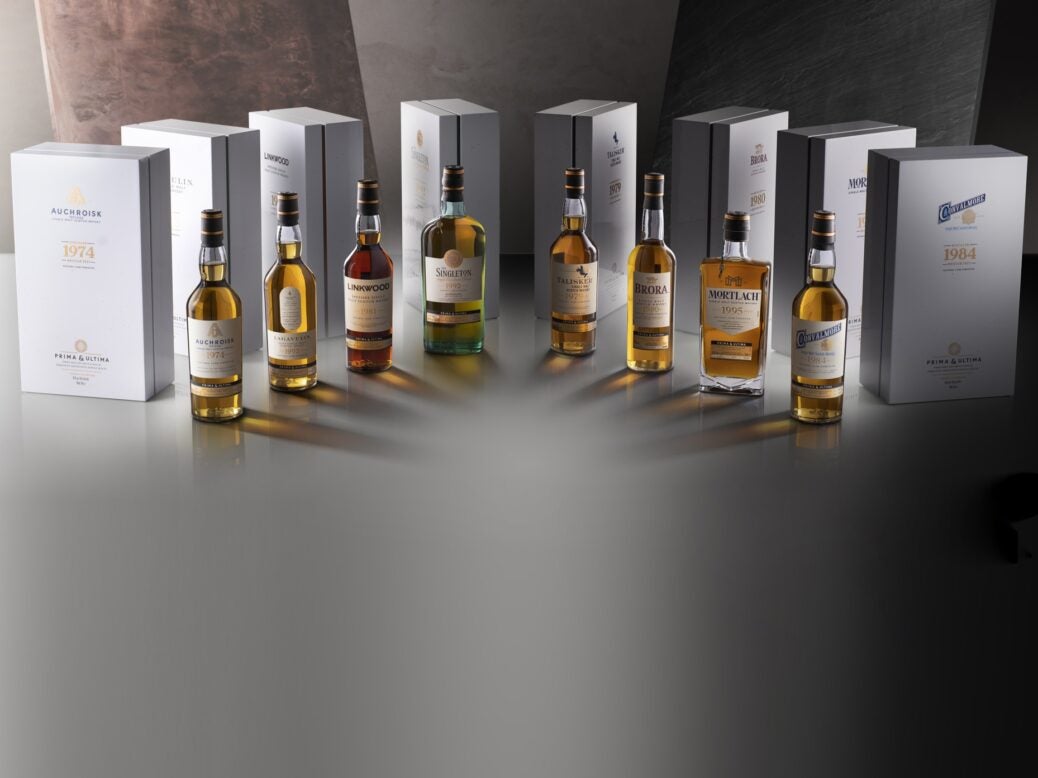 Whisky collectors have a rare opportunity to get their hands on the second release of Prima & Ultima, a limited edition selection of the first and last bottlings of exquisite and exclusive Single Malts. But they'll have to be quick, says Johanna Derry Hall
Diageo has announced that registration is now open for collectors across the globe to secure themselves the second release of Prima & Ultima. Whisky connoisseurs are already scrambling to put their name down for this series which continues to reveal some of the greatest treasures in Diageo's extensive collection of magnificent – and rare – single vintage malts. The first and last of their kinds, this year's release forms another exceptional selection of cask-strength bottlings, expanding and enhancing the inaugural release, and adding another thread to the narrative of the evolution of Scotch which they capture so exquisitely.
The second release has been personally hand-selected by Master Blender Maureen Robinson, her first ever curation of this kind. With a 40-year legacy of dedication to and understanding of whisky, Robinson takes on the mantle from her colleague Dr Jim Beveridge OBE, Diageo's celebrated Master Blender, whose inaugural offering sold out in record time. Her selection continues the story Beveridge began last year, with whiskies that represent eight distinct moments in the recent history of Scotch, and which capture something of her own story too. They each tell a tale of heritage and craftsmanship, marking moments in time that make these precious casks, firsts and lasts of their kind.
Robinson's detailed knowledge of Diageo's Single Malts make her uniquely qualified. For this year's Prima & Ultima curation, she focuses on mature whiskies with distinctive histories and flavours which she personally regards as outstanding, and includes appearances from lesser-known distilleries – Convalmore, Auchroisk, and Linkwood – that will delight connoisseurs who manage to secure a set.
As firsts go, Robinson witnessed her fair share. She helped shape pioneering trials of different maturation processes at Linkwood, which have led to the inclusion of the 1981 39-year-old bottling in this release – a triple-rare expression with incredible depth from time in PX and Oloroso seasoned casks. Similarly, she was involved with the one-off trial that saw The Singleton first kept in refill wood, before double-maturing in two small ex-Madeira barriques for fourteen years, included here – a The Singleton of Glendullan 1992. Another 28-year-old from the same year, this time from Lagavulin, makes up the quartet of firstborns, the first single malt she ever tasted, a moment that's always special in the memory.
Over 40 years, of course there are endings too, and Robinson's selection of lasts takes in whiskies she has nurtured and cared for over the years – the last Talisker 1979 to spend its life in storm-lashed warehouse No 4, the closest to the Atlantic Ocean, for example, and a Single Cask of Mortlach, named The Lone Wolf, marked for greatness from the outset and set apart as a liquid with exceptionally complex and unique character. The Convalmore 1984 holds particularly striking recollections for Robinson, as the liquid from this now little-remembered ghost distillery helped train her nose for blending. There was a total eclipse of the sun on the days these casks were filled, just a few short months before the distillery closed forever. And there's joy in these final editions too – the very last of Brora's peated whiskies, distilled in 1980, are both a tribute to a golden age and a herald of a new one, as the distillery reopens this summer.
Evoking personal memories and capturing the ongoing and ever unfolding story of Scotch, it will be released as a collectible full set. Only 376 full sets of the Prima & Ultima Second Release are available for purchase, directly through appointed Prima & Ultima agents, at a recommended retail selling price of £23,500 (including tax and duty) in the UK. Each full set of eight Prima & Ultima single vintage malts is accompanied by eight unique glasses, each engraved with a bespoke design that reflects the story behind each cask, created in collaboration with two glass artists. Individual 20ml samples of the whiskies are also provided with a booklet of personal stories told by Maureen, and the Set #1 will be auctioned by Sotheby's, in Hong Kong, this September with proceeds going to CARE International.
The story continues, to be shared with enthusiasts and collectors alike, expressed through these exceptional, rare and deeply meaningful Single Malts. Registration is open from now until the 23rd August 2021 which means that those interested in purchasing only have a mere two and a half weeks to get themselves on the list. If you don't want to miss out, register your interest here at www.theprimaandultimacollection.com.
Read more
Accelerated aging of whisky: Just because you can, it doesn't mean you should
Only organic will do: The whisky meeting exacting standards