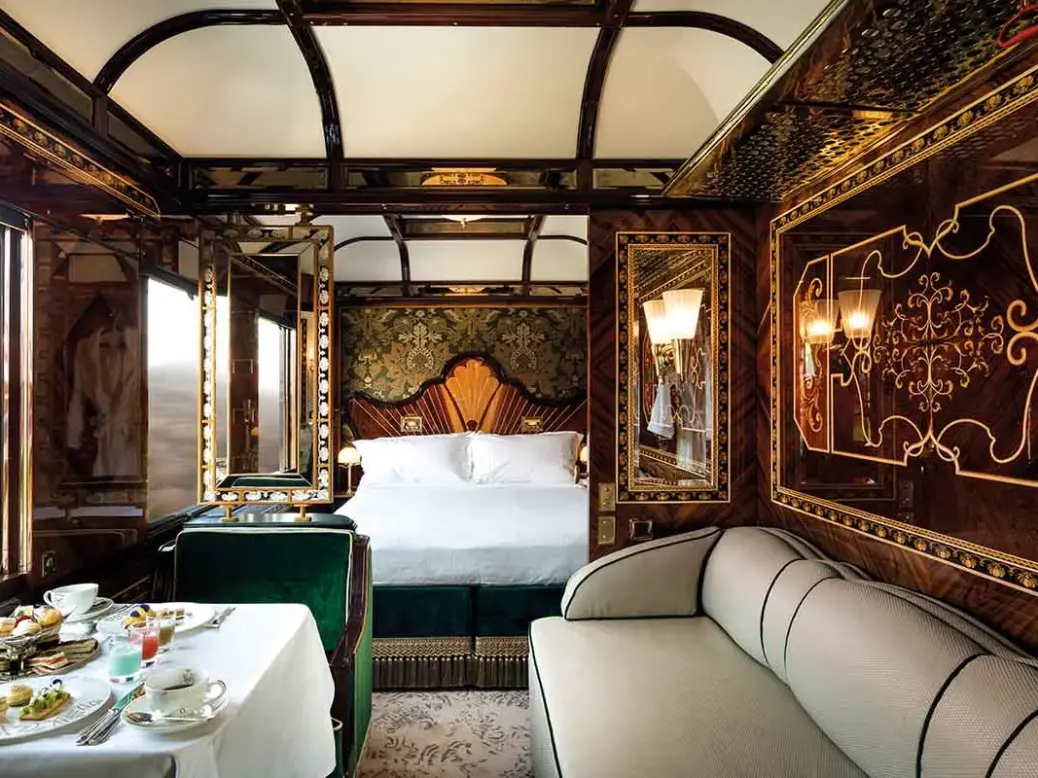 It was Robert Louis Stevenson who coined the phrase 'to travel hopefully is a better thing than to arrive'. Or, as Steve Jobs put it, 'the journey is the reward'. I was reminded of the saying on a cold evening at Paris's Gare de l'Est, as I joined my fellow travellers for the inaugural journey of the Venice Simplon-Orient-Express to the French Alps.
[See also: Claridge's Restaurant celebrates the Art Deco glamour of this Mayfair grande dame]
The Pullman sleeping car was introduced back in 1865, but perhaps the most important year in the age of luxurious overnight train travel was 1883 – when the original Orient Express made its first journey, from Paris to Vienna. It was the brainchild of Belgian engineer and businessman Georges Nagelmackers, who soon expanded his operations to carry passengers to more European destinations and, eventually, as far east as Constantinople (now Istanbul).
During and after the Second World War, many of the routes travelled by the Orient Express were altered or halted, and some of its elegant Art Deco carriages were scattered around Europe. That is where they might have remained if American entrepreneur James Sherwood hadn't bought two of them at an auction in Monte Carlo in 1977. Five years later, with refurbished carriages added from other services, the train was re-launched as the Venice Simplon-Orient-Express. Since 2014 the VSOE has been owned and operated by Belmond, which now runs 80 routes across Europe.
A toast to a bygone era
My accommodation for the journey to Moûtiers – one of four new winter itineraries to be launched in December between Paris and stations in the French Alps – was sleeping car 3473. Built in Birmingham in 1929, the car was originally part of Le Train Bleu, which transported well-heeled travellers between Paris and the French Riviera. As the train began to move, I joined my sequined and dinner-jacketed fellow travellers in bar car 3674 for cocktails, accompanied by live swing music from an excellent trio.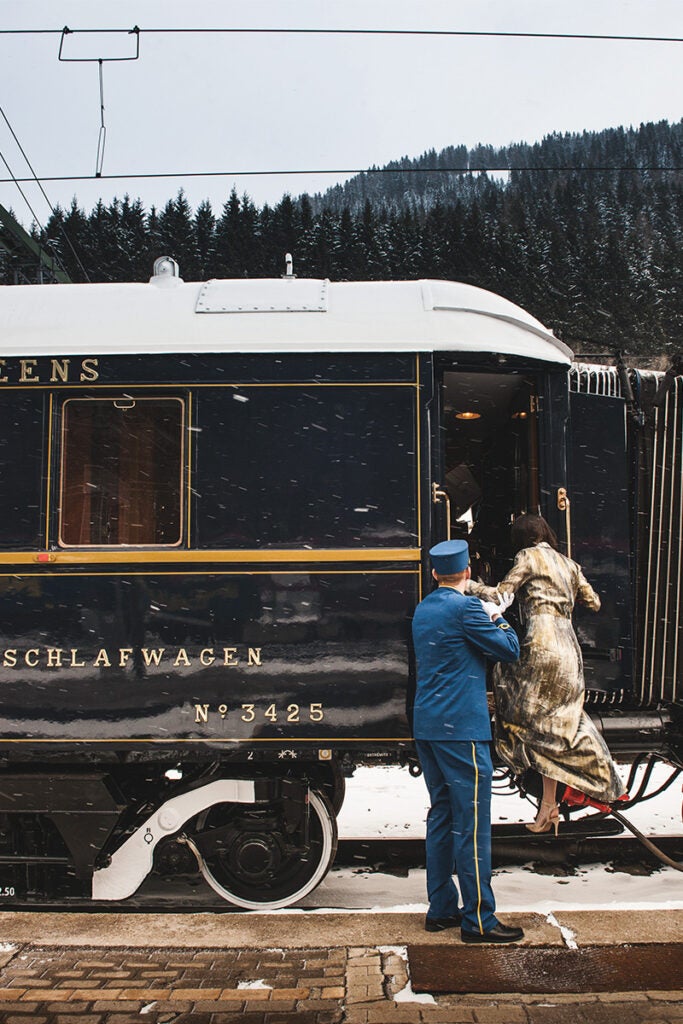 With its polished wood, colourful textiles and Art Deco furnishings – including glass panels created by René Lalique in dining car 4141 – travelling in the VSOE is like immersing yourself in a bygone era of elegant sophistication, when the carriages' illustrious passengers included Tolstoy, Trotsky, Marlene Dietrich, Lawrence of Arabia, Mata Hari and Agatha Christie, to name but a few. Today, one of the few obvious concessions to modernity is the somewhat incongruous electric locomotive, which was an SNCF Class BB 26000, known as Sybics.
[See also: Taste of Tuscany arrives in London with limited-edition truffle menu at The Goring]
On board the VSOE there are three types of accommodation, all heated by coal-fired boilers. Each 'Historic Cabin' has a bunk bed that is transformed into seating during the day and a wash basin (there is a shared toilet at each end of the carriage). The recently added and more spacious 'Suites' have marble bathrooms, with shower and toilet, and double or twin beds that are transformed into seating during the day; and the 'Grand Suites' have the same en-suite facilities, with an additional, separate seating area. (Inclusive prices for one night start at £3,300, £7,300 and £9,975 respectively.)
All aboard for Alpine glamour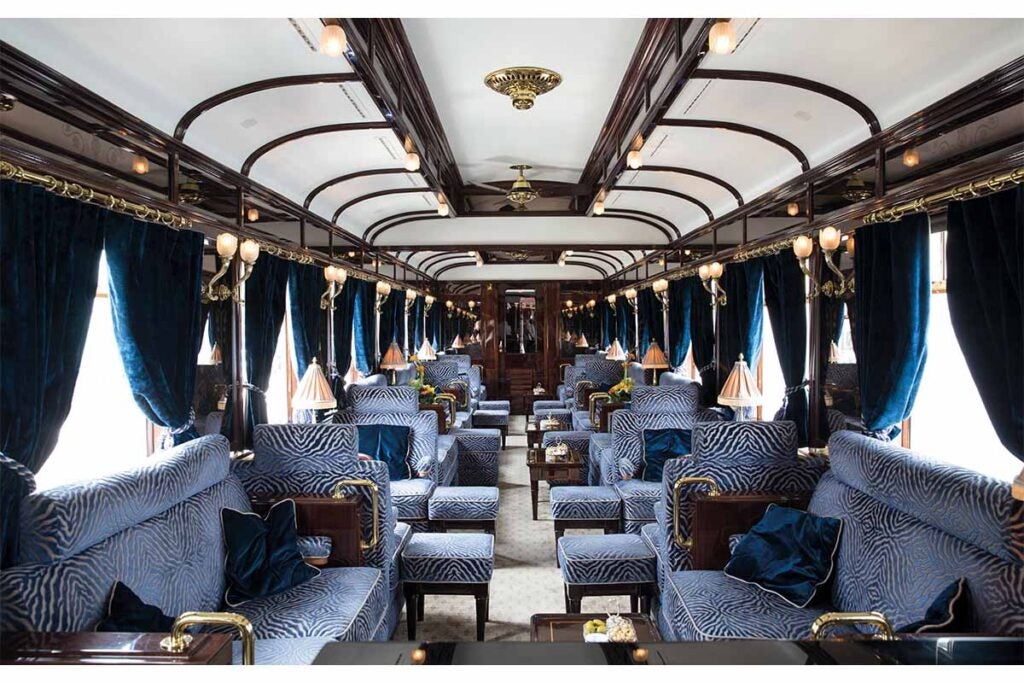 With a distance from Paris to Moûtiers of 660km and a journey time of little more than five hours, the new VSOE experience is extended – to allow time to savour all it has to offer – by the train remaining stationary for most of the night after reaching Dijon. Thus any swaying that might occur as guests make their way to the dining cars can only have been caused by the pre-dinner refreshments.
After feasting on succulent oysters with rich, creamy, feather-light sabayon, tender chapon de Bresse in chestnut, squash and cranberry sauce, as well as a selection of cheeses, we returned to the bar car for more cocktails, music and dancing. Afterwards I retired to my cabin, which had been transformed by the cabin steward into a snug and comfortable bedroom.
[See also: Inside Brooklands at The Peninsula London: an essential pit-stop for fans of Concorde and classic cars]
Arriving at Moûtiers in the early afternoon, we travelled by car to Courchevel, where, after another outstanding dinner created under the auspices of Jean Imbert, we spent the night in ski-in/ski-out chalets on the mountain at Ultima Belvédère.
The next morning, there was a choice of winter sports, spa treatments or simply relaxing beside a roaring fire with your every whim attended to by your chalet butler. In the afternoon I flew home; it was a much quicker but infinitely less rewarding journey than I had experienced on the magnificent Venice Simplon-Orient-Express.