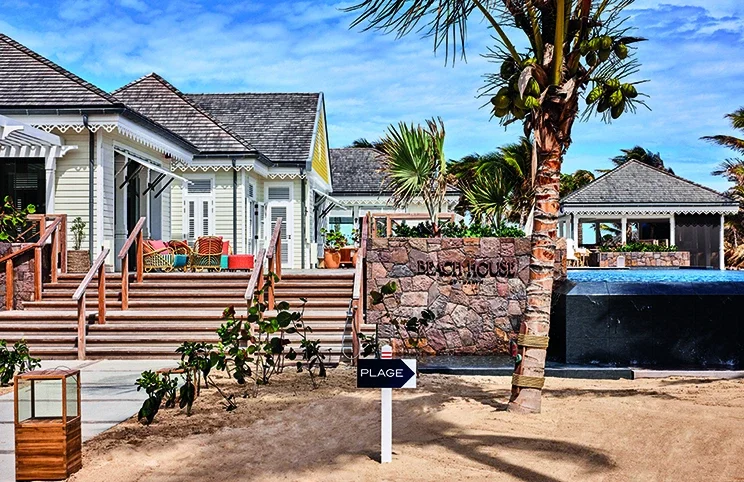 Luxury hotel group Rosewood has been on quite a run of late. The company founded in Dallas in 1979 by Caroline Rose Hunt, the daughter of an oil tycoon, has become a global hospitality brand.
In 2011 it was acquired by a privately owned, Hong-Kong-based company and under CEO Sonia Cheng it now manages 31 properties around the world. More openings are planned for 2023 in Doha, Salzburg and Munich, with another 18 hotels due to open in eight other countries over the next few years.
The group's property in St Barth is not exactly new, but it has been subject to a major refurbishment carried out with the aid of architects David M Schwartz and designers Luis Pons Design Lab, to create the rebranded Rosewood Le Guanahani, which opened in the autumn of 2021.
Flying colours at Le Guanahani
Painted in shades of turquoise, yellow and lavender that reflect the colours of the Caribbean, many of the secluded cottage suites are barely visible among the lush vegetation lining the wooden walkways that criss-cross the 18-acre plot, which lies next to a sheltered, turtle-frequented cove in a nature reserve on the north-eastern side of the island.
Beyond the guest-facing elements, a lot of additional work has been done on the infrastructure. Among these, in keeping with its aesthetic and location, the resort has updated its commitment to sustainability by installing equipment such as a desalination plant that provides much of its water.  
Alongside the main Beach House St Barth restaurant there are several other beachside food and beverage outlets, as well as a range of private dining options – all overseen by the recently appointed executive chef Cedrik Ollivault.
The Frenchman trained at the Michelin-starred L'Escu de Runfao and previously worked at the Brando in French Polynesia; his menus offer an inspired combination of Mediterranean, Caribbean and French cuisine. (The rack of lamb – cooked to perfection, seasoned with St Barth herbs and served with roasted vegetables – is just one example on a stunning menu that also includes wagyu steak and local seabass with fennel and basil.) 
The usuals done well
As you'd expect, there is everything you could need here: a swimming pool overlooking the nearby lagoon; another, adults-only pool; a spa with six treatment rooms; a 24-hour fitness centre with a range of group and personal training classes; tennis courts; a variety of non-motorised water sports and, for younger guests, an innovative children's Rosewood Explorers programme.
Of the 66 spacious guest accommodations – which include 29 rooms, 27 suites and 10 signature suites – 90 per cent have an ocean view and 30 per cent a private swimming pool. 
Spear's readers hardly need to be reminded of St Barth's popularity among big names and billionaires. Anyone who's anyone has been vacationing here since the sixties – from the Rockefellers and Rothschilds, to Aristotle and Jacqueline Onassis, as well as Brigitte Bardot and, latterly, the likes of Sir Paul McCartney and Beyoncé Knowles. But each of the island's hotels attracts a different tribe. 
'Those who want to wear high heels stay at Eden Rock,' someone told me during my stay at Rosewood Le Guanahani. 'But those who are happy in flip-flops stay here.'
They may be Louis Vuitton flip-flops, but it's a point of view that is reflected in the understated quality and elegance of every aspect of the resort. 
Main image: Noe Dewitt
Order your copy of The Spear's 500 2023 here.
More from Spear's:
City, country, safari: luxury UK hotel openings in 2023