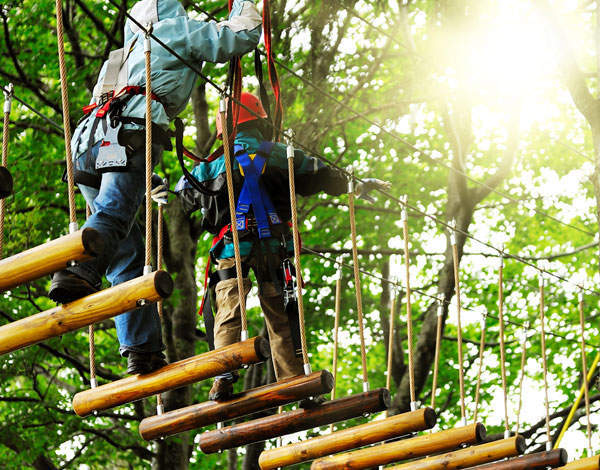 An invitation to zip-line at a five-star hotel is not a normal affair. Possibly the only luxury hotel in England to offer a high-line adventure course, the Four Seasons Hampshire is offering its guests much more adventure than most luxury hotels.
Opened just three weeks ago, the wire and zip-line course is the latest addition to the properties' 500-odd acres of lush land, and I was here to see if the investment was worthwhile.
Weaving in and out of the Range Rovers registered to Notting Hill, Holland Park and St John's Wood, I could definitely see a 'set' that vacationed at the Four Seasons Hampshire.
With its location an hour or so outside of London, the hotel is easily accessible, oozing in luxurious familiarity that only a Four Seasons can offer and disarmingly unstuffy: no one was having a coronary as muddy boots traipsed through the lobby. With perfectly coiffed families, leather holdalls and Wellington boots, this was countryside-lite, the Diet Coke of country weekends.
What became apparent from the short stay was the familial atmosphere of the place. Those guests who arrived a decade ago when the property first opened for a romantic weekend were now bringing the fruits of that romance to run and play in the land, ride the ponies and swim in the sumptuous pool. Somehow, and a delicate balance it must be, the Four Seasons just about manages to retain its romantic charm, despite the constant squeal of kids running around blissfully.
The slightly dated interior of Seasons restaurant belied the quality of the food. The restaurant was heaving with guests and locals, and for such a rural location, there was a genuine buzz about the place. Artistically presented surf and turf preceded a beautiful turbot with brown sugar, spinach and basil puree, drizzled in bouillabaisse jus, and as the night wore on and children went to bed, a more romantic vibe emerged.
The highlight, however, was the primary reason for the visit: the High-line Experience. Tucked in the corner of the hotel's grounds a short walking distance from the main manor house, this maze of wire, zip-lining and simulated free-fall was truly exciting.
Manned by charming and knowledgeable thrill-seekers, we were drilled on safety procedures, harnessed up and before long were dangling a dozen metres above ground in the Hampshire treetops, navigating through a surprisingly vigorous and entertaining course.
As the drizzle came down and manicured grounds turned muddy, the hotel's more adventurous guests swung from pillar to post, trunk to rope. The piece de resistance was an amazing zip-line all the way from the top of the tallest tree of the course down hundreds of metres over the hotel's grounds, where spectacular views of the countryside could be enjoyed, albeit at speed.
For a country experience with a splash of charming adventure, the high-line experience was more than worth a night at the Four Seasons Hampshire.