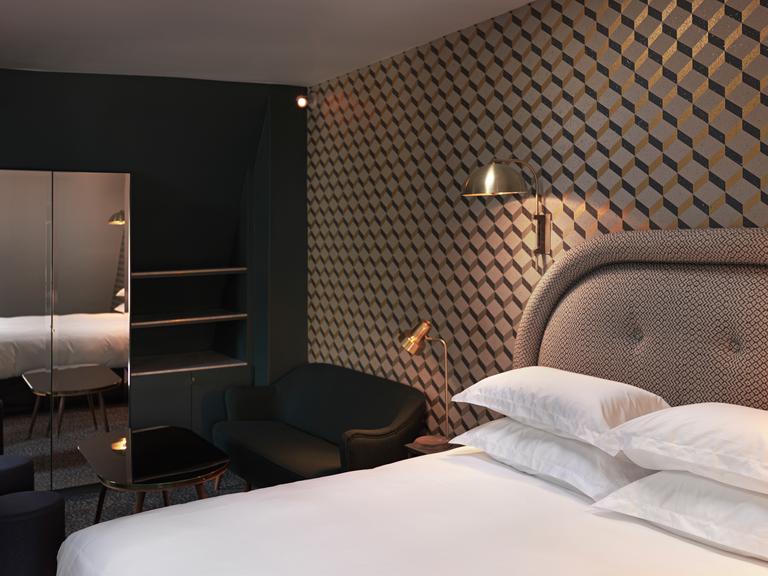 Zak Smith says the city's most exciting venue is always 'bursting with beautiful young Parisians' and an 'orgasmic wine selection'
With current events attempting to mar one of the world's most iconic cities, The Grand Pigalle is flying in the face of those who seek to destroy fun and freedom, ensuring that along with the rest of the city of lights, the party in Paris continues.
A flagship property for The Experimental Group, the collective behind some of Paris, New York, London and Ibiza's most iconic bars and restaurants, The Grand Pigalle sent out a newsletter following the Paris attacks stating that despite their dismay and sadness, 'the show must go on…please don't pray for Paris. Enjoy Paris!'
Set in Paris' naughtiest district just a stone's throw from the infamous Moulin Rouge, the message upon arrival seemed apt and clear- the world should and would continue to celebrate and enjoy the vitality and decadence of Paris- and this discreet boutique in South Pigalle seemed like a good place to start.
The hotel is at the heart of an urban regeneration project aiming to breathe life into Pigalle, an area that has, over past decade or so, degenerated into one of Paris' sleazier districts. Full of character and artistic charm, South Pigalle has now become home to The Grand Pigalle: the city's most exciting new venue.
The 37 rooms clearly drew inspiration from the theme of urban revival, combining a luxuriously appointed bohemian shabby-chic decor with influences from the district's more glamourous days. Comfortable, exciting and edgy, it really was a fun and engaging place to relax and let loose.
The ground floor, a narrow and enchanting space, transformed throughout the day. No lobby or reception, just a beautiful space that morphs and mutates daily from trendy coffee hangout to Paris' hottest new nightlife destination, bursting with beautiful young Parisians, an orgasmic wine selection and tapas style shared plates including a delicate sea bass carpaccio and tender burrata.
As well as the launch of The Grand Pigalle, the group also re-opened their Experimental Beach Ibiza this year. Situated within southern Ibiza's exotic Las Salinas national reserve, the beach claims to offer 'luxe, calme, and volupte,' or "luxury, peace and pleasure." Designed by award winning French designer Dorothée Meilichzon, Experimental Beach has a bohemian atmosphere tying into a paired back, yet indulgent vibe. That vibe has echoes that seem to reverberate across the group, akin to Soho House, allowing revellers, travellers and hedonists to enjoy what they already know and love.
Creating engaging and intoxicating venues is something that the Experimental Group have been doing for years, and therefore the success of The Grand Pigalle should come as no great surprise. Progressive and dynamic, their extensive cocktail lists stretch across the globe, from gritty urban bars to wild beach clubs.
London has played host to the Experimental Cocktail Club in Chinatown for so long now that there seems to be few single women in London who haven't been taken there for a date. Along with Compagnie des Vins Surnaturels and the recently opened East London based bar Joyeux Bordel, Experimental's influence over our nightlife will only continue to grow.