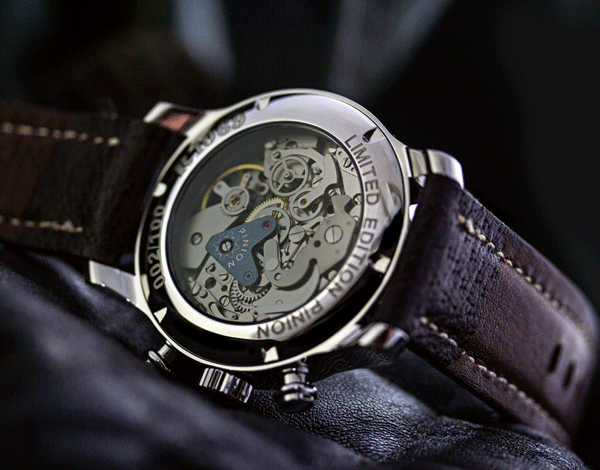 Boys (as any fule kno) like their toys. And simplistic though it may seem, that's possibly all the reasoning needed to explain the evergreen popularity of the chronograph, the wristwatch with a built-in stopwatch function. With its cluster of two or three subdials for timing operations, and push-buttons to activate them, it's part timepiece and part instrument, and has a busy, gadgety allure.
Unless you're short of a kitchen timer (or smartphone) when boiling an egg, there's not much you're likely to time with a chronograph now, but no matter. It remains by a distance the most popular 'complicated' watch for men, leaving more practical things like world timers (giving all 24 time zones at once) or dual times trailing meekly in its wake. Watch marques such as Breitling, Zenith, TAG Heuer and even Omega continue to build their brand equity around a specialisation in chronographs, while Rolex's sole chronograph offering, the Cosmograph Daytona, is its most coveted watch.
Those brands all operate at the 'sports chronograph' end of the market — a sector that emerged in the Sixties and Seventies as the chronograph became associated with fast cars and adventurous lifestyles, engendering rugged designs and the first models with automatic movements. That has remained the dominant style in the wider market, but examples at the high connoisseur end frequently hark back to earlier eras when the chronograph was still a finely made utility device rather than lifestyle adjunct.
Patek Philippe recently produced a watch that serves as an educative reminder of the chronograph's once-essential uses. The firm's Multi-Scale Chronograph 5975, one of the limited-edition pieces made for Patek's 175th anniversary last October, is an odd bird on first sight: a chronograph without any subdials, and therefore apparently lacking the measuring tools that give a chronograph its function. When the chronograph is activated, the stopwatch second hand starts sweeping round — but of course it can only record up to 60 seconds of elapsed time.
There's method in this of course, since recording elapsed time was only ever a part of the chronograph's functionality, as the 5975 demonstrates. On its dial are three circular indices, each one requiring less than a minute to give a reading. Around the outer edge of the dial you have a telemeter, with markings in kilometres — this was for measuring your distance from an event, based on the gap between seeing it and hearing it (for instance, how far away your artillery shells are landing); in the middle, with the legend 'Gradue pour 15 pulsations', you have the pulsometer (or pulsimeter), a tool for measuring the heart rate over fifteen pulses, used by doctors and medical professionals; while the centre of the dial is occupied by the three concentric rings of the tachymeter, for calculating speed over a given distance.
In the heyday of the functional chronograph, between the 1920s and 1940s, it wasn't uncommon for combinations of these indices to turn up on the same watch, while examples exist of other, still more arcane uses and scales. Today they're little more than picturesque dial decorations adding techy exoticism and historical nuance to the design, but the results can be beautiful — witness the rich tones and heritage charm of the Harmony Pulsimeter chronograph unveiled recently by Vacheron Constantin.
Pictured above: Pinion's Revival 1969
However, in the haute horlogerie world, it's the movement that is the real attraction. With its added complexity of stopwatch gears and levers on top of the normal timekeeping mechanisms, the hand-wound chronograph movement is a baroquely labyrinthine thing that remains essentially unchanged since the days of pocket watches. When hand-finished to the minute levels demanded by top watchmakers, to us watch addicts it can be almost impossibly beguiling. I know of one collector, for instance, who bought himself two versions of A Lange & Sohne's Datograph, which contains what many horologophiles believe to be the ultimate such movement, so that he can wear one on each wrist: one with the dial face up, one with the movement.
He'd no doubt be impressed with what Vacheron Constantin has achieved with its new Harmony models. Despite its status as one of the giants of complicated watchmaking, Vacheron Constantin has not historically been particularly active in the world of chronographs, and has lacked its own in-house chronograph movement. That mattered little a few years ago (indeed Audemars Piguet is in the same boat), but amid the horological arms races of recent years, it began to seem like a glaring omission, which the brand has now put right in spectacular style.
In January it released a trio of quite exceptional chronographs under the Harmony name, all in a cushion-shaped case inspired by a1920s model. The core piece is the Pulsimeter, of which 260 examples are being produced. (Vacheron Constantin turns 260 years of age this year; it is by some way the oldest watch firm to have been continually in operation since its founding.) There's also a tourbillon chronograph, of which 26 are being made; and most outstandingly an ultra-thin, split-seconds model in platinum, packed with technical refinements, of which just ten pieces are being produced at a price around the £200,000 mark. The movement, despite its complexity, is just 5.2mm thick.
That might have been the thinnest chronograph movement of all, in fact, had not Piaget come out with its own new model at the same time, the Altiplano Chronograph, with a movement that's 4.65mm thick. Slimming watch movements down is Piaget's speciality — last year it produced the world's thinnest wristwatch, the Altiplano 900p — and while not in the same territory of complexity and refinement as Vacheron Constantin's, the Altiplano Chronograph is a micromechanical masterpiece that does indeed set the chronograph record.
The point of a thin watch, of course, is wearability — a watch that can glide gracefully beneath the cuff — and this one is an appropriately smart, urbane design that resists some of Piaget's prissier tendencies. Piaget also throws in a second time zone for good measure, apparently at no cost to thinness.
However, in the world of hand-wound chronographs with heritage value, a new option emerged recently — in Oxfordshire. Pinion is a boutique watch firm established a couple of years ago by Piers Berry, a Henley-based digital designer and watch nut turned entrepreneur. Last year, through contacts in the Swiss industry, Berry got his hands on a cache of chronograph movements made in 1969 by the renowned producer Valjoux, now a sub-brand within the Swatch Group firmament but then a long-standing specialist in high-end chronograph manufacturing. The movements Berry discovered were box-fresh, as it were, having never been assembled and lain gathering dust for 45 years.
Once he had got hold of these first-class vintage engines, Berry designed a watch to house them: Pinion's Revival 1969 is a suave design that, when turned over, reveals a glimpse of chronographic history. His timing is perfect.