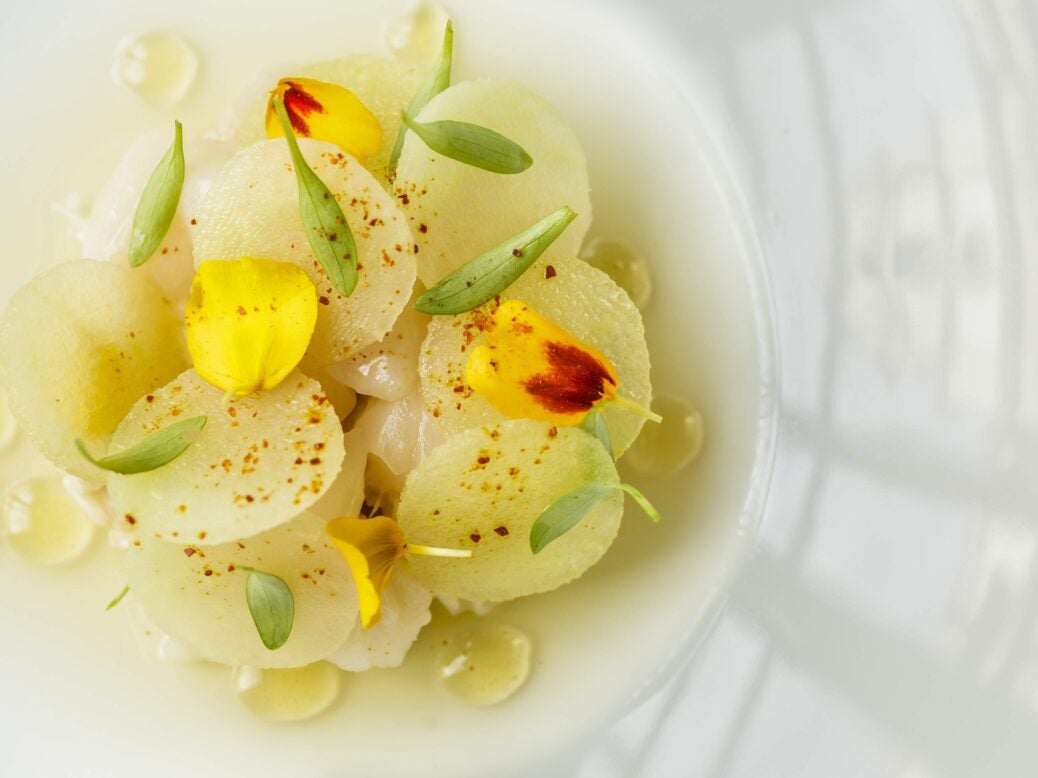 Christopher Jackson heads to Roux and finds that head chef Steve Groves is coming into his powers
Roux draws you in with the name alone – one immediately submits to its undeniable Frenchness and promise of excellence. It's named of course after Michel Roux of Le Gavroche and Masterchef fame.
The restaurant is just off Parliament Square – it would take Theresa May a three-minute Brexit-preoccupied walk to be here. The clientele doesn't feel especially political. I doubt Roux is particularly affordable on an MP's salary; gossip is livelier in the Red Lion.
The interior is a little dispiriting: there is a green stick-man exit sign ahead as you enter, which gives the entrance hall a community hospital aesthetic (in fact, Roux is located anomalously within the Royal Institution of Chartered Surveyors). The restaurant itself has teal wallpaper and some semi-intimidating prints of architectural drawings; it's like eating in a boarding-school where a headmaster is imposing amateur enthusiasms on the pupils.
This atmosphere places pressure on the tasting menu. First up, is the Dorset crab, served with apple and fermented chilli, the apple leaning against the crab as if asking it what the sea was like; the asparagus, morel, spenwood and wild garlic follows, a botanist's delight of fairytale woodland; and then comes a marvellous wheel of Venison tartare, paddling in a ludicrously rich sauce of pine, turnip and mustard.
In spite of the slight lack of atmospherics, the opulent menu accrues like a condensed life of Louis XIV. The Test Valley Trout – a slightly burnt slice of Romsey – comes next and is served with leek, pine nuts and chervil. The dry aged duck is joined to a powdery explosion of beetroot, chicory and Yukon potato. In an out of this swerved various wines – the Domaine Gavoty Cuvée Clarendon, a particularly loving accompaniment to the trout.
At Roux, the food has to work hard to apologise for the décor. But it must also be said that Steve Groves – the head chef here since 2014 – has created a superbly elaborate apology. This is, all in all, a magnificent place – I expect that pretty soon, the political classes shall drift from Westminster to here: if I were the prime minister I'd eat here every night. But then, if I were a prime minister trying to deliver Brexit, I'd be so depressed I'd need a drink or two as well.
Christopher Jackson is deputy editor at Spear's
Related
Review: Pied à terre, Fitzrovia
Review: Raymond Blanc's cookery school