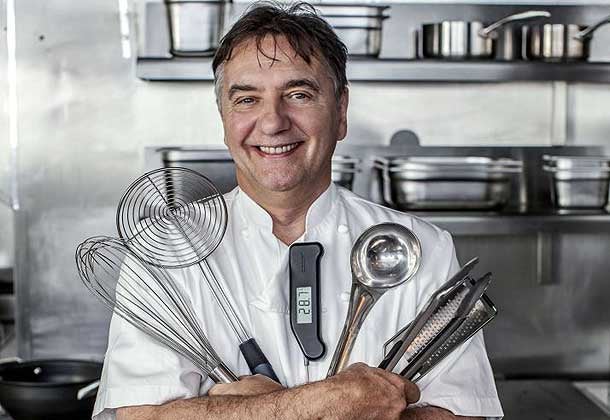 Raymond Blanc's cookery school at Le Manoir brings out your creative side in the most perfect of settings, writes William Cash
Can I let readers into a little secret? In addition to being Spear's editor-at-large, I also work as a part-time chef. Well, that is, I am allowed by my wife to cook only two dishes for our B&B guests: the full 'Shropshire' breakfast, and grilled steak au poivre for the dinners we offer in the gatehouse dining room.
My cooking repertoire has long been in need of expansion. So when I received an invitation to a day course at the Raymond Blanc Cookery School at Le Manoir aux Quat' Saisons, near Oxford, along with a night in the hotel with its two-Michelin-starred restaurant, I was packing my suitcase faster than you could say Egon Ronay. This would also be a perfect chance to test a theory: have luxury cookery schools become the new spas?
Blanc's school is the first Michelin-starred kitchen in the UK to have its own cookery school. It is sold as a holiday for the senses as well as 'providing you with the skills you need to translate your love of food into beautiful and imaginative cuisine'.
Less than an hour from London, you can escape for just a day for a course on how to 'set the scene with spectacular restaurant-style creative canapes', or how to be 'king or queen of the barbecue'; or you can check in for a four-day, five-night 'Ultimate Cookery Experience' residential course (£4,500 for one guest), where you will 'master a different challenge each day and spend your evenings in luxury'.
I brought the wife, who wasn't going to miss out on having the chance to display a Raymond Blanc Cooking School certificate for house guests to see in our kitchen. Our course was called 'Kitchen Secrets with Adam', namely Adam Johnson, Raymond's 'development chef'. Our classroom was small and cosy, with more Gaggenau appliances than Gaggenau's London showroom. Eight of us sat on stools around a demo kitchen scattered with Raymond Blanc cookware, bakeware and knives.
The key to the school's success is that it is kitchen as domestic theatre. Adam starts off by teaching us seared scallops with a cauliflower purée in curry oil. The secret is using a high-quality Madras curry powder bought from an Indian supermarket.
The course is also educational about what to shop for the next time I'm in the fishmonger: 'You would not want to eat dredged scallops. They need to be clean and fresh. We are so particular that we can tell you the name of the diving team.'
One emerges even after a day feeling like one has been holidaying in a luxury cruise ship, holed up on the captain's table with fellow foodies. We also got a tour of Blanc's extraordinary herb and vegetable gardens in the grounds of Le Manoir: five-star luxury and the ultimate 'who-I-am' holiday without any of the hassle of modern airports or body frisking.
William Cash is editor-at-large of Spear's