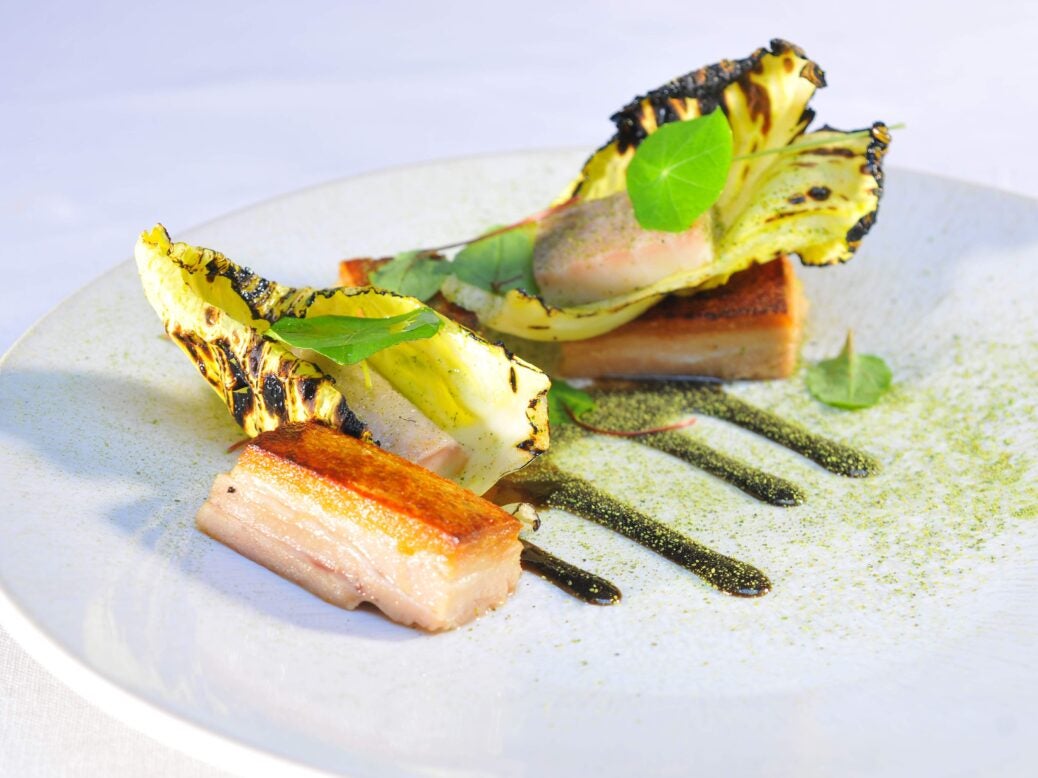 The low-key exterior of this Michelin-star establishment is curiously juxtaposed with its vibrant, flavourful creations, writes Arun Kakar
Tucked away along Charlotte Street is Pied  à Terre, so discreet that one would certainly walk past it if not for the bright red Michelin plaque adorning its frontage. Awarded its first star in 1993, it has retained the prize ever since, along with a consistent haul of various accolades over its 27 years in business.
If the area is quiet, Pied à Terre is almost silent. We enter through a corridor into its main dining room, small and muted in colour and ambience. For a restaurant that's been used to seeing its name in Good Food guides since 1991, it could perhaps be forgiven for resting slightly on its reputation — the carpet is a little sullen and a hanging laurel above the skylight does little to add freshness to the occasion. 'Chill' acoustic covers are the choice of music for the evening, which felt a little odd for the restaurant's modern French billing. For the three and a half hours that we spend at our table however, it is an altogether different story.
Sipping at our (non-alcoholic) cocktails through paper straws, our appetites are whetted by a selection of pretty canapés: salmon cream cheese-filled chocolate lips and beef tartar filo pastry sitting between sea shells are delightful, as is a feta and wild oregano mousse served in laser cut eggshell.  Something here.
Head chef Asimakis Chaniotis has worked his way through some of the best restaurants on the Continent before taking the reins at Pied a Terre from Martin Eaves in 2015. His eight (regretfully, we couldn't stay for coffee and petits fours) courses we enjoy are meticulous, varied and yet resoundingly united in culture and character. Tender octopus is accompanied with fruity jelly, juicy escargots with a full-bodied tomato sauce. Flavours mingle and occasionally confuse but are never by-the-book.
The first plate, 'Pembrokeshire Crab with green strawberries, samphire wasabi and lime and ginger air' was refreshing, light and smooth. Paired with a Portuguese 2012 Quinta da Murta white, it became freshened and creamier on the finish, losing neither the sweetness of the dish or acidity of the dry white. The courses, though small, as expected, were prolonged by notes like this – considered and delicate, with the sommelier probing our tastes and meeting them faultlessly over the course of the evening.
The star of the night was the Lavington lamb, served among a smattering of baby artichoke, savoy cabbage, tarragon and grilled green asparagus. The steak at its centrepiece was evenly pink, and the rich lamb sauce drew the contrasting elements of the plate together. Sharp notes of artichoke pierce the earthy cabbage and asparagus accompaniment delivering one of the evening's pleasant surprises.
We end with the meal with a delicious Citrus Cremeux, Hazelnut and Meringue à la Française — a dish of contrasts, with soft sharp mousse topped with a handful of delicately crunchy swirls of sugary meringue and a sprinkle of hazelnuts. Served with a dense Vergelegen South African straw wine that carries a sweetness that leaves me plump for the night's journey ahead. We exit gloriously sated, relaxed and even somewhat educated. Low-key Pied à Terre may appear from the outside, but appearances can be deceptive.
Arun Kakar writes for Spear's
Related
Review: Giorgio Locatelli's pop-up at Le Gavroche
Review: Bennelong, Sydney Opera House