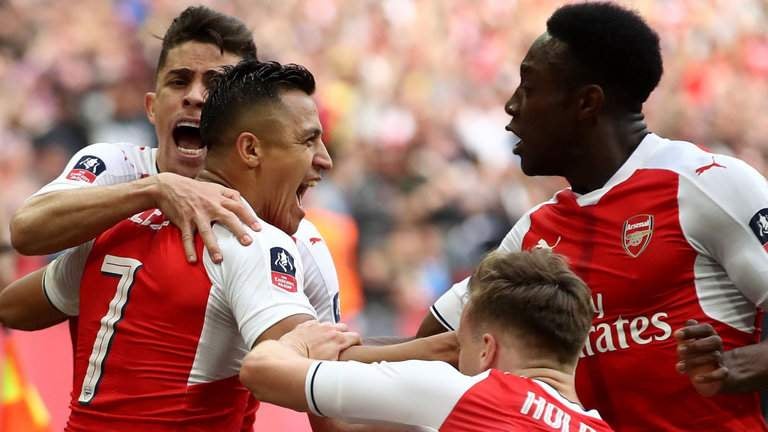 We join an ecstatic crowd to cheer on the Gunners in the comfort of Club Wembley's private box
Football, English football in particular, evokes a collection of relentless emotions among fans worldwide: camaraderie, nostalgia, elation, mania and often sorrow (when your team loses). It is one of the rare few moments in human experience when the audience perfectly resonates with the emotional roller coaster players go through in the pitch, and every sudden movement or a slip is greeted with a cacophony of gasps and boos, building up to the eventual release: the belligerent bellowing of GOAL! And the cycle repeats itself for at least the next hour or so.
As such, football is an intense game, and it could be both exciting and stressful to be in the midst of human-wave undulations, occasionally showered with tears, sweat, and confetti. However, my experience of the FA Cup semi-final between Arsenal and Manchester City was an unusual one. Perched on top of the brand new stadium, J and I tucked into delicious salt beef, sauerkraut and dreamy warm brownies with white chocolate sauce. We washed the meal down with champagne while peering out at the sea of silver and blue Manchester City fans, singing and dancing in unison.
But it is how the football rich-listers and other HNWs enjoy it, we hear from Nick Read, the head of Club Wembley, who hosted us in one of the 160 private boxes within the stadium's inner atrium. A collection of eight, twelve or twenty seat-divisions with glass doors leading into a hotel-like room with 5-star service, the boxes start at £37,200 per season. While pointing to David Beckham's private box just metres away, Read enlightened us on the philanthropy the non-profit organisation is part of. A third of the FA's revenue is reinvested into English grassroots football.
The glass partitions (covered during football matches) allow owners and their guests to dip into the joyous atmosphere of the event at play, and back out into the luxury embrace of the air-conditioned box, for a moment of quietude and an opportunity to tuck into a warm pork pies (a consolation when Arsenal seemed to be losing during half-time).
And you don't miss out on the updates either, as the indoor television screens provide all manner of match analyses one needs. I was more than happy to focus on delectable helpings of salads and finger food instead, but J, an avid Arsenal fan, was glued to the set with an anxious expression on his face.
Despite initial worries, the game ended well for us as Arsenal scored the winning goal after a nail-biting half-hour of both teams to-ing and fro-ing on the pitch. It was a shame we couldn't wear the red and white attire to join in the celebration with the rest of the stadium, but we understood that club rules had to be respected.