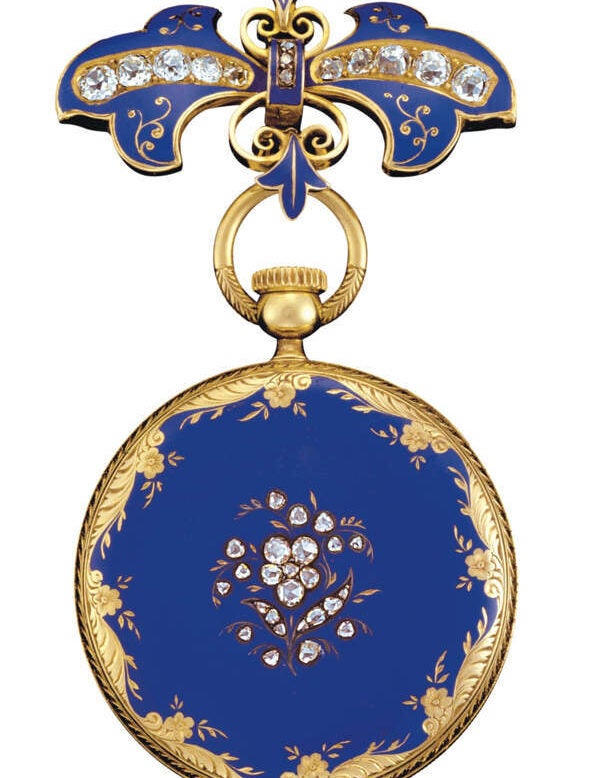 The UK and Switzerland both have a strong horological heritage; how do they complement each other historically? How we can see this at the exhibition?
Over the centuries both the UK and Switzerland have been at the forefront of technical development in watchmaking, Britain more historically and Switzerland in the last 175 years. At the exhibition visitors will be able to see a very comprehensive selection of key historical timepieces originating from both countries.
The historical timepieces on display seem special, especially the multifunctional showpieces. Do you lament that such showpieces seem consigned to the past, or do you think they might make a return?
It is true that grand complication timepieces are sometimes misrepresented as being from a bygone era but they have always been around. However, there has been a resurgence in haute-horlogerie and today at Patek Philippe the manufacture of grand complication is very important to the company.
Two very special examples of pieces recently manufactured are the Star Calibre (above) with 21 complications, six of which were new patents. It was unveiled in 2000 and took eight years to develop, and is to this day the third most complicated timepiece ever created.
In 2014 to celebrate its 175th anniversary, Patek Philippe unveiled the most complicated wristwatch it has ever created, the Grandmaster Chime with twenty complications. Both these magnificent pieces will be on display during the Grand Exhibition.
What bearing does the fact the brand is still owned by a private family have on the business?
The fact that the brand is still privately owned by the Stern family is very important. By being independent Patek Philippe is able to develop and build movements and watches according to our own demands without having to bow to the pressures of shareholders.
The long-term vision which being privately owned affords means we have a more direct link to our retailers and Patek Philippe clients. Moreover the watches reflect in every aspect our quest for the exceptional.
Viewing watches and clocks isn't usually thought of as an interactive experience. How will this exhibition change that?
We have several parts of the exhibition which are very interactive for visitors, namely the Movement Room (above), where the general public will really be able to look in depth at all the intricacies of the 'heart' of a watch. There is also going to be a specific Interactive Room where guests can listen to the chimes of minute repeater wristwatches in specially designed ball chairs. Guests will also be able to ask the artisans and watchmakers questions about their unique craft during their demonstrations in the Watchmaker Room.
What's your favourite piece on display and why?
My favourite piece is Her Majesty's pearl and diamond wristwatch, which Queen Elizabeth has graciously agreed to loan Patek Philippe for the duration of the exhibition. This watch has a beautiful pearl bracelet with pearl whiskers surrounding the dial. We are delighted to be able to display this watch alongside her great-great-grandmother Queen Victoria's pocket watches (below).
We are delighted to host such an extensive exhibition in London showcasing many key historical pieces in watchmaking generally, as well as key pieces from Patek Philippe's history from 1839 to today. We are also pleased to be able to showcase some of the artisans demonstrating their unique and rare skills such as engraving, enamelling, gem setting and marquetry.
Mark Hearn is UK CEO of Patek Philippe
The Watch Art Grand Exhibition runs at the Saatchi Gallery until 7 June