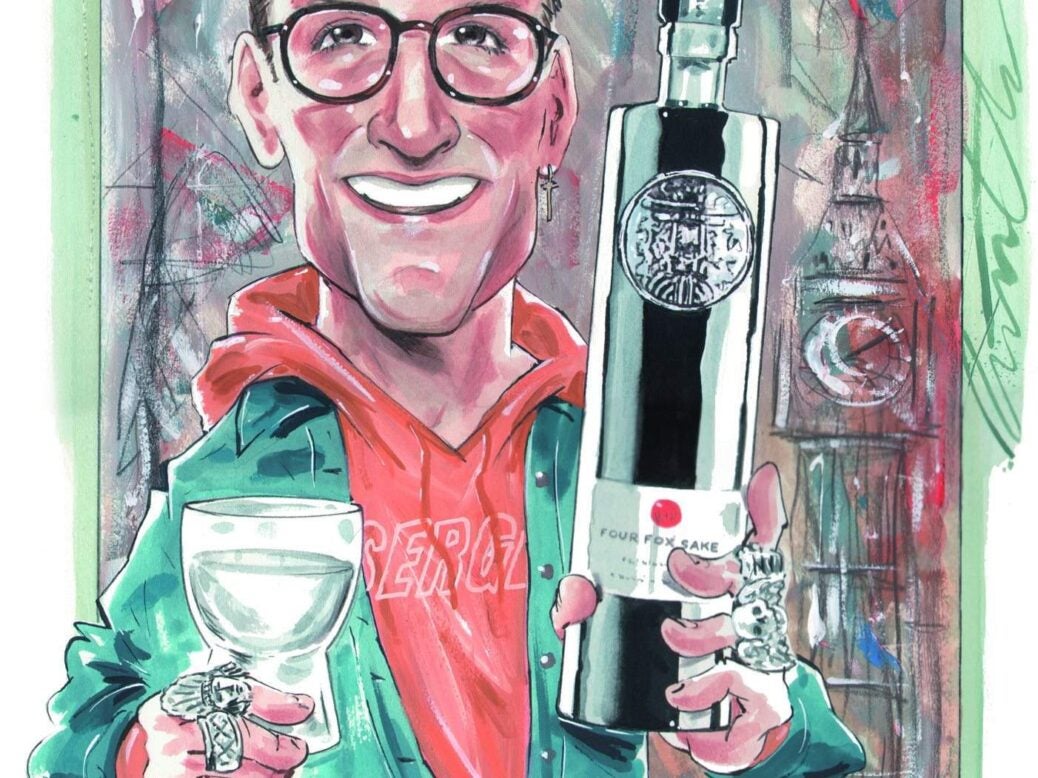 The Made in Chelsea star opens up about home renovation, fashion, saké – and what his thumbs tell him. Interview by Emelia Hamilton-Russell
What does wealth mean to you? Health, happiness, and being able to support a family when the time comes.
What's your biggest extravagance? I've just bought a house in west London, so my home's now my biggest extravagance for sure. I have a YouTube show, From Crib to Casa, which documents the whole thing. We've just done some really nice cornicing and now I'm obsessed with cornicing. I think it's a sign of being a grown-up – I never thought I could get so excited about doorknobs.
What are you most proud of? My first brand, Serge DeNimes. It's a clothes and jewellery brand – male jewellery is its big thing.
What's the next big project? Ah, I've got loads of projects. The house is still ongoing and that's a major, major project. One of my other babies is this baby right here: Four Fox Saké. Look, the bottle lights up. And then the biggest and the most exciting project is that I'm getting married early next summer.
What car do you drive? Funny you should ask. We're getting a Jaguar E-Pace this afternoon in a nice dark blue. It's come at the perfect time because we're going to be moving a lot of stuff into our new house soon.
What's your pet hate? People who eat with their mouth open.
What's your favourite place on earth? I'd probably say London. I love London. London's my home, it's where I grew up.
What piece of art would you steal? My number one influence since I was little is the artist Robert Rauschenberg. So having one of those hanging in the house would be pretty awesome
Who's your favourite designer? Joshua Kane, who is a very close friend of mine, makes beautiful suits. Also Oliver Spencer is one of my favourite shows at London Fashion Week. He's a really cool guy and his clothes are amazing.
What are you reading at the moment? Shoe Dog by Phil Knight. It's about the guy who started Nike. Someone gave it to me recently and apparently it's insanely inspirational.
Where do you spend the summer? We tend to do smaller trips. We love just getting out of town and going to the countryside. We love Bath: we just jump in the car and have all the stuff in the back.
How did you earn your first pay cheque? My dad owned a restaurant called the Foxtrot Oscar, which in the Eighties was kind of like a 'spot'. From the age of 12 I used to hang out at the restaurant with my dad and his friends, and I'd ask them about their work. One of them sold shoes with a buckle similar to Gucci's, and he offered to sell me some wholesale. So I filled my school dorm full of shoes and students would come and buy them off me – and then their dads would want to buy them too. So there I was, age 13, selling Gucci lookalikes to my friends' dads from my dorm at Eton.
What was the worst decision you ever made? I'm sure I've made loads of what we call 'bad decisions'. But my mum always told me you've got to be positive no matter what. That's why I've got two plus signs tattooed on my thumbs – to remind me. Everything happens for a reason.
And the best? That's easy: asking my fiancée Emma Lou to marry me. She's rocked my whole world.
More Midas:
Emelia Hamilton-Russell is a junior staff writer at Spear's