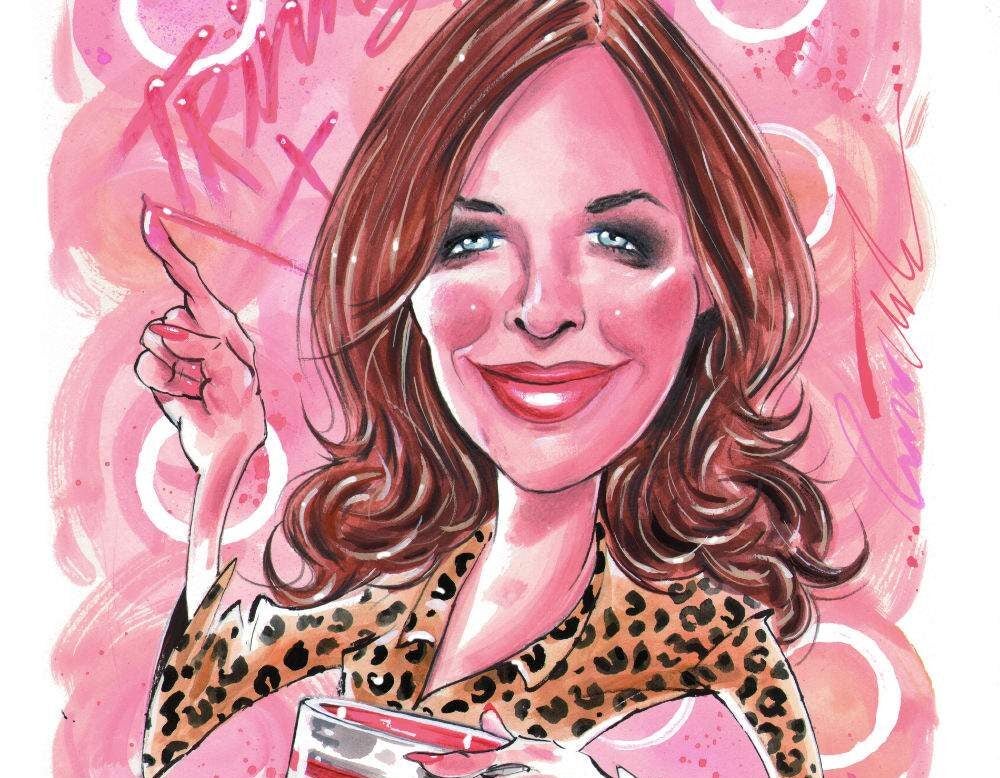 The style guru talks make-up, entrepreneurs, favourite eating haunts and earning a crust cutting ham with Olenka Hamilton
How much is an ounce of gold?
£800? I should know, I used to trade commodities. [It was circa £950 on the day.]
What are you working on at the moment?
My make-up brand, Trinny London. I'm doing my second fundraiser. We launched last October, got to a certain size, and now we need to expand and explore some pop-up concepts.
Why did you decide to go into make-up?
I love make-up, skin care and clothing, but make-up is the most visually transforming. I love the impact it has.
What is your make-up regime?
I do my make-up in about four minutes. Because it's all cream-based, I just put it on with my fingers; I could be in the back of a cab or on a motorbike. I use an SPF 30 which I nearly sleep in because of the amount of time I spend in front of a screen.
How would you describe your style?
Slightly schizophrenic, although there is definitely a basic undercurrent which is a classic, slightly androgynous layered look with block colours and a flat-wedged shoe; I'll do that through ten permutations.
What does it mean to be stylish?
It means you don't follow fashion, but whatever you wear suits you impeccably; everything flows, nothing jars.
Who first inspired you?
My dad was an entrepreneur from a very young age, and he had both highs and lows. I was the sixth of six children, and as the youngest, though you can get away with murder, you always feel as if everyone knows your parents better than you do. I wanted to prove I could do something, and though it took me until I was 30 to know what I wanted to do, I think I have made them proud.
Who do you most admire?
I admire any woman who has built up a business and managed to have a good balance in her life. Susannah Constantine was amazing at being able to shut the door. I would send her 20 emails and she wouldn't answer them until 9am the next morning, which I loved and loathed, but she had a very good boundary between her work and her children and it inspired me not to be scared of motherhood. Other examples are Anya Hindmarch and Chrissie Rucker.
The secret to your success?
Perseverance. I've had three careers and there have been very fallow
times when I've had no idea what's coming next. I just don't stop, and
I never give up.
What has been your greatest success?
It is that I've got to a place where I can encourage women to make the most of themselves in the purest way. I did that firstly fragmented through a TV show, and now I do it more directly through social media.
How did you earn your first pay cheque?
I had a Saturday job at 16 at Partridges. I used to cut the ham, and after three months I was allowed to serve the customers. If I cut the ham too thick and they wanted it thinner, it was taken out of my pay cheque.
What is your biggest luxury?
Having my hair blow-dried, which I do twice a week between 7 and 8am. If I do it myself, I don't have time to do anything. If someone does it for me, I can clear my emails.
Which restaurant is indispensable?
My partner Charles Saatchi and I like habits and we only go to 34 and Scott's, where they know what I want to eat. I start with avocado and crab with melba toast and marie rose sauce, then I have goujons of sole with mushy peas and french fries, or their risotto.
Web trinnylondon.com
Olenka Hamilton is staff writer at Spear's