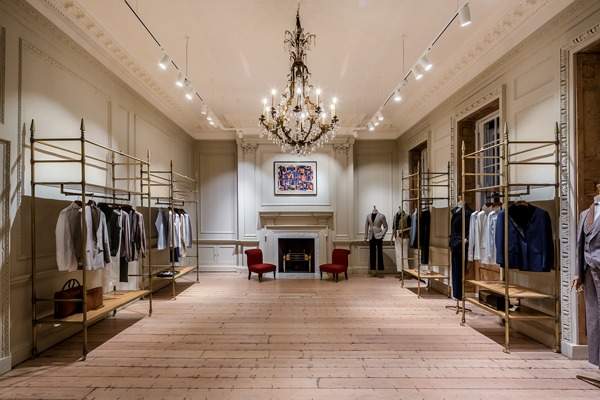 Ralph Lauren's genius is that he has shaped a whole nation's taste at a profound level, says Nick Foulkes. But does the all-American designer have a British equivalent? 
In November, I attended the London premiere of Very Ralph, the HBO film celebrating Ralph Lauren's contribution to American style.
The film's eponym was in town – on his way from Paris after collecting an upgrade on his Légion d'Honneur – and gave a dinner party at the Royal Academy afterwards. I love Ralph as much for the easy-going way in which he wears his great success, as for his talent. Plus he is humble – after all these years he still cares about his métier.
While the film is deservedly hagiographical, I still think there is space for a more academic appreciation of the Lauren oeuvre.
The genius of Ralph Lauren is that while he has seemed for the past half-century to be holding a mirror up to American style, he has also been shaping American taste at a profound level – he is more than a successful American fashion designer in the way that Sinatra is more than an American singer, Warhol more than an American artist, and Scorsese more than an American filmmaker.
One day I would like to see a serious museum show tackle Ralph Lauren's contribution to American culture, but in the meantime the film is a must-see for all devotees of the Ralph cult.
A few days later I attended another sartorial apotheosis in the West End: the opening of the new Hackett store on Savile Row. Located in what used to be the old Hardy Amies building, it is a fitting culmination to a career in menswear that began in the Seventies. It is not Jeremy Hackett's first foray on to the Row – he had a shop a couple of doors down about 20 years ago – and it is good to see him back.
Over the years, Hackett the brand has had many owners, but Jeremy has always occupied the chairman's seat on the board and provided the guidance and leadership that has enabled the brand to punch above its weight on the international scene. Even when he was a young man he had such a quietly impressive manner that when I was a clever-clogs restaurant critic of the sort who only wrote about food when there was nothing else to comment on, he was a regular companion under the simple alias of the 'chairman', uniting the qualities of John Steed of the Avengers and Young Mr Grace of Are You Being Served?.
Jeremy cannot help adding gravitas and substance to style and apparel: so much gravitas that I remember reading a novel which included a reference to Hackett describing it as a long-established gentleman's outfitter with a history reaching back generations.
Such multi-generational misapprehensions are bolstered by the new Hackett building, which is hung with 18th- and 19th-century portraits, but in fact Hackett is an invention of the last two decades of the 20th century and it has been my privilege to follow the story of the man and the brand since the early days on Parsons Green, when the merchandise was all second-hand – or vintage, as we are encouraged to call it today. When it comes to old clothes, Jeremy has what art dealers call an 'eye'. I remember feeling very envious of the time he found an unworn pair of bespoke riding boots (with trees) made for King Edward VIII, and picked them up for a fiver; the boots subsequently appeared in the exhibition Man and the Horse, curated by Diana Vreeland.
Fox trews
It was thanks to him that I became aware of Fox Brothers flannel almost 30 years ago, when we took a hair-raising drive down to Somerset at the wheel of his splendidly overpowered brand-new MG RV8.
When we got there we found that the windows of the factory still bore the traces of the tape that had been put there during the Second World War.
Working (or as we would say today 'in collaboration') with the old Hunters of Brora mill during the mid-1990s, we produced the first Country Life tweeds. And I am eternally in Jeremy's debt for introducing me to Terry Haste, the nonpareil of British tailors, whom he engaged to set up the Hackett bespoke department.
Over the years I have followed the inexorable rise from those Fulham beginnings to global renown. In Japan Jeremy is treated in the manner of a living god, much as some of the inhabitants of Vanuatu in the South Pacific revere – quite sensibly in my opinion – the Duke of Edinburgh as a divine being.
For a generation he has been the ultimate ambassador for quiet British good taste and as such is far too self-effacing to lobby for a decoration, but I hope he will allow me to do it for him. He deserves a knighthood, and it would suit him, but he would be equally con-tent with a CBE – and should we ever leave the EU, we will need men of his calibre and dress sense to restore the lustre of our international reputation.
Read more
Nick Foulkes on the trials of having an eponymous fashion accessory
Coining it: Nick Foulkes on a true collectors item
Nick Foulkes' day of high drama in Stratford