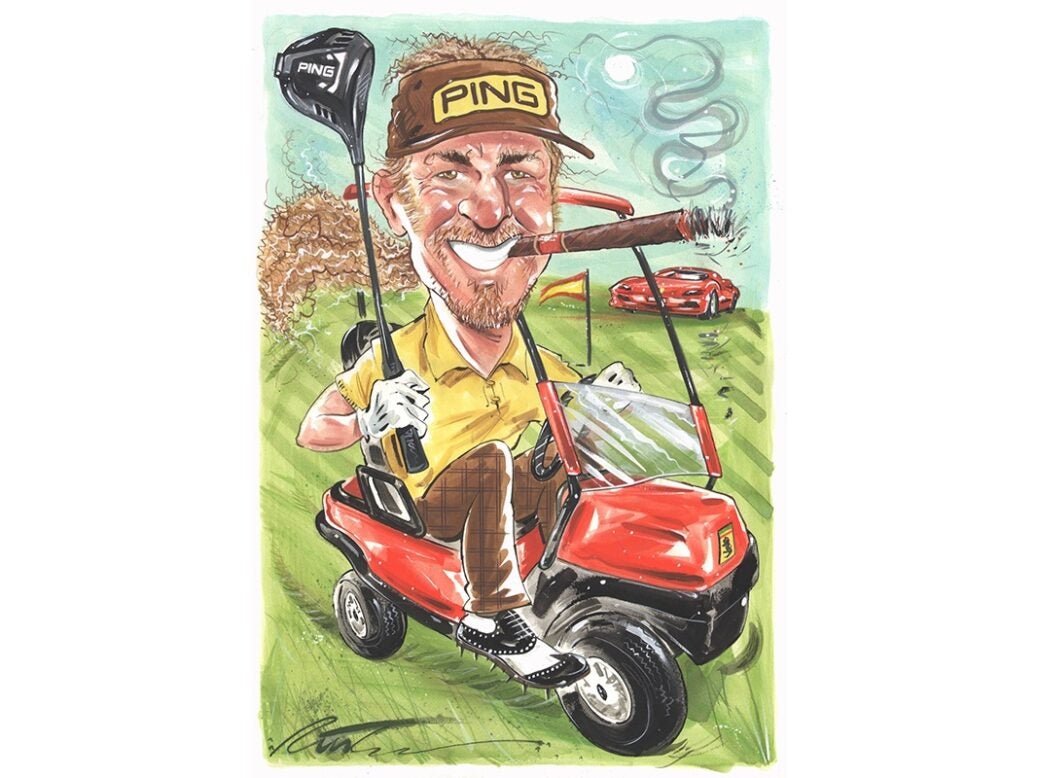 How much is an ounce of gold?
We don't do ounces in Spain. But even in grams or kilos I don't have any idea what the value would be.
How did you earn your first pay cheque?
The first pay cheque I won from a tournament was in 1985, when I was 21, a couple of months after I came out of [mandatory national service in] the army. But I had worked on the driving range and as a caddy since I was 15. I worked on the driving range to eat. They were hard times, but you had to work.
Do you work to live or live to work?
To me golf is not a job, it's a way of living. A job is waking up in the morning and laying bricks or cable, or something like this. I love the game.
What motivates you?
Competition – I want to win. Competition is something you feel here [he puts his fist to his chest]. I'm 59 years old, but I love to compete. To me, the motivation is to practise, to be good, to control the ball – because that's the only way to win.
What do you do when you're not playing golf?
Even when I'm on holidays, my sons play golf, my wife plays golf, my brothers play golf. People ask me: 'What do you do when you're not playing golf?' I play golf. I never get tired of being on the golf course with my friends and my family. Golf is a way of living.
Are you a saver or a spender?
A little bit of both. Because maybe tomorrow it's all finished. I'm 59, this is the only thing I do in my life.
What luxuries do you enjoy?
When I was a kid I read car magazines and I always loved Ferrari. So when I could buy a Ferrari, I did. That was in 1999. It's a red Maranello 550 with a manual gearbox. That was my dream when I was a kid, so it's symbolic. That one is gonna die with me.
You're known for smoking cigars, too.
I started smoking cigarettes when I was 15 or 16, then in the year 2000 I finished with cigarettes and switched to cigars. I enjoy it with a nice bottle of wine or a nice whisky. Because I live down in the Dominican Republic, I've got all my needs [catered for]. I enjoy a cigar at any time of day. Well, not before breakfast, but as soon as I have my breakfast and my coffee – that's the first one. I like the taste, I'm probably addicted to the nicotine. But I just enjoy them, they make me feel good.
Is there a trait in other people that you particularly admire?
I've been an admirer of some people in golf. Tiger Woods, Seve Ballesteros, [José María] Olazábal – guys who you can see have passion for what they do. The determination, the focus, the commitment to do what you want to do in your life – that's the main thing. I like people who are true. People who are not true, people who are sneaky, I don't like these people.
What's your best quality?
I don't know. It's for other people to talk about me. I don't want to talk about myself. But I wake up in the morning and look in the mirror and go: 'Oh God, I love what I see!' [Laughing] You have to be proud of yourself.
There must be something?
OK: Loyalty. And commitment to what I do. Focus.
What's the trait you most dislike in yourself?
I told you already: when I look at myself in the mirror in the morning, I like what I see!
Miguel Ángel Jiménez spoke with Spear's at the One Green Way Invitational, a pro-am golf tournament that takes its name from One Green Way, a collection of 89 luxury residences in Portugal's Quinta do Lago