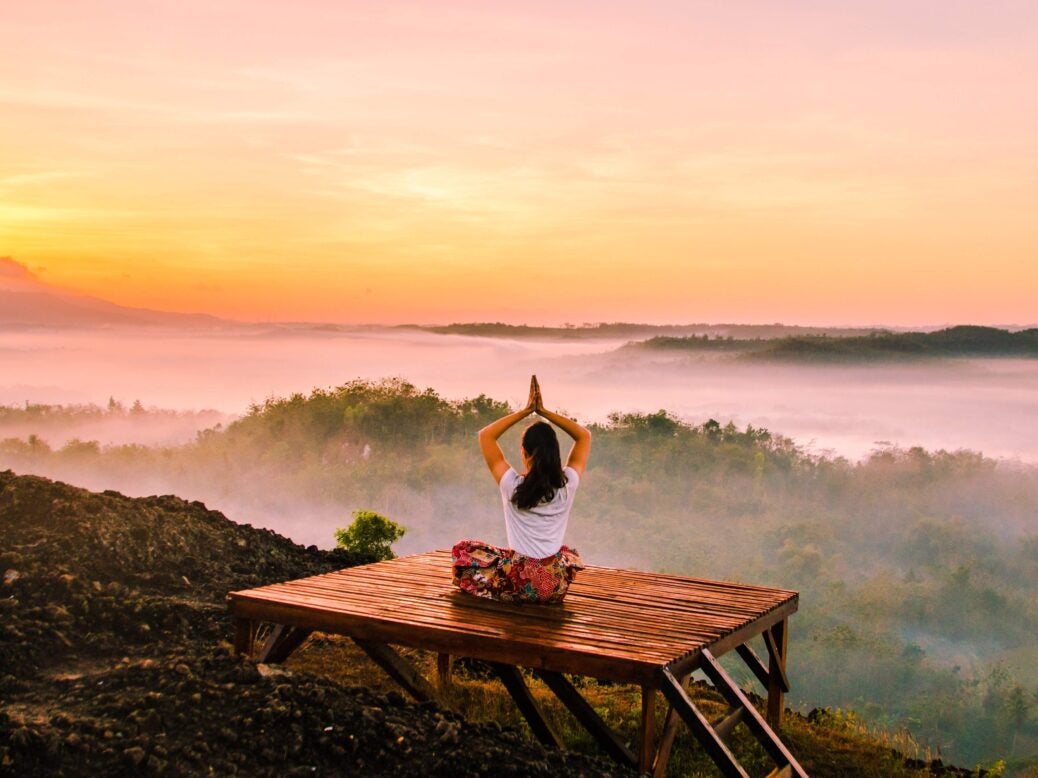 Finally, we're paying more attention to mental health and how nature can help the healing process, writes Jo Foley
At last we are beginning to be as diligent about the health and fitness of our minds as we are about our bodies. In recent decades we have learnt, practised and followed a range of exercise and fitness techniques, from kinesis training to marathon running, from martial arts to boxing. We've followed nutritional programmes, indulged in suspect 'diets', high-tailed it to spas and clinics – all for the purpose of having a fitter, leaner, more agile body.
In our enthusiasm for fitness, we forgot the wisdom of that old adage, mens sana in corpore sano, not realising that caring for the mind is just as important for our overall health. However, recent discussions and statistics describing the nation's mental health have highlighted how much we need to concentrate on the welfare of the bits you can't see. Many have suffered with mental health issues in silence – whether it's pressure from work, anxiety about relationships, depression caused by bereavement or divorce, or worries over how we look.
Research has shown that stress has a profound effect on our bodies by weakening the immune system, and for many it results in eating disorders, addiction problems and serious depression.
The World Health Organization says more than 300 million people are suffering from depression worldwide. One of the earliest indications that we were finally beginning to take our mental state seriously was the growth of mindfulness and meditation in classes, apps, programmes and retreats. Frances Geoghegan, founder of spa travel agent Healing Holidays, says she has seen a big rise in those seeking help with their mental health.
'Sadly there is a younger demographic now seeking help, with desperate parents coming to us looking for ways to help their children,' she notes. 'They have exhausted the traditional avenues and are attempting to tackle problems like low self-esteem, anorexia and acute depression via a wellness programme. Social media has to shoulder the blame for the growth from this sector, with unrealistic images constantly being flaunted at young, impressionable minds.'
Along with on-site psychotherapists, such places also offer music and movement, painting and sculpting, as well as meditation and mindfulness, as part of the treatment.
Bavarian tune-up
One of the first places to recognise the importance of such help was Schloss Elmau, a five-star complex with three spas, two libraries and its own concert hall. Throughout the year almost 200 musical events, from classical to jazz, are available to guests and locals. Couple the healing power of music with the location of the Schloss in one of Bavaria's most beautiful valleys, which offers spectacular hiking, biking and skiing, and the rehabilitation process is well on its way.
As for exercise, more experts now recommend forsaking the gym for greater benefit of the open air and the power of nature. This has led not just to groups running in parks, but also to a growing interest in wild swimming and 'forest bathing' alongside walking meditations and mindful hikes. At Lodore Falls Hotel & Spa in the Lake District, two-day hiking and digi-detox packages are on offer, while options further afield include Bella's Magic Mountain treks to the Pyrenees or Nepal. These offer 5-14 days of hiking, yoga and health coaching. The retreats have become so popular that founder Isabella Somerset now organises specialist corporate retreats.
'These retreats support people to overcome habits, build confidence and help cement good working relationships,' she says. 'It is recognised that wellness within a company helps boost productivity.' One asset of the great outdoors is that in many places there's no signal, so the digital detox happens almost automatically. Yoga and meditation guru Chris James has another method.
First, he advises no technology at mealtimes. The next stage is a day-long digital fast: 'You can use it as a phone but put it on airplane mode,' he says. After that, his coaching, coupled with yoga and meditation leads them to taking an annual break away from the call of the connection.
'My clients are getting younger and coming to me in their early thirties suffering from severe stress and pressure both at work and in their personal lives. I help them turn what is often mindless drinking to mindful living.'
For those who simply need a place to rest and restore mind, body and soul, India has for generations offered succour – most strongly in the magical Himalayas. Ananda, in Uttarakhand state, comes complete with a full ayurvedic spa, nutritionists and yogis alongside its own little temple and spectacular views down to Rishikesh, the home of yoga, and the valley of the Ganges.
This is a place that does almost all the work for you so that on a good day you won't even remember what email is for.
Web bellasmagicmountains.com chrisjamesmindbody.com healingholidays.co.uk lakedistricthotels.net/lodorefalls anandaspa.com | schloss-elmau.de
Image: pexels/ Samuel Silitonga
Read more: