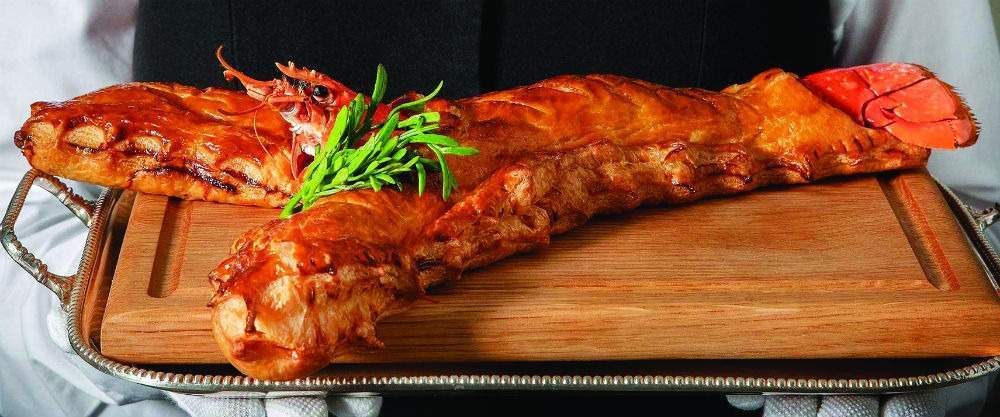 Lobster is the secret weapon in Claridge's considerable arsenal when it comes to delighting hungry visitors, says Nick Foulkes
There are very few upsides to the ageing process, but there are occasions when being what I like to describe as 'no longer young' has its benefits, and one of them was elucidated for me recently. Monday night is not traditionally the most remarkable of evenings, so I was delighted to be asked along to supper at Claridge's.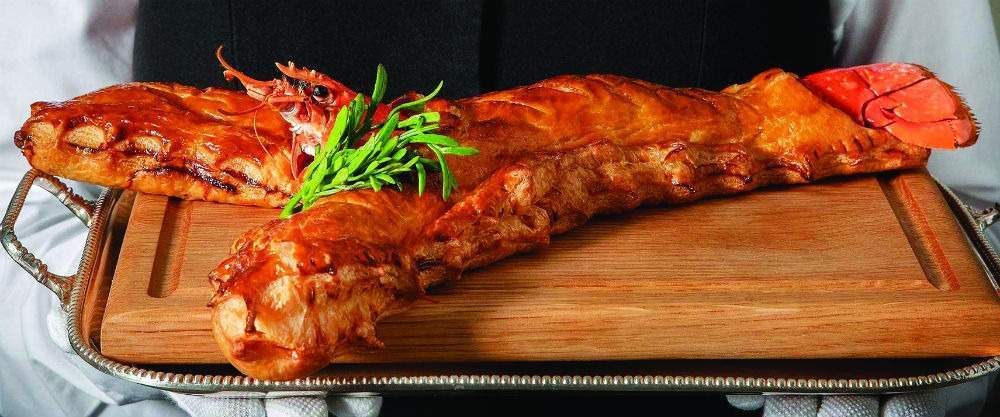 I like Claridge's. It is one of those places where everyone from the head concierge to the man who takes your coat seems to know you by name and greet you as if they are actually pleased to see you. Such a welcome perpetuates a sense of familiarity, even in the face of immense change.
With Claridge's, I thought I had seen it all. I remember it the days of the Causerie, a restaurant that thought it was Barbara Cartland. I remember when a string quartet in clothes that evoked the court of the Hapsburgs circa 1900 wheezed out tunes to a teatime crowd who were probably old enough to remember the assassination of Archduke Franz Ferdinand.
Well, the Causerie went in the Nineties, and shortly after that the teatime zone got an overhaul and the sound of Old Vienna was retired. The changes have continued ever since. Now, although you would hardly know it, the soil under Claridge's is being excavated to install swimming pools, a cinema, and for all I know a football stadium and Formula One circuit.
Usually my conservatism would rebel against such alterations. All change, no matter how positive, is something that I find deeply disturbing – except at Claridge's. It is very hard to imagine anything even vaguely unpleasant ever happening there. In short, my advice is never to turn down an invitation to Claridge's, and, as advice goes, I was happy to take it.
It was a life-changing evening. When you are young, everything is new and exciting. When you are 'no longer young' and have seen much of the world, the excitement of the new is very rare, which means you enjoy it much, much more.
At first it was just another regular Monday evening in London's grandest hotel: uniformed waiters bearing trays of drinks, a beautifully arranged private room and an immaculate table setting. And then it happened. The first course arrived, and there was no mistaking it as anything other than lobster, but it was a lobster in pastry, albeit with the tail and head of a real crustacean. This was lobster wellington, and for some reason I had managed to exist for 54 (and a half) years before becoming aware that I shared the planet with such a thing, let alone ever see one in captivity.
I lost touch with haute cuisine at about the time menus were being crowded with items that might read 'marmalade of escargots served with a juniper smoke and a gin and foie gras granita'. And all of a sudden I was being presented with a dish that looked as though it had strayed from a Victorian banquet, at which the luxurious nature of the main ingredient was presented in a commensurately elaborate, labour-intensive way. I cannot adequately convey my surprise and delight: imagine opening a Poliform catalogue and there, among the work of Marcel Wanders, is a Pugin chair in all its Gothicky buttonbacked Ruskin-esque splendour.
This is a splendid dish in so many ways. Its knowing irony; its showstopping presentation – short of breaking the pastry to find a live lobster scuttling out, it could not have been more theatrical; its conceptual decadence; and its sheer addictive deliciousness render it among the five or six top tourist attractions in London today, and if Claridge's chef Martyn Nail ends the year without a CBE for services to crustacean gastronomy I will be very surprised.
I left with my sense of wonder at the gift of life restored, which, given my chronic dysphoria, is a thing of wonder in itself.
I felt rather like the old Aga Khan did on leaving the famous Beistegui ball in Venice in 1952. Taking leave of his host, the old man, a veteran of many such evenings ,paid Beistegui a great compliment. 'I saw King Edward's coronation in London in 1902 and King George's in 1911 and the parties that went with them. But I have never seen anything like them since, until last night.' He was clearly in a reflective mood, observing meditatively: 'I don't think that we will ever see anything like this again.'
I hope to be seeing, and eating, a lot more lobster wellington very soon.
This article originally appeared in issue 69 of Spear's magazine. Click here to buy. 
Read more: