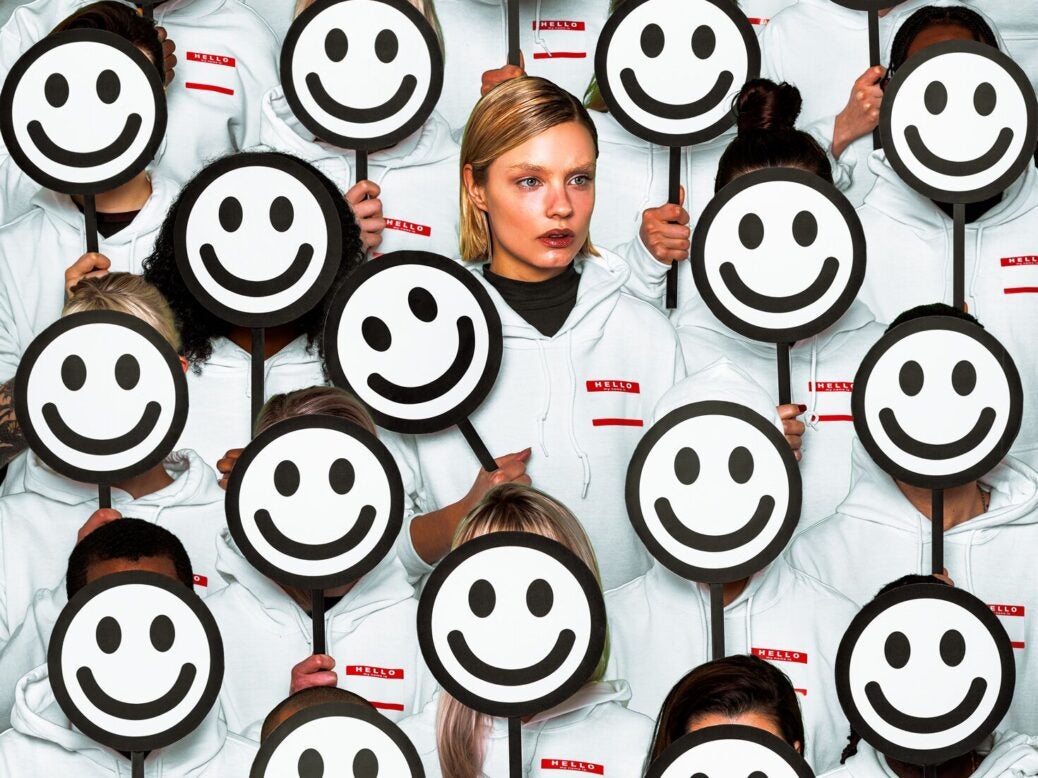 Arun Kakar talks to photographer Haris Nukem about what to expect from his upcoming show at London's Maddox Gallery 
London-based photographer Haris Nukem tackles a personal 'captivation with spirituality' at his latest show, Faith, which begins on the 6th of September.
The show boldly aims to reframe what it calls the idea of 'righteousness' as it is commonly understood. it's an ambitious undertaking, as Nukem confronts a multitude of contemporary themes such as hedonism, online trolls, materialism and more in a series of 21 high-scale works.
Taking place at Maddox Gallery Mayfair, the result is a show that blends together romantic, socially conscious and urban imageries. An intriguing set of ideas indeed.
To unravel these various motifs, Spear's caught up with the photographer to get his thoughts ahead of the show's opening.
Counting Blessings
Spear's: Your work is a 'study of the human spirit in the 21st century'. How do you begin to unpack this idea? What is your process when it comes to cultivating new ideas?
Nukem: A study of the human spirit really alludes to the fact that right now, we're in a pretty confusing time. I think forever as civilisations we've had to organise and overcome rough things to find new ways to live our lives. Right now, we're in this strange place where a million voices ring in our ears. There's a cacophony of agendas, data, ideas and companies trying to sell us stuff. We're targeted and it's beginning to become kind of difficult for us to find our feet.
I like the idea of balance. More often than not, people want to be 'right' and refuse to be 'wrong'… It's stupid, antiquated and more transparent than ever. In western society, the human spirit is being tested by the noise. I believe in conversations. Cultivating new ideas for us is having new conversations.
We Need Heroes
Where do you look for inspiration?
In the opinions of others. Spending time trying to understand polar perspectives on topics to narrow down the commonalities between parties. I'm inspired by what we, tribally as humans, have in common and the structures built around individuals that inevitably divide them.
How did you come to work with Maddox on this show? How did you select and create work for it, and why did you settle on the title of Faith?
Maddox and I have for a while now been in one and other's orbit.
I'm friends with their CEO, and had for a while been banging on to him about my then indie show Faith and how much love I was putting into it. Faith came about from me essentially losing my way a little. I had quit a set of creative consultation contracts I had, I was running out of money and I was so so keen to do something bigger than the projects I had become used to.
After spending a few weeks on my own, meditated, in a little town in northern Croatia, I began to build a narrative about the idea of secular faith, where we place that and the complexities therein.
I drew 21 pictures, all with narratives hoping to form a portrait of at least a little piece of how our current ideas evolve posing questions about structure, morality and intention. When I got home, I was pretty much broke. I began pre selling works off of drawings of how the photo might look to friends to begin raising the capitol to actually crack on and create these pieces. It was the most long term and ambitious project I've done so far. With a lot of love, energy, team work, a ton of hustle and dare I say faith, nine months later the collection was complete and I put the exhibition on independently in Noho Studios, Fitzrovia, in April this year.
The experience was fucking awesome and my team and I were super proud of what we had achieved. John came to visit the space with some of the homies from Maddox and 15 minutes later we had already begun talking about doing the show again, in front of a new audience, adding a few new pieces, working with a wider team to achieve an even bigger version of the show.
I settled on the title Faith because that's all that's concerned. The original question posed when began to build the ideas. Where in this western world now, almost post religion, do we place our faith?
Kikz
What do you think 'faith' means today, amid some of the themes of social media and tribalism that your work touches on?
That is a big question. We're at a cross roads. The world is much more secular but our need to believe is ever prevalent. Whether it's crystals, travel, yoga or activism, people are carving new roads to spirituality. We need it. For better or worse.
Death of Facts 
Can you talk about what it means to 'reframe' the idea of righteousness?  
Righteousness is a funny one. We've had the great privilege of watching a shift in archetypes in the past decade.
Violence and death were almost exclusively the resolve of block buster films for the longest of times. Everything was always good guys vs bad guys. Bad guys usually from Russia, Germany or the Middle East. Who did we have to look up to as kids? James Bond? Bro, Akon is building infrastructure in developing countries. Leo is saving the oceans. Adowa is educating human beings on mass, Joe Rogan is introducing what were once (stereotypically) presumed weight lifting nutters to metaphysical concepts. The media is shining a light on these figures now.
It's a beautiful thing that the pursuit of a conscious and spiritual growth has broken into the mainstream. They're a fucking great example and set a standard for people to follow. They have conversations.
Memento Mori
As a self-taught photographer, how did you navigate the industry at first? What were some of the challenges you faced initially? 
Honestly, the moment I began to take photos I was instilled with a depth of gratitude I'd never formerly known. To have the privilege to meet so many wonderful people and to come in contact with so many different cultures, ideas, themes and stories has forever changed my life. My foundational starting block in photography was 'wow, I didn't know that' and most days thereon has pretty much been more mind-opening, more educational and more inspiring. There's for sure ups and downs to every industry and we always have an option on which lens to look at things through. For me and my lot, we either win or learn, we focus on building, never destroying always sticking to our principals and pursuing our vision.
Faith by Haris Nukem takes place from the 6th to the 27th of September 2019 at the Maddox Gallery, Mayfair
Read more: