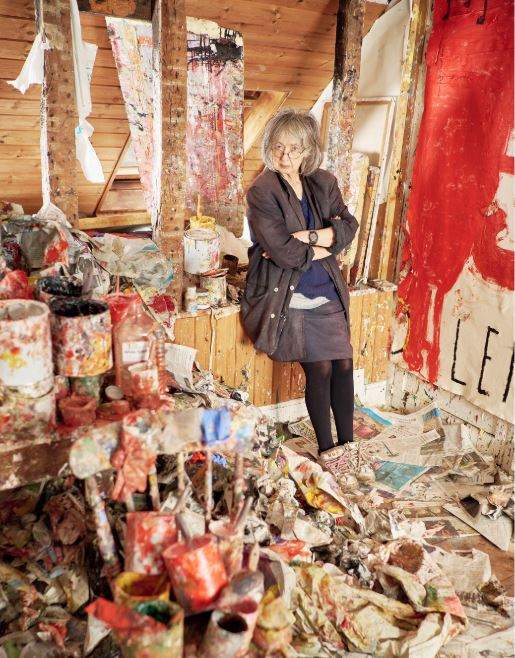 A decade ago, Rose Wylie was largely unknown. Now the art world's most energetic octogenarian is reaping the rewards of defying convention, writes Christopher Jackson
It was WB Yeats who, in 'Sailing to Byzantium', called an aged man 'a paltry thing'. He did so when old himself, and at the point when he was hardly writing paltry poetry. Ever since, people have begun to wonder what it is that makes some artists flame out and others accelerate towards the finishing line.
Born in 1934, Rose Wylie – famed for her large paintings on unprimed canvas – has experienced an unusual version of the Yeatsian surge. Active as a painter for much of her life, she became famous in her late seventies, securing her first exhibition at Tate Britain in 2013. P Diddy owns one. Germaine Greer is a fan. Her pictures are in the government collection. Prices are regularly six figures.
I meet her at her Kent cottage, where she also has her studio. The house is suitably bohemian: her own pictures decorate the walls; on the kitchen-side, someone has sent her a postcard of herself in a superb hat curtsying to the Queen for her OBE in January; and there's a defiantly unkempt garden.
'I like wild daffodils,' she explains. 'They grow and you can leave them alone; you don't have to nurture them – they're completely glorious.' Her voice is marvellous. The vowels sound like they want to bend into an agricultural dialect of some kind but are prevented from doing so by an art school-ish well-spokenness.
When she speaks she has a habit of turning the question back on the interviewer: 'Don't you think?' and 'Wouldn't you say that's the case?' are common constructions. What was it like, then, going to the Palace? 'I like the Queen because she is continuous and she's not a glamour symbol. She's been going ever since I can remember.' A pause. 'Shall we go up to the studio, then?'
Paper trail
Upstairs, under rafters, four works in progress are hanging: these are of women in 1950s bathing costumes. The two behind me have splendid colour schemes – Liquorice Allsorts blacks and yellows. But these vibrant works aren't the first thing you notice: it's the reams of newspapers you're standing on.
This isn't a small detail. Wylie's success can be put down to the fact that she has found a response to the predicament of a contemporary art scene mired in abstract expressionism. It's her spontaneity, and openness to phenomena, which excites: anything can enter a Wylie picture – film, politics, religious imagery. It's primarily an accommodating art.
If one were to point to Wylie's opposite, it would be Agnes Martin (1912-2004), whose ethereal lined canvases are the antithesis of the Wylie method. Whereas Martin retreated from modern life, into a radio- and TV-free exile in New Mexico, Wylie fronts up to complexity.
'She's trying to get away from authorship,' says Wylie. 'That's why you have all the straight lines. But when you see it, you think, "It's Agnes Martin." I find her sterile. I can pick up images all the time, because of newspapers and photography and art books.'
Wylie is committed, therefore, to specifics: the pictures today in her studio are a case in point. 'This dress belonged to Frank Usher. It didn't have straps – everything about it is specific. The hooks on the corset were on the inside. If I'm drawing a man with muscles and a hairy chest, I'll do the hairy chest and the stubble.'
In contrast, she says, an artist like Frank Auerbach is always angling for universal truth: 'He's not painting so much a person as an Auerbach.' Wylie married the painter Roy Oxlade in 1957; he died in 2014. The narrative of the late arrival doesn't fit. She graduated from the Dover School of Art in 1956, and a recent monograph published by Lund Humphries shows an ample achievement accumulated over a long period of time.
Beginning to feel tired in my own legs, I ask whether she would prefer to sit. 'I think we talk better standing,' she says, and indeed an hour and a half later I begin to suspect she is less tired than I am. I recall her friend Jeremy Levison remarking to me of Rose: '84 going on 18.' 'I was transfixed at the sheer exuberance of her work,'
Levison told me recently of the first time he saw Wylie's paintings. 'Here was an unknown female artist as anticonceptual as could possibly be imagined, her work conjuring up myriad images from Disney through Basquiat to Guston, but with a personality, technique and end result which, then as now, could only be "Rose".'
With its popular references, Wylie's art might seem to open up on to the question of lowbrow versus highbrow, but she questions these labels in her usual rhetorical way. 'Shakespeare's magnificent. Is he highbrow? He has become highbrow status, hasn't he? Coleridge, is he highbrow? His rhythms remind of the comic books I used to read. Gertrude Stein. Would you call her highbrow?'
I say that highbrow is when you make references you suspect the reader won't understand for the sake of seeming intelligent. 'I think that's a good distinction,' she says. The same point can be made again for the visual arts. 'I'm not against Renaissance devices,' she explains. 'I like foreshortening, cross-hatching. I use perspective. But I need people to think it's mine; I don't want it to look like someone else's.'
This takes bravery. A list of artists Wylie isn't wild about would include names such as Leonardo da Vinci ('it's not what I think we should be doing in painting. I like Egyptian wall painting much more'), Raphael ('his early painting was more interesting'), and Cézanne ('the later painting is too intellectual').
She is also brilliant on Piet Mondrian (1872-1944): 'He is aggressively against defining what we do see – we see shadows all over the place, and little imperfections. He has no slouchy lines, no dark.' There is always courage at work in original art: the courage of what you dismiss and what you include. 'It's very difficult to do something like this when 99 per cent of the world will say, "What's she doing? It's ghastly!" You have to know where to start, where to go on, and where to stop.'
The canvases before me began life in a tiny notebook. Wylie then works these little sketches up on to her huge canvases. 'I knew I was going to work with clothes that I had worn; and I had got to something in the drawings which I thought was OK. After that I aim for a painting which has the same quality as the drawing. You've always got the problem: "Should it stay near the drawing or should it completely change?"'
Artistic freedom
It's this which defines Wylie as an artist: she seems unusually free. But it's a long way from making bold decisions to having no artistic principles. The way out of this has been to make spontaneity a principle – including the possibility of revision.
'I abandoned the drawing and put the head on front-ways,' she says about the painting of the dress. 'I didn't like the head, so I did it again. I put on another colour, and knew then it should go back to front.' What is she trying to get at?
The clue is in that love of Egyptian wall painting: 'I like things that don't look arty. Painting shouldn't be about some idea about politics or feminism – it's an illustration of something else.' A little astonishingly, this attitude is so ingrained that it colours her view of even the simplest language.
'I like nouns more than adjectives,' she says at one point. 'And I like the verb "to be" more than the verb "to have". Gertrude Stein says painting shouldn't be in relation, and I'm like that and that's why I'm so unfashionable.' Except she's not really unfashionable: it's more that, like most significant artists, she came from a quarter nobody was expecting. As I leave, I realise why she is so popular.
After an afternoon with her the world looks different – transformed by the Wylie joy. At her book signing the next week, the young queue round the block for her. This is a cathartic artist, one who tells us we're allowed to love the world again, in all its clamour, and even in its shadows.
Rose Wylie by Clarrie Wallis is published by Lund Humphries