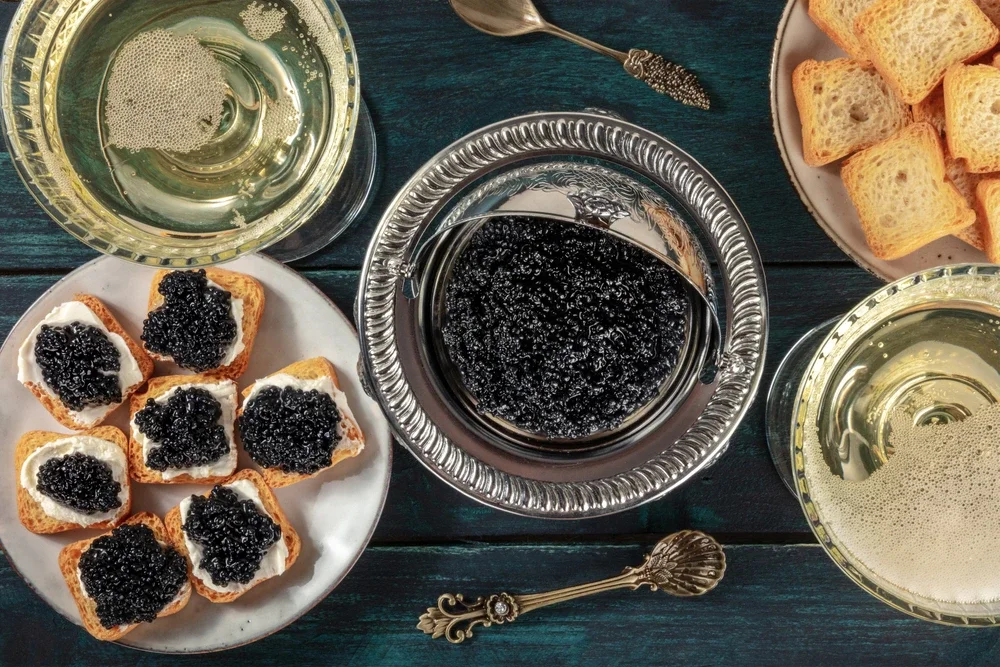 Times might be hard, but with spring in its beguiling, blossom-laden pomp and summer on its way, we can at least afford to dream.
In my dream I'm sitting on a sun-dappled riverbank, a cloth-covered wicker basket groaning with comestibles by my side, a bottle of fizz chilling in the water and an open tin of Beluga caviar ready to offer my beloved.
What romantic, vinous, culinary joys await!
The staple of the poor until introduced to the court of the tsars in the 18th century, caviar – the eggs/roe of farmed sturgeon – is now the most expensive and most prized of all foodstuffs, known to its devotees as 'the food of love'.
It's pricey because it takes so long before one can harvest the eggs. A Beluga sturgeon can take 10-12 years to reach maturity, while Oscietra takes up to eight.
Happily, dreams occasionally come true, and although I wasn't on a sun-dappled riverbank at the time, I was lucky enough to enjoy some caviar recently with Laura King MBE, founder of King's Fine Food, the UK's largest importer.
Eggs with everything
Having learned to spread the caviar on to the back of my hand with a mother-of-pearl spoon, to let it rest for a bit before licking it off, and to taste it by gently rolling the soft, smooth, salty and meltingly creamy black paste round my mouth, I started to agonise over what drinks I should be knocking back alongside it.
Laura finds the traditional vodka too alcoholically assertive a partner, although I think Belvedere (see below) is ideal. But then I also found an ice-cold shot of Fishers Smoked Gin from Suffolk and ditto of Nardini's Acqua di Cedro lemon liqueur both worked wonders.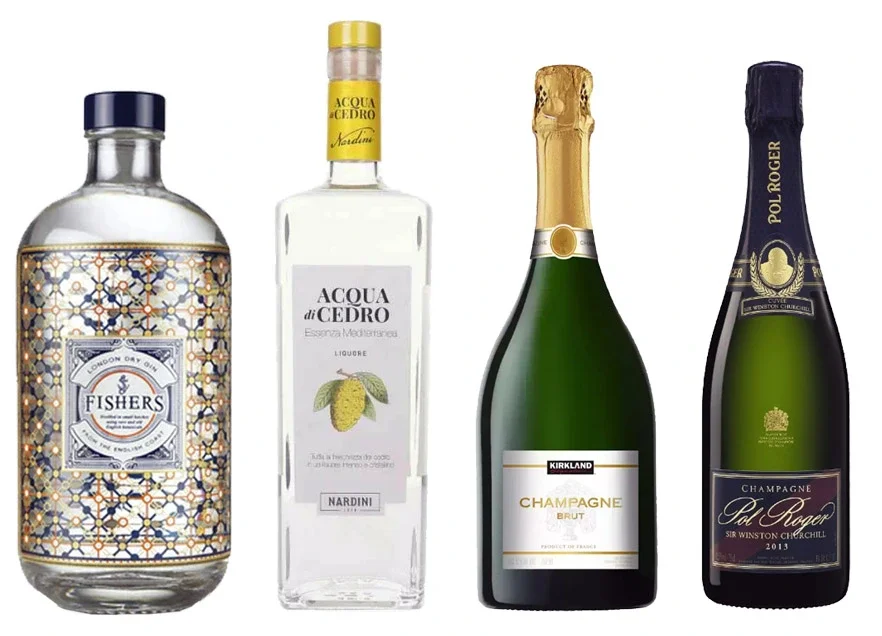 A Tokaji from Hungary or icewine from Canada are shoo-ins, their fabulous, grapey sweetness contrasting just so with the saltiness of the caviar.
It surely has to be champagne, though, I say, and Laura agrees, surprising me by suggesting Kirkland Signature Brut NV Champagne (yours for £21 from Costco).
She quickly backtracks and plumps for Pol Roger's mighty Cuvée Sir Winston Churchill, and we concur: if you're flush enough to cut a dash by buying caviar in the first place, you might as well do it properly and buy some fancy fizz as well.
Three of the best partners to caviar
Belvedere Single Estate Rye Vodka, Smogóry Forest, 40% vol

Belvedere launched its Single Estate Rye series to hoots of delight from lovers of proper, grown-up vodka.
Produced using rare Diamond Dankowskie rye but with very different terroirs, they come from Smogóry Forest in the west of Poland and Lake Bartezek in the north-east. This, the former, is full-flavoured, creamy and slightly salty and makes a brilliant match to full-flavoured, creamy and slightly salty caviar.
2014 Château Suduiraut, 1er Cru Sauternes, 13% vol

Suduiraut is thought by many to produce wines as fine as, if not finer than, neighbouring Château d'Yquem.
2014 was one of its best vintages, a blend of 95 per cent Sémillon and 5 per cent Sauvignon.
With honeysuckle, ginger, spice and textured confit lemons, it's perfect with cheeses and puddings but also makes a brilliant partner to savoury starters such as smoked eel, oysters, slabs of foie gras and – best of all – caviar.

2004 Lanson Noble Champagne, 12.5% vol
All too often unjustly overlooked, this prestige cuvée from Lanson – one of the oldest champagne houses, founded in 1760 – is a copper-bottomed belter.
A blend of 70 per cent Chardonnay and 30 per cent Pinot Noir drawn from Grand Cru vineyards only and aged for almost two decades deep in the cellars of Reims, it's toasty, honeyed and biscuity yet vibrantly fresh too, with plenty of baked apple and zesty citrus.
More from Spear's:
Why Mayfair's new Michelin-starred Taku restaurant is a sushi-lover's dream