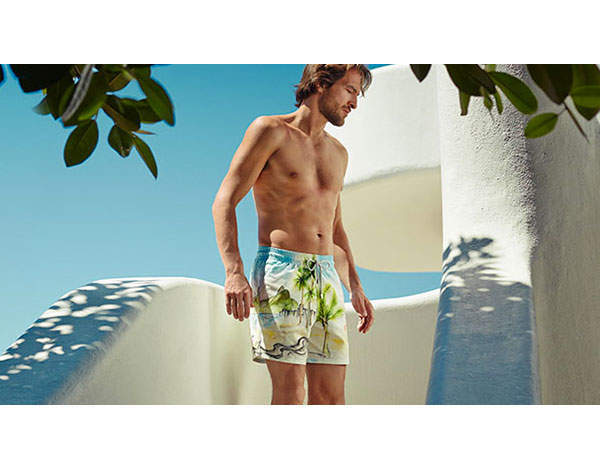 Big business ogles men's bodies as much as men ogle women's. Private equity cash is pouring into ultra-luxe beachwear for men, redefining gentlemen's fashion and forever changing the colourscape in beach snapshots from Sardinia to St Barths.
Private equity firm Piper recently pumped money into British beachwear upstart Orlebar Brown, following a now well-trodden path: in 2012 G-III Apparel Group acquired Vilebrequin for $106 million, itself having been owned by a PE firm since 2007.
Where did this trunk-lust begin?
It's all thanks to a small brand started in the 1970s in St Tropez: Vilebrequin. Garish, colourful prints became the staple of the Cote d'Azur, and now beaches worldwide are filled with adorable and often over-the-top, father-son swimwear combos. With shorts up to £150 each, they make a clear statement.
Worn by the rich and famous, fat fat-cats and thin Euro-trash, the brand is so popular that on the Rue d'Antibes in Cannes, they have two stores – one for block colours, the other for prints.
Yet despite the high price point, the colourful patterns, motifs and imagery are instantly recognisable, much in the same way as the LV on a handbag, and define thousands of men's summer wardrobes.
Vilebrequin remains important because it was one of the first, and certainly most successful examples, of a uniquely luxurious men's swimwear brand. It almost single-handedly created a new mini-market; previously, the only expensive swimwear was from established designer brands. The company has paved the way for other high-end men's swimwear brands.
Sundek is a relative newcomer, although one with a history to trade off: a 1950s American surf brand refreshed into luxury swimwear perfect for the Amalfi Coast, revived a few years ago by investment funds spotting gaps in the market. Within a few years, the company is now in hundreds of locations worldwide. Sundek is a break away from the hegemony of Vilebrequin, and worn by those wanting something different and bright.
The coolest contender for Vilebrequin's crown is Orlebar Brown, started in 2007 in Notting Hill by photographer Adam Brown. Since it took on early investment, the company has grown dramatically and is now available in dozens of stores globally, including its own in London, Cannes and the Hamptons. Building on the idea of luxury swimwear, it created the multifunctional short, perfect for the slick financier stepping off their Mangusta 108 in Ibiza.
Brands like Ed Hardy and Von Dutch – as garish as Vilebrequin – have seemingly come and gone with the summer wind, mere fads on a long conveyor belt of tragic fashion forays.
Even with these new kids in the market, the original comes out on top. I know of Benjamin, who despite already having Vilebrequins with him, got a small suitcase sent out to him while staying at la Reserve de Beaulieu filled only with his favourite patterns. It's time to go long on shorts.
Read more from Spear's Boy About Town