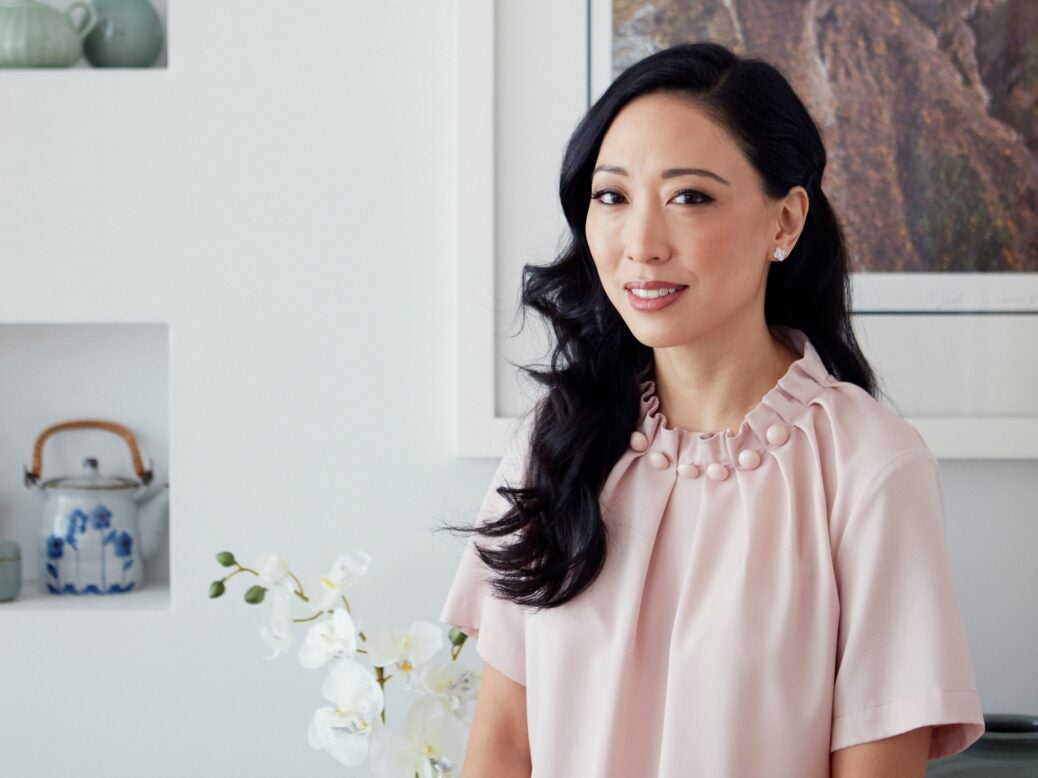 Judy Joo's career has taken her from Wall Street to some of London's top kitchens. As she launches a new Korean restaurant in Canary Wharf, Seoul Bird, she explains why chaos can lead to opportunity, writes Rasika Sittamparam
Where should we meet? Judy Joo offers a choice between her Notting Hill flat, with 'zen' grey and silver interiors, or the brand-new outpost of her 'snazzy-looking' fried chicken franchise, Seoul Bird, in Canary Wharf. I choose the latter. 'Wonderful! Come hungry!' she advises.
Joo appears in a stylish cream boucle coat, wearing one of the biggest smiles I've seen since the start of the pandemic. Soon after, we're served with bowls of 'Seoul food' (a Korean interpretation of the southern US's own soul food). There are chicken thighs, a portobello mushroom burger, macaroni and cheese, hash brown and cauliflower croquettes called 'tots'. 'Dig in!' she says. The abundance of salad, slaws and pickled daikon radish is a perfect complement.
This is her fifth restaurant. Her earliest – Jinjuu, a Korean fine dining brand – had three outposts, in Soho, Mayfair and Hong Kong. The Mayfair and Hong Kong branches have since closed, but she left the still-thriving Soho establishment in 2019 to strike out on her own.
'With every pivot of chaos, there's opportunity,' she says. Following the success of the first Seoul Bird in White City, she snapped up the Canary Wharf site from a distressed seller in 2020. 'I was always looking at the Shake Shack model, which makes so much more sense. Scalability is everything,' she says.
The Korean-American restaurateur is proud of her working-class background. Her father grew up in a refugee camp on Jeju Island after the outbreak of the Korean War in the 1950s. He became a doctor and moved to the US, where he met Joo's mother, also a Korean immigrant.
'[It was a] typical Tiger parents' upbringing – we didn't have a lot growing up, everything we had went into our education,' she says. Joo graduated in engineering from Columbia University and began a career in finance, first at Goldman Sachs and later at Morgan Stanley, where she sold fixed-income derivatives. 'I'm sure you're familiar with the analyst programmes,' she says. 'I think most of them are gone now, but that's when they basically try to systematically kill you over two years – you know, you wake up at 5am and never go home.'
After five years on Wall Street, she decided to indulge her passion for food. 'I used to read cookbooks and cooking magazines like they were novels at night,' she says. She enrolled at the French Culinary Institute in New York and graduated as a pastry chef, before working as an editorial assistant at food magazine Saveur. She decided to take things up a notch and moved to London in 2007, where she worked at Restaurant Gordon Ramsay and several other Michelin-starred kitchens including Heston Blumenthal's Fat Duck and Jason Atherton's Maze. The career switch didn't exactly provide respite from the pressures of the trading floor. In a 2009 article she wrote for the Wall Street Journal, Joo drew a parallel between the two worlds, describing how she heard expletives fired at a commis chef in her early days. 'He didn't miss a big trade,' she wrote, 'It's worse, in fact: Simon botched the soufflé.'
In 2011 she became the first executive chef at the Playboy Club London ('I never wore a bunny costume,' she clarifies) and won Channel 4's 'Iron Chef UK' title. She began appearing regularly on British and US television.
But success doesn't guarantee acceptance in chefdom. 'It's funny, people always say to me I don't look like a chef. I have two cookbooks, two seasons of my own show… I feel like I've had so many strings to my bow, and yet it's still a struggle to get recognition. There's something about being a female or being a minority, being Korean, and being American on top of it.'
As with finance, cheffing is dominated by men. What can be done? 'I always support everybody in this industry, especially women,' she says, maintaining eye contact. 'We have to stick together, and we have to rise together.' She quotes former US secretary of state Madeleine Albright: 'There's a special place in hell for women who don't support other women.'
But Joo isn't one to let obstacles stand in her way. She plans to venture into wellness next and is pitching two nutrition books to publishers. While one touches upon the subject of female fertility, the other will cover immunity, drawing from her personal experiences of suffering from ailments such as psoriasis and endometriosis and using food to relieve their symptoms.
'Food is medicine in Asian culture,' she stresses. Korean food, with its kimchi and gochujang, is rooted in fermentation which relieves inflammation. 'People think food is the enemy. I would love to change that kind of perception,' she says. 'It's all about balance.'