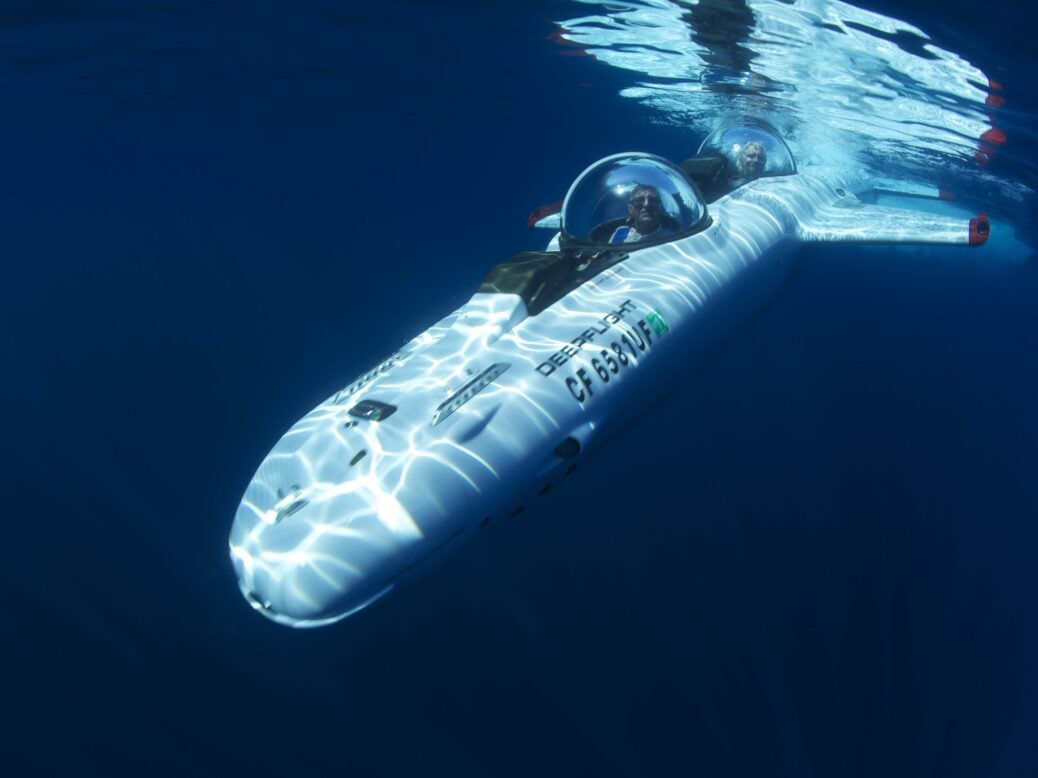 Private submersibles are growing in popularity — and experts insist we've barely scratched the surface, writes Rasika Sittamparam.
An underwater ride with Richard Branson quickly turned into a Jaws-like horror setting for Graham Hawkes (aka 'Grey Hawk') when a five-metre-long great white 'ambushed' them. Luckily, the duo were in a two-person submersible which looked like a plane (and, to the great white, a big white interloper into her territory).
'I remember looking into this big cold eye of this massive predator, just feeling awe,' Hawkes says. 'I'm sure my mouth dropped open, my eyes went wide and my mind just went blank.' But the adrenalin junkie in Branson egged Hawkes on, to the latter's dismay: 'Richard was yelling in my ear, "Get closer, get closer!" I remember saying, "Richard, I'm not going to lunge at a great white shark!", but I think I did edge a little closer, and she took off.'
Hawkes says the 'really profound and spooky' encounter was unusual, as large sea animals conventionally veer away from approaching submarines. 'If we take a military submarine, you've got a nuclear reactor — the thing is thundering, screaming through the space. Anything with half a brain and the kind of senses they've got just gets the hell out of the way.'
As founder of submersibles manufacturer DeepFlight, Hawkes has engineered a new breed of quiet submersibles that clients can ride in. They emit less disruptive light, sound and fewer electrical fields, which is the main reason 'these big animals are coming in out of their own curiosity'.
The Super Falcon Mark II is a DeepFlight model that could perform deep-sea acrobatics 120m below sea level, applying the same principle of lift and thrust as a plane. Easy to use, the craft could be independently manned after a twenty-minute training session. The $1.7 million submersible that 'flies' has a smaller 'sister' called the Dragon ($1.5 million), which 'hovers' like a helicopter, making both types the smallest (and lightest) of their kind. Both could fit into a hidden garage in the back of a modern private yacht, says Hawkes. 'Somebody pushes a button and a door swings open at the back, it's all very James Bondy,' he laughs, reminiscing about his own experience as a baddie who smashes into the secret agent's submersible in For Your Eyes Only. 'They gave me a licence to kill Bond,' he jokes.
Hawkes sells his products to private individuals and beach resorts. 'It's still a very small market, but it's a hell of a lot bigger than just military, oil and gas — more interesting too.' DeepFlight's prototypes are part of the non-military submersible phenomenon that has become popular in the past seven years, according to Gary Wright, a co-founder of Y.Co yacht specialists. Hawkes, too, who has designed over 50 submarines (both military and civilian), has noticed a more 'private market' emerging, alongside large luxury yachts. Besides their use as military craft, industrial excavators of oil and gas, and scientific tools, submersibles now have a more recreational role.
Key players in the yacht industry are noticing more interest in private submarines too, despite having seen clients in the past hesitate to request one on board as easily as they would a jetski or helicopter. British yacht designer Andrew Winch says it used to be tricky due to the depths a submersible reaches: 'If there is a fault, how do you recover it? You wouldn't want to put your very wealthy client deeper than where you can recover them from if there's a problem.'
Y.Co's Wright says the industry has seen many submersible makers struggle to stay in business due to scarce demand. But he has new hopes for more innovative designs. 'DeepFlight is going to change that, I think,' he says, commending the simplicity of its design. 'For the layman it's very easy, because the minute you take your hands off the control it slowly drifts back up to the surface and it's very safe.'
DeepFlight's Dragon has 'already taken six or seven orders' since its launch, says Y.Co's Charlie Birkett. While grand yachts can go the distance, Birkett recognises that 'toys' like the submersibles cover the depth, making them crucial on a cruise: 'Most yachts are geared towards activities on the water, so they'll always have facilities such as tenders and jetskis, but we're now seeing the increasing use of submarines.' DeepFlight president Adam Wright (aka 'Depth Charge') expects to see the market expanding significantly in the next few years.
At last September's Monaco Yacht Show, other submarine-makers flaunted their products, aiming to impress superyacht owners. Some of the line-ups were passenger submersibles which can dive approximately 300m and more: the C-Explorer 3 from Dutch company U-Boat Worx (starting at $2 million), and the larger family-centric Aurora-5 from California maker Seamagine ($1-3 million).
Bruce Jones, CEO of manufacturer Triton, which showed off one of the world's deepest diving submersibles (reaching depths up to 11,000m) in Monaco, is in good spirits. 'We've been doing this longer than everybody else,' he says. 'There's more and more interest every year — with respect to Triton and our production and order book, 2015 was quite remarkable.' Indeed, orders were up 400 per cent up on 2014.
While some superyacht owners might love the recreational aspect of DeepFlight submersibles, the Jacques Cousteau aspect of some other submersibles should not be overlooked. A prime example is the large submarine that Microsoft's Paul Allen has on board his 414ft yacht Octopus. Winch describes Allen as someone who seeks 'incredible adventures', ranging from discovering the Japanese battleship Musashi to loaning his megayacht with the submarine on board to scientists to study the coelacanth, a dinosaur-era fish once mistakenly supposed to have become extinct over 66 million years ago.
Triton's Jones says that, like Paul Allen, many of his private clients offer their submersibles to scientists, the $3.6 million 3300/3 being one example. However, he says a number of clients, including the 'occasional large treasure hunter', like to go on similar searches themselves, either with a team of experts or with family and friends. 'They really become a hero with family and friends, because they are providing this unique, educational, and adventurous opportunity that you just can't get anywhere else.'
Amid the excitement that personal submarines generate, Hawkes says it's important not to get into the argument of 'which kind of sub is better'. 'It's like arguing whether it's better to have trains or planes. It's a silly argument, there's no answer to that,' he says. 'Once you've decided what it is that you want, then you can answer whether a train or a plane is going to be the best solution. It's the same underwater.'
Sink or swim, private submersibles are already the next big thing. With more HNWs seeking a life on deck and the increasing popularity of experiential tourism, there seems to be no end to the thirst for adventure. More and more yacht owners are beginning to consider an escapade into the least explored territory on earth as an exciting and realisable prospect. Hawkes recounts reading an email from an excited Tom Perkins, co-founder of venture capital firm Kleiner Perkins, Caufield & Byers, calling a ride in his newly acquired Super Falcon the 'best dive ever'. The experienced diver, who, Hawkes says, has 'done it all and seen it all', spotted a dolphin 60ft under the surface in the British Virgin Islands: 'Typically a dolphin would disappear, it would just swim away. But two minutes later it came back, with 50 of them. They all wanted to play with the sub.'
It's stories like these that bring out the romantic in Hawkes: 'People fly for pleasure, but nobody goes up to look at birds.' But replace birds with sea animals, and you can see that aviation has an underwater parallel that makes this possible, in a 'whole much bigger world than many of us realise'.
Rasika Sittamparam is a researcher and science & tech writer at Spear's